The British qualifier capped a stunning rise to clinch the women's crown at Flushing Meadows
23:17, 11 Sep 2021
When Emma Raducanu's US Open odyssey began against Bibiane Schoofs on 25 August, the only spectators were the two players' coaches and a few onlookers who stood in the slither of shade cast by a lighting rig but often turned to check out another first qualifying round game taking place on an adjacent court. The atmosphere, if you could call it that, was supplied by a squeaky equipment trolley passing by.
On Saturday night, in front of a fervent 23,000 capacity crowd in the Arthur Ashe Stadium, the 18-year-old Brit capped the most meteoric rise tennis has ever known to become the US Open women's singles champion. The first qualifier in the sport's history to reach a Grand Slam final beat Canada's Leylah Fernandez 6-4 6-3 in a match of immense quality and ferocious hitting.
Even those who have watched every single second of Raducanu's tournament over the last three weeks will need some time to be persuaded that what they have witnessed truly happened. Ten matches, 20 sets, every one of them won without even a single tie-break. Tennis has never known such a story. You'd have to scour the record books to find such a tale to challenge it in any sport.
She is Great Britain's first female Grand Slam champion since Virginia Wade's 1977 Wimbledon triumph, and in winning only her second major she has clinched one of the sport's four greatest prizes quicker than any player in history.
RADUCANU SHOWED INCREDIBLE COMPOSURE THROUGHOUT THE FINAL
Having been ranked at number 336 in the world heading into Wimbledon this summer and arrived in New York as the 31st seed in qualifying, Raducanu leaves with the knowledge that on Monday she will be in the world's top 30, with all the main-draw privileges such a ranking provides.
In Fernandez she toppled a player who has a massive future ahead of her, and who had disposed of Naomi Osaka and Aryna Sabalenka among others on her way to the final. As if the magnitude of the achievement wasn't enough, the quality necessary to reach the pinnacle was monumental.
After breaking at the fifth attempt in Fernandez's first service game, Raducanu was pegged back immediately as the Canadian pounced on a fourth break point. An already absorbing first set only got better from there, with the two teenagers going toe-to-toe in long rallies filled with brutality and artistry alike.
Raducanu went for the jugular at 5-4 up on Fernandez's serve, and just as it appeared that the Canadian had staved off the dangers by saving three set points, Raducanu dug deep to send a stunning forehand down the line on the half-volley with little back-lift to convert a fourth. In just under an hour, she had won one of the highest-quality sets of tennis Arthur Ashe Stadium had seen in years.
Qualifier ➡️ Champion
Emma Raducanu wins 10 matches to do the unthinkable at the
#USOpen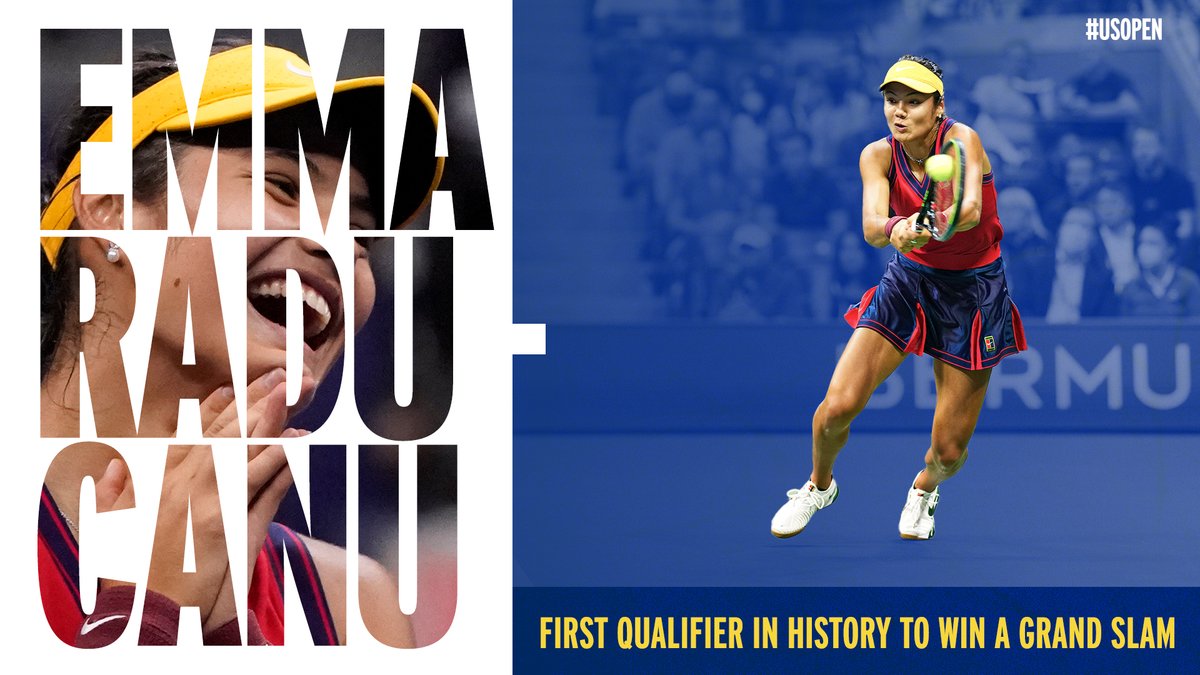 The second was no less captivating. At 1-0 up, Raducanu had 0-40 on Fernandez's serve, but within minutes the Canadian had not only turned around the game but also gone on to break serve and swing the set in her favour. It was the first time in the whole tournament that Raducanu had been a break down, but a courageous early forehand in the next game gave her break point and a sumptuous backhand brought her an immediate riposte.
Then came the piece de resistance. At break point up in the sixth game of the set, Raducanu made a brilliant read on a Fernandez forehand and delivered the most magnificent of responses straight back past her opponent. Five points later, she was one game away from the title but looked like the most composed person in the whole arena.
After squandering a couple of match points at 5-2, Raducanu found herself 30-40 down when serving for the title and with blood running from a graze on her knee. But this is a young woman who does not get fazed easily. Even after her experience at Wimbledon, when she retired from her fourth-round match with Ajla Tomljanovic due to mental health concerns, she has demonstrated incredible resilience.
Raducanu returned from a medical time-out to save break point twice, then on her third championship point she delivered a stunning ace and immediately collapsed to the floor. She had come from nowhere to achieve the impossible.
Emma Raducanu is one of the greatest sporting stories of our time. Of any time. A half-Romanian, half-Chinese, Canadian born Brit, she sums up the very best of the multi-cultural nation she has called home since the age of two. And she has blitzed her way from the qualifying rounds to become the US Open champion.
This is what history looks like.