Having replaced Mick McCarthy in 2020, Stephen Kenny took a while to get things going
12:55, 15 Nov 2021
It has been 18 months since Stephen Kenny took the reins of the Republic of Ireland national team earlier than planned, taking over from Mick McCarthy as the Covid-19 pandemic pushed Euro 2020 back a year. He came in with a clear vision to transform the way the side played, and it has been a bumpy road but things are starting to click.
Ireland ended their World Cup qualifying campaign on Sunday on a high with a 3-0 away victory over Luxembourg which saw them finish Group A in third, and while there will be no tournament action for them next winter, they can start to build toward Euro 2024. It was always going to get worse before it got better, with Kenny's modern approach to be implemented in a side which was drilled to play route-one football under his predecessor. And with one win in his first 14 matches, a sense of doubt grew among the supporters during his baptism of fire. But recent form suggests that time has paid off for the 50-year-old as Ireland have gone six games unbeaten in all competitions and conceded just two goals in that time. That is a dramatic improvement on the 14 they conceded in his first 14 games in charge.
For his style to effectively work and grow, he knew that he would need to organise his defence to lay the foundations for his Irish revolution. In those recent six games unbeaten, his side have kept four clean sheets, which signifies a huge turning point moving forward. Kenny wants his players to play eye-catching football and he is wanting his work to filter down the age groups, and he has not shied away from ushering in young talent to assist with his project. This is also to help prepare the next batch of players who will be the first-team regulars for years to come.
ADAM IDAH IS AMONG THOSE KENNY HAS PROMOTED TO SENIOR LEVEL
He has awarded 12 debuts since he took over and only one of those debutants – Will Keane – was over the age of 28. Some of his new recruits have already made an impression on the international stage, notably goalkeeper Gavin Bazunu, who is currently playing his trade in League One with Portsmouth on loan from Manchester City. He has already established himself as the first choice shot-stopper after some very impressive performances in recent months.
It is good to see things are starting to look up for the former Dundalk boss, but there is still plenty of work to do, especially in terms of attacking in the final third. They have started to get the best out of forward Callum Robinson, who has scored six in his last four appearances for the Boys in Green. But despite how impressive the West Bromwich Albion star's form has been, the bulk of their goal threat has come from set-pieces. It's not a bad thing considering how threatening they are from dead ball situations, but if they are to match Kenny's ideas, they will need to start improving their chance creation from open play. And judging by the progress that the Dublin-born boss has made with the team, it is very likely that will be the next code he cracks.
In the last 4 games Ireland have scored 10 goals, won 3 and drawn 1 and have conceded 0.
Ireland scored just 18 goals across 27 games in 2018, 2019 and 2020 combined.
They've scored 19 goals in just 12 games in 2021.
Stephen Kenny has begun something special. ⚽️🇮🇪
#COYBIG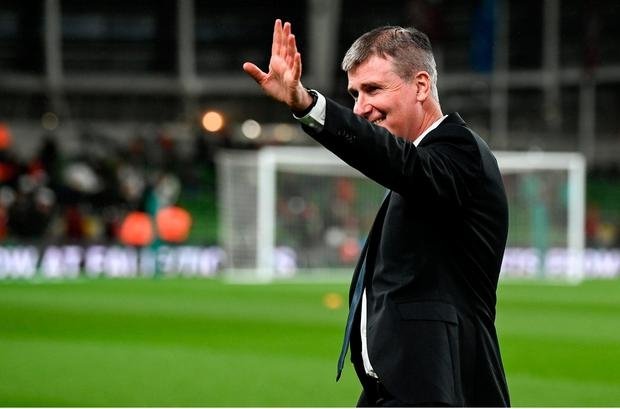 For now, he will be delighted that he has made Ireland tough to beat and former captain Ronnie Whelan has faith in the future under Kenny. Whelan told the Irish Independent ahead of the victory over Luxembourg: "I like where it's going, give him a while, get other players in. We will find other players and hopefully it gets better and better.
"If we lose to Luxembourg I am not bothered. I hope they don't, I really do, because I just want them to keep going on an upward curve that they are on at the minute. I want him to stay there. Give him the next Euros, that is where I would go.
"There are a lot of people who are giving the view that 'it's not working, get him out. I cannot go along with that, having watched them play. The team that he's got now probably plays more football than Jack Charlton's team ever did."
These sentiments are shared by current Ireland centre-half Shane Duffy, who wishes to continue working with Kenny.
Speaking after Ireland's 0-0 draw with Portugal, in which he won his 50th cap, Duffy said: "I think Stephen's brilliant. He had a tough start with the whole Covid situation and players dropping out, and that resulted in results not going our way.
"But if you don't think we're going in a positive way, you're writing the wrong stuff. We're all going in the right direction. There's a difference in the football we're playing. Fans are excited about it.
"For me, I think it's obvious we love playing under him. We're all fighting for him. Even during the hard situation there at the start, we were still fighting for him. That's a sign that the players want to play for a manager."