County need just one point on the final day to crown themselves National League champions
09:55, 14 May 2022
Stockport County are on the brink of achieving something special. In 2011, after 106 years in the Football League, the club were relegated amid a whole host of financial issues. Just over a decade on, under Dave Challinor, they are just one point away from an emotional return.
"Promotion would mean everything," the impressive manager tells The Sportsman after a vital 1-0 win over Torquay United at Edgeley Park. "In terms of the football club moving forward it will only be the next step on the ladder, but it is the toughest step. It is the biggest step.
"It allows us to branch out in terms of what the club wants to do. I'd be hugely proud to make this club a Football League club again and hugely proud or happy that we've helped along the way to realise something for the owners. All the investment and hard work they have put in to move the club forward. It would be a massive achievement."
It's been a bumpy ride for the Hatters since they lost their Football League status eleven years ago. In 2013, the club hit an unthinkable new low as they were relegated to the sixth tier after a 4-0 loss at Kidderminster.
"It was without a doubt the lowest day in the club's history," local Stockport County journalist Sam Byrne explains. "It's difficult because a lot of other clubs will say they have had something similar with Wrexham, Chesterfield, Notts County - proper clubs that have been down here for so long. But for County to spend six years in the Conference North and to be playing almost - with no disrespect - almost Sunday League sides at times, and losing - for us to be where we are now and on the verge of something really special is a sensational feeling."
This rise from the depths of despair has featured a whole host of people who have written their name in the annals of the club. Legendary boss Jim Gannon, who has managed the Hatters in three separate spells, was the man who finally got them back up to the National League while Mark Stott's takeover in January 2020 has revolutionised the ambitions and fortunes of the club.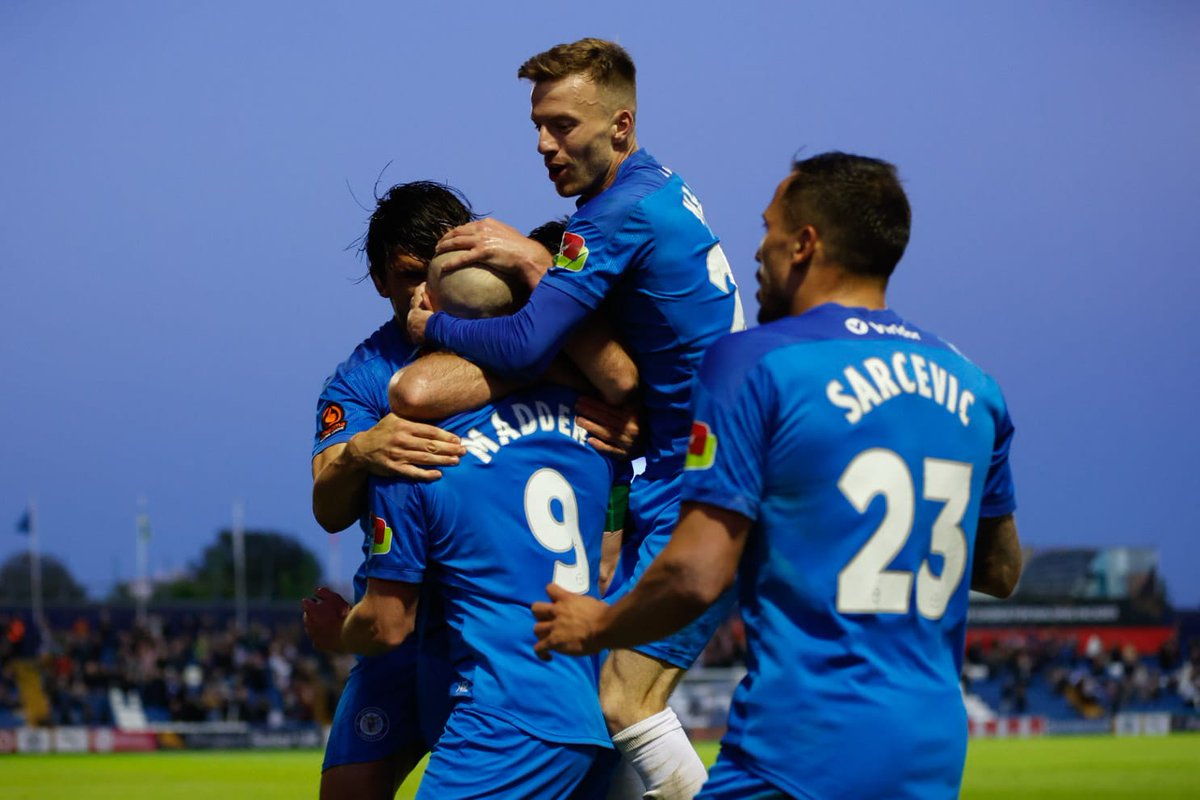 "The takeover from Mark was huge," Byrne, who has covered Stockport for the Manchester Evening News for seven years, tell us. "The investment that he has brought in. I don't think we could have been where we are now without that. Jim Gannon did an absolutely unreal job, got us up from the National League North, helped rebuild the club, got us in and around the play-off places in this division before Covid-19. But we were just that level below where we are now.
"It was almost a case of Jim Gannon working wonders, I mean he had a healthy budget but it was nowhere near where we are now. So for Mark Stott to come in, take over, and we start seeing that calibre of Paddy Madden, Antoni Sarcevic, John Rooney who has now left the club - some of those players that were coming into the football club and helping us kick on. And obviously to go and get Dave Challinor from Hartlepool this season - we were tenth when he came into the club in November, miles off the top of the table and miles off the quality we have seen at the top of the table, so for him to come in this season and transform what we have seen on the pitch has been a big boost."
The transformation under Challinor has been remarkable. He secured promotion from this level last term through the play-offs with Hartlepool United, defeating Stockport in the semi-final, but what changes has the man formerly famed for his long throw made in the dressing room to inspire such a turnaround this term?
"The club had a clear identity as to where it wanted to go off the pitch," he explains to us, pitchside at Edgeley Park. "This is by no means being disrespectful to what was here before, but I have an idea of what I think can make this club successful and this team successful in this division.
"So we had to look at things and work out whether within the changing room we had the players, and the players had the ability and physical attributes to play how we wanted to play. I think what we have done is instilled an on-field identity. We have a specific way of playing and I think we have a football team out there that the supporters can relate to, they know what the minimum requirements are in terms of what we give. We are a hard-working team - and we are a hard-working team, especially for this level, with some real quality. Those things have culminated in us having a really good run and getting us into the position we are in."
Stockport County manager Dave Challinor celebrates a vital three points
Those changes led to Stockport picking up 52 points from a possible 54 after Christmas, a run that shot them to the summit of the National League. But this is a hugely ambitious club, who are targeting far more than simply a return to the Football League. As Challinor already suggested, that's the first step on a long journey. But do his own ambitions match up with those of the club?
"I hope so. I have every chance, I will be given every chance with the support and the backing that I get, I've got to make sure we put things in place," he says honestly.
"I know where I am at in terms of my career - I need to improve because this club is looking to go on a journey beyond League Two and beyond League One. Well, from my perspective, if I see it as a challenge that I've managed maybe 20 League Two games - I hope to manage a whole lot more - and hopefully that will be next season. I need to improve, all the players need to improve and the staff need to improve in all that and allow this to be the place where we can develop and progress up the leagues."
The midweek 1-0 win over Torquay came courtesy of Paddy Madden's 22nd goal of the season, and having received criticism since joining from League One Fleetwood Town last March, the Irishman believes his decision to drop down to this level has been justified.
"Absolutely. It's a massive club," he tells the Sportsman. "When I first signed here I said it was a sleeping giant, so if, as a squad and staff, we can get this team back in the Football League, it will be one of the biggest achievements of my career.
"I like to judge myself on goals, but I like to think I do a lot more. I like to add work rate to the team, so as I said, it's a team game so I'm happy to score the goals that will help my team."
Meanwhile, his boss is more than happy with his number nine's contribution after yet another match-winning goal, but it isn't all about what happens on the pitch.
"Paddy is a real go-to, a real anchor for our players and for our group. He sets the tone, I came in and we wanted to be a pressing team. Well if you are going to press then your first part of that press is from the front. His work-rate in terms of what he gives us, we have had to probably control it a little bit and get into areas where he will score 20 goals, because he should.
"He is one that we know what we are going to get, we all hang our hat on, the players hang their hat on, which is a big responsibility for him but he absolutely thrives in it."
With nearly 10,000 fans in attendance against Torquay, and the largest average crowd in the division of 8,644 this season, it's clear this is a fanbase and a club that deserves to return to the Football League. But the sky really is the limit. That average attendance would have made them the third best supported club in League Two this season.
"The fans are massively important. This, and every football club to be fair - the supporters are the football club," Challinor concludes. "Managers and players will come and go, we want to be part of the club and part of the history, and we have an opportunity to do that, but the supporters will continue to be there."
Stockport County are just 90 minutes away from a return to the Football League. It's been a long 11-year absence that has seen them fall to their lowest ever ebb, but this renaissance is driven by limitless ambition. The Hatters are on their way back, but this is only chapter two of their comeback story.
*18+ | BeGambleAware | Odds Subject to Change