Defeat to Leeds has left Warrington closer to relegation than the top four
15:36, 07 Jun 2022
The latest round of Betfred Super League fixtures provided a powerful message from Huddersfield, another step forward for Leeds and a worrying Warrington performance that left players arguing with their own fans.
"Only the inside of that changing room will know what's happening," Warrington legend Lee Briers said after the Wolves' 40-4 home humbling by The Rhinos.
"There is something amiss, it needs siege mentality, they just need to find a way".
The sight of Wolves forwards Ben Currie and Mike Cooper - who is leaving the club and following former coach Briers to Wigan - remonstrating with irate fans who booed off their team - summed up Warrington's disjointed mess of a season and hinted at more deeper-rooted problems.
READ MORE:
When playmaker George Williams told me in February that he and his team-mates were keen to put to bed the "it's always our year" joke, this car crash of a campaign would not have been what he meant.
As good as Leeds are starting to look under new boss Rohan Smith, it was impossible to shift focus beyond Warrington's complete lack of cohesion.
Indeed the fans' fury was difficult to escape, so much so that when one irate supporter made his way down from the hospitality boxes, Currie and Cooper jumped into the crowd to have words and diffuse tensions. Cooper has that fiery side to him. The milder-mannered Currie usually doesn't.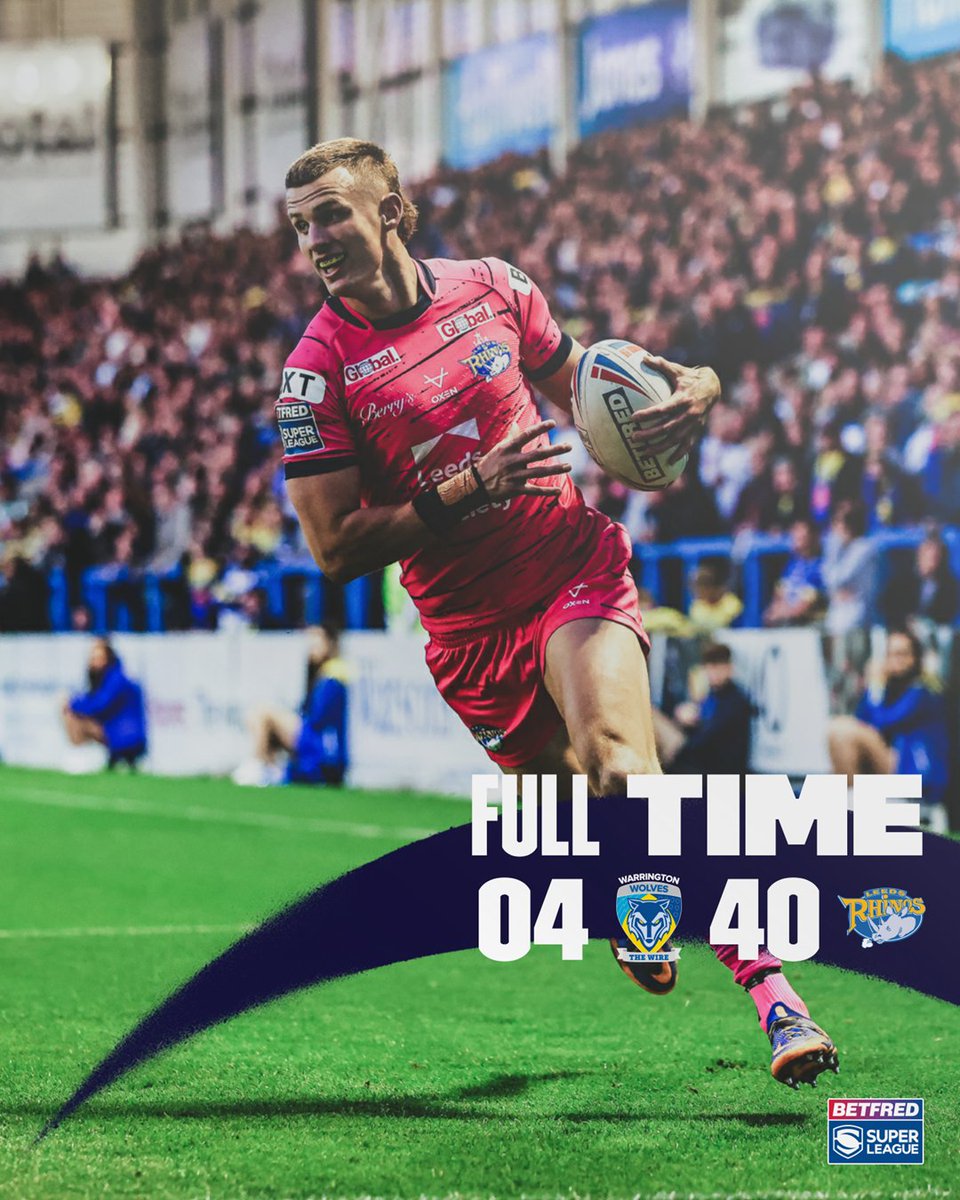 It was a fourth successive defeat for new boss Daryl Powell that leaves Warrington closer to relegation than the top four positions that they have consistently occupied.
Their coach insists his team can still make the playoffs but Sunday's trip to fellow strugglers Wakefield suddenly looks like an enormous game for Powell to alleviate this unexpected early pressure on his own position.
There is of course a wider question as to how professional sportsmen should react in the face of verbal abuse from supporters who pay money to watch them play. Paying fans have every right to vent their spleen when they are paying to see success and instead experiencing failure. But do the players have a right to argue back? Or is it part of the job as a well-paid elite athlete to soak it up and ignore? There can't be many other jobs in the world where people turn up at your office to yell how badly you are performing in your job.
Warrington's problems run far deeper than players arguing with supporters. And again it seems to come back to a word used so frequently across the sport this season. Culture.
Wigan are rediscovering theirs, that identity of hard-work, honesty and commitment already yielding a 20th Challenge Cup success. St Helens remain known for their style, speed and passion, led by the loyalty of club legends like the soon-to-be all-time leading Super League appearance maker James Roby. Leeds have spoken about their need to fix a culture issue that had become somewhat rotten since their run of dominance ended in 2017.
So what are Warrington? What is the Wolves identity upon which the club can build its own culture and recruit accordingly? That is something for the hierarchy to address. At the moment they remain Super League's nearly men who are struggling badly in a cycle of change. It always takes a team time to adapt to new ideas, a new playbook and new personnel, so that immediate responsibility falls on Powell to manage his players into a more cohesive and tighter-knit unit than the one currently on show.
As for Leeds, the new-coach effect is working. Rohan Smith has been encouraging his players to play with more freedom and has seen his side pull away from the foot of the table, with this stylish Warrington win the highlight of his reign so far.
One senior Leeds player told me this week that the shackles have come off since the departure of former coach Richard Agar, a likeable rugby league man who had simply run out of ideas to get the team to click. Players are now being encouraged to throw the ball around, play with freedom, off the cuff, and be prepared to make mistakes. The inference being that under Agar training drills had become too regimented.
We asked in this column last week whether Huddersfield's epic Challenge Cup Final near-miss would prove the catalyst for greater success or bring about a deflated downturn in fortunes.
The early signs are strong that it will be the former after a stunning 22-14 win over Catalans Dragons in France. If ever there was a statement that this Giants side are genuine title contenders then this was it.
Traditionally teams don't tend to win the week after a cup final. There are several reasons for this - excessive celebration or sorrow drowning, getting back up again after the biggest game of your season, opponents having had an extra week of rest and recovery, and the struggle to retune your focus to the bread and butter of league footy so soon after the euphoria, adrenalin and theatre of a major final in the spotlight.
So to fly to one of the toughest opponents in Super League at their intimidating Stade Gilbert Brutus and find a big and immediate response shows that Ian Watson's side have championship mentality.
Watson believes his "outstanding" club captain Michael Lawrence epitomised the club's spirit, with the veteran overcoming the acute disappointment of missing the Cup Final with a huge display, alongside the electricity provided by rising star Will Pryce after his ten-match ban.
"Pryce gives you energy, " says Watson. "Jake Wardle did the same. It is the character and belief in knowing each other will work hard to cover you when you are struggling."
Those elements are the exact missing ingredients that have left Warrington fans so disillusioned.