Australian cricket was brought to its knees by the now infamous ball-tampering scandal.
'Sandpapergate', as it quickly became known, escalated into one of the biggest cricketing scandals of all-time. Top players colluding and cheating by doctoring the ball with sandpaper to try and win a Test match left a particularly bitter taste in the mouth.
Not since the sorry Pakistan spot-fixing affair just over a decade ago had cricket's reputation, particularly that of Cricket Australia's in this instance, been tarnished so badly. But fast forward 32 months and Australia are now back top of the cricketing world after their remarkable and, arguably, unexpected maiden Men's T20 World Cup title-winning triumph in Dubai.
The Aussies proved once again that they are a real force to be reckoned with following an impressive victory over arch-rivals New Zealand in this year's showcase final at the Dubai International Stadium.
Mitchell Marsh's match-winning innings was a delight to behold as the Aussies powered to an impressive eight-wicket win – and with seven balls to spare. And, perhaps ironically, David Warner, one of the key figures in Sandpapergate, also played a significant role in Australia's success during a memorable tournament.
Warner contributed 289 runs at a fine average of 48.16 and scooped the Player of the World Cup award for his contributions. But has Australia's welcome triumph and long overdue silverware now put to bed their wrongs of the past?
Men's T20 World Champions for the very first time! 🏆
#T20WorldCup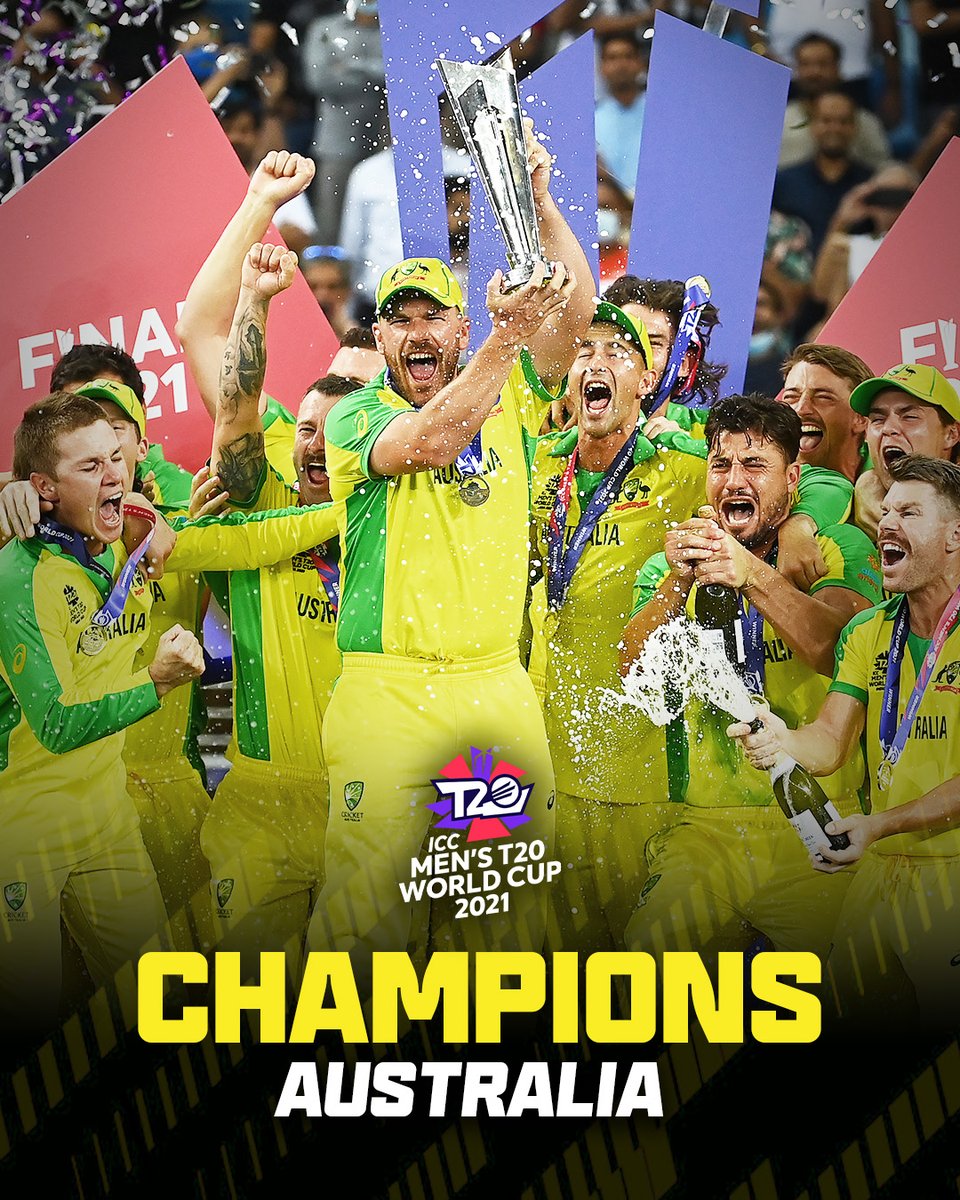 Well, their road to redemption has been a long and rocky one, as candidly documented during the enthralling Amazon Prime documentary, aptly titled 'The Test: A New Era for Australia's Team', which was first broadcast in March last year.
Tensions ran high as the national side began to try and rebuild its seriously damaged image and credibility after former skipper Steve Smith, vice-captain Warner and batsman Cameron Bancroft were banned for their involvement in the shady drama.
New skipper Tim Paine and new coach Justin Langer were both tasked with the unenviable and exhausting job of restoring Australia's reputation after one of the ugliest episodes in the country's history. Australia's Prime Minister at that time, Malcolm Turnbull, was even compelled to shame the team, branding the behaviour of the key culprits as a "shocking disappointment".
However, after all of the heartache and shaming, the current Australian team do now deserve plenty of credit for the way they have turned around their fortunes. Not just by winning the T20 World Cup, but for the way in which they have conducted themselves during a very turbulent period in their proud history.
Sporting the famous baggy green cap has long been a huge honour for Aussie cricketers since it was introduced at the turn of the twentieth century. And, while the sandpaper scandal is unlikely to ever be forgotten, Australia's players have taken their punishment and the team have made welcome steps to a brighter future. More importantly wearing that baggy green cap has renewed significance with the side's T20 success. Playing for Australia now means something again.
Some sceptics would argue that the national side won't be able to move on sufficiently enough unless the reprimanded trio of Smith, Warner and Bancroft never play for Australian again. However, that certainly doesn't look like happening any time soon, even though in every walk of life you're likely to find critics. And although Bancroft whipped up a storm with new comments about the scandal, Australian cricket is undoubtedly in much better shape than it was nearly three years ago. Back then it had hit rock bottom.
Speaking to the Guardian in an interview, Bancroft admitted that it was "self-explanatory" that bowlers in the Test team were aware the ball was being tampered with.
"I guess one thing I learnt through the journey and being responsible is that's where the buck stops [with Bancroft himself]", admitted Bancroft.
"All I wanted to do was to be responsible and accountable for my own actions and part.
"Obviously what I did benefits bowlers and the awareness around that, probably, is self-explanatory.
"Had I had better awareness I would have made a much better decision."
Hopefully Australia's cricketers, and cricketers around the world, will learn from this forgettable saga and make better decisions in the future. The team are certainly heading in the right direction and at the perfect time with the Ashes just around the corner.