After 14 years with the Gunners, Burton became Dinamo's first-ever British player at the start of 2020
10:00, 10 Mar 2021
When Dinamo Zagreb line up against Tottenham in the Europa League on Thursday night, there'll be one player in particular Arsenal supporters will be eager to see start and dent Spurs' trophy hopes. Robbie Burton was born in Gravesend and spent 14 years with the Gunners before leaving in February 2020 to become Dinamo's first-ever British player.
Burton, who turned 21 on Boxing Day, captained Arsenal's Under 23s and featured against Real Madrid and Bayern Munich in the 2019 International Champions' Cup, missing a penalty in a shootout against the Spanish giants. He was classed as a bright prospect.
As for so many youngsters though, the deep lying midfielder had a decision to make as his teens came to an end. Wait for an opportunity that might not materialise or go elsewhere and take another route. Burton boldly and bravely left Arsenal, the club he had played for since the age of six, reportedly for a fee worth up to £800,000.
For a long, long while, at the start of the century, British players simply didn't go abroad. David Beckham, Jonathan Woodgate and Michael Owen starred for Real Madrid but were the exception. Now, however, many go to test themselves against different styles of play, to experience new cultures and the German Bundesliga is very in vogue right now with Jadon Sancho shining for Borussia Dortmund.
Burton in International Champions' Cup action for Arsenal
However, Burton's switch is more niche. Of course, he is not playing in a random European outpost, Zagreb are a storied, iconic club but going to Croatia where he won't come under as much of the spotlight or scrutiny looks a clever move.
"To leave a club that means so much to me is hard but the right decision for my career," he tweeted after leaving Arsenal. Having played under former Gunners midfielder Freddie Ljungberg in the youth set-up, he asked the Swede for some guidance when Dinamo came knocking.
"Fredrik Ljungberg gave me a lot of strong advice, and when I told him that I had the option of going to Dinamo, he immediately told me that it was a good option for me and that I would definitely progress in Dinamo," he told Croatian publication 24sata in November. "I hadn't known [Arsenal manager] Unai Emery long enough to talk about such things, though."
He has no regrets and hasn't ruled out working hard to return to the Emirates one day, adding, "I dreamed about it [playing for Arsenal] as a child, but life has its own [way]. Who knows, maybe one day I will make that dream come true, but now the only thing on my mind is Dinamo."
Burton seemed to settle into Croatian life quickly, telling the press he enjoyed the food and technical elements of the game out there. The fact he made such a move shortly before a global pandemic, will have increased the pressure. So, too, an earthquake, which struck in March which will have made for a bumpy arrival.
"Uh, I was in Zagreb, I lived alone and I experienced an earthquake like this for the first time," he said. "Even today, I see works in the city centre, so I believe that everything will be restored quickly."
However, despite the world being shaken to its core in so many ways right now, he has remained focused on the task in hand.
"I feel really good here," he said after signing. "I'm happy here. Dinamo has a great history, they are winners, just like me and I can't wait to play."
Back to winning ways👏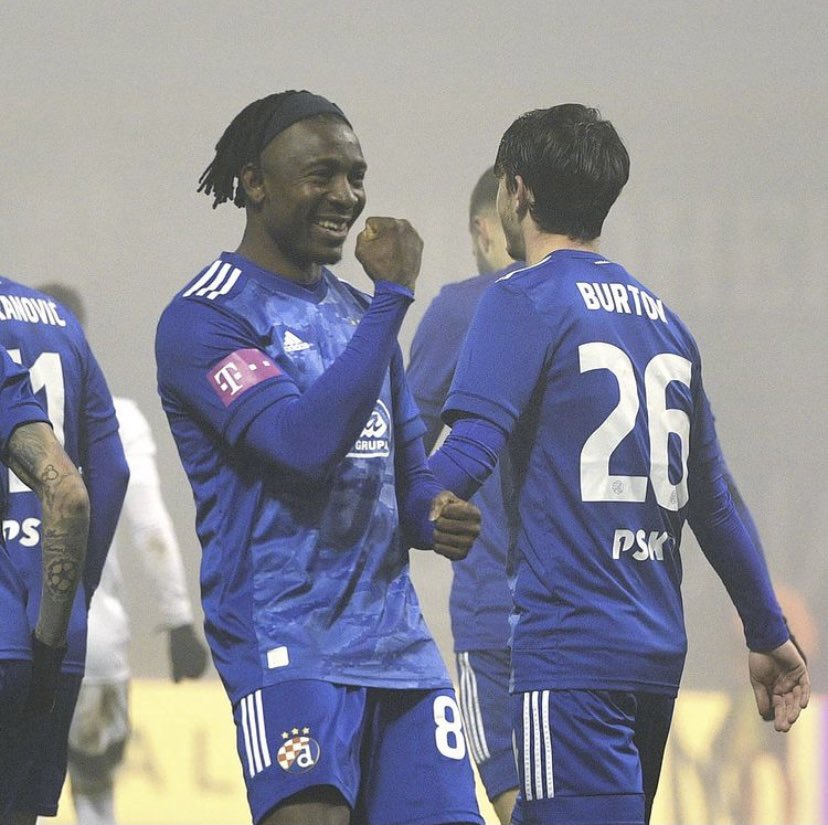 He's a confident young man and he's not wrong either. While the club have won 21 league titles in Croatia, they have been victorious in seven of the eight games Burton has featured in so far this season. First appearing for the youth team, the Dinamo team Luka Modric played in before excelling in north London, he has broken into the first-team and started in the 3-0 win over Slaven at the end of February.
With eight caps for Wales under 21s already under his belt, he will be hoping his move can accelerate his career further. Featuring against Spurs in European competition would give him the opportunity to remind people in the capital of what he can do, though those of a red and white persuasion will have been following his progress.
He is still in 'constant contact' with his Arsenal team-mates, telling Croatian media in November, "That's the way it is in football, everyone goes their own way, but friendships stay forever."
One would expect Burton will be getting heaps of good luck messages this week. While he didn't appear for the Gunners' first-team, he can still make his mark in the folklore of the north London rivalry.
"It's something that will stay with me that I didn't play for Arsenal in a competitive game. But you can't always get what you want - no matter how much I wanted it," he told Tribal Football.
Burton will not have anticipated being back in north London so soon after leaving for Croatia but football has a funny and quirky way of throwing up these instances. Sure, he didn't play for Arsenal, but taking on Tottenham as a former Gunner in European competition isn't bad for the CV.
Burton took the plunge and hopefully his bravery will be rewarded with a start against the old enemy. A win would write another page in his Arsenal story.