The Rocket's new memoir 'Unbreakable' was released on Thursday
16:00, 11 May 2023
Ronnie O'Sullivan admits he came close to retirement 12 years ago – a decision that would have seen him miss out on four of his seven world titles, and many other achievements and records besides.
And the Rocket is also certain that his early career and life problems with drink and drugs plus various other off-table issues in addition to technical challenges in his game cost him 10 years of prime performance – which might have seen him over the hill and out of sight of all rivals in terms of the silverware he could have amassed.
O'Sullivan missed out on the chance to establish a new record eight World Championship wins at the Crucible this year – losing to eventual winner Luca Brecel of Belgium, a player that the 47-year-old genuinely admires for being an "unbelievable and phenomenal talent".
That did not dislodge O'Sullivan from the No1 spot, though. And as he toured the radio studios of TalkSPORT, Virgin and BBC Radio Four on Thursday morning to promote his new book 'Unbreakable' after a 31-year pro career, the greatest player ever was in a reflective mood.
O'Sullivan said: "Retirement was in my mind when I was about 35, because I thought you were meant to be done and dusted at that age.
"But then I just got better. I met Steve Peters, and got my head right because I didn't have a head before that. It was all pot a ball if I felt like it, if I didn't, then great, go home and get out of there.
"And from there I started winning more, and I have been more successful in those last 10 years. But at 35 Stephen Hendry had kind of finished his career. Steve Davis had finished his career so I thought it was going to happen to me – but obviously it hasn't yet.
"Covid probably helped me in that regard, because it enabled me to focus back on snooker. I have attention disorder so if something is better over there, I neglect my snooker.
"But Covid stopped that, so I just had to focus on practising and won two world titles in three years.
"I do still practice. I say if I can give it 12-15 hours a week, that is good for me. I am not good with 10-5 every day like most people do. I can't do that.
"But if I do 15 hours a week it doesn't matter how I do it. It could be all in a day or two, and then take five days off and enjoy my life.
Delighted that my new book
#UNBREAKABLE
is officially out today, telling the full, honest story of my life and career. Cheers everyone for the support on this and I hope you enjoy reading it!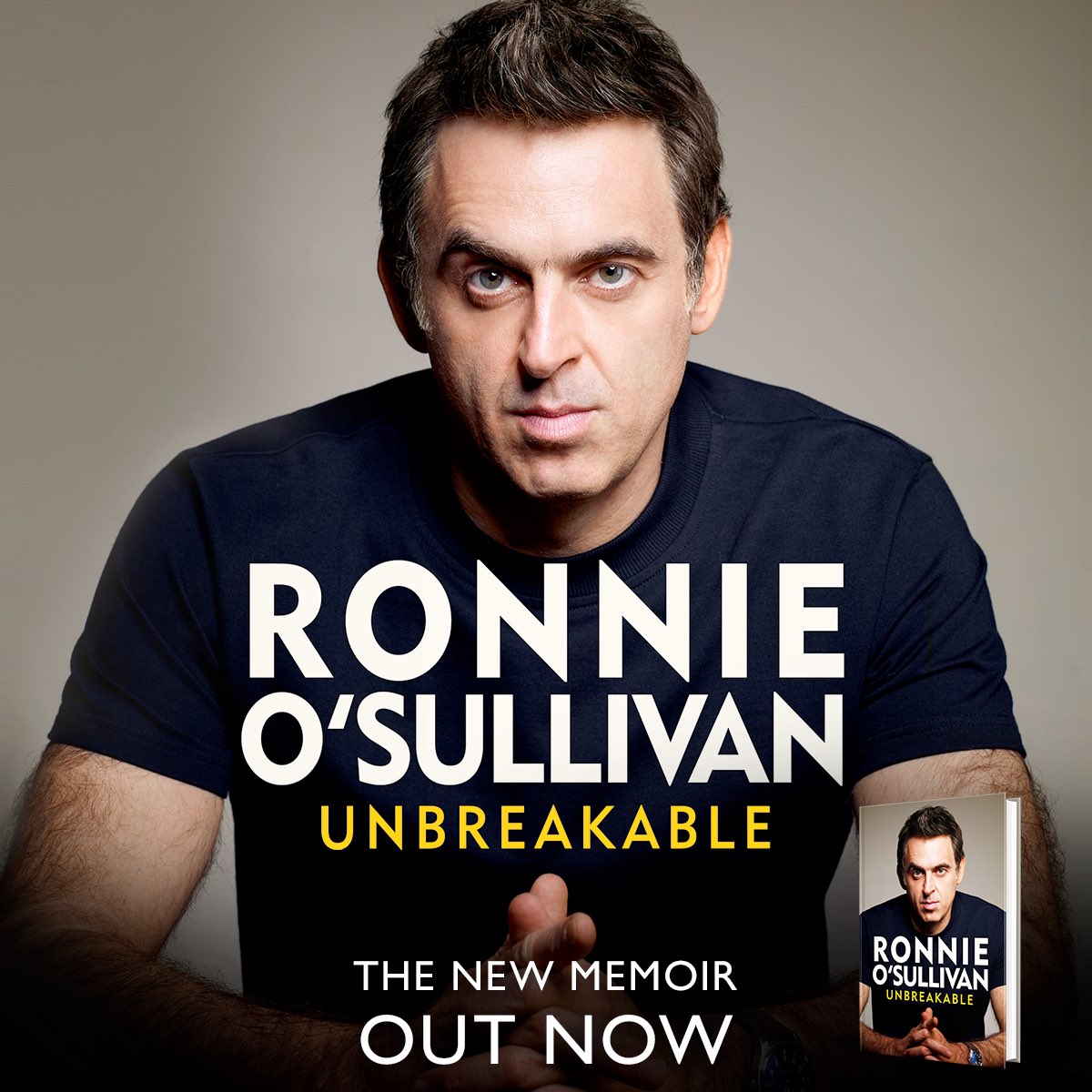 "I thought Luca was unbelievable at the World Championship. You talk about talent. If you're talking about football, you get someone who does something with the ball that leaves you thinking 'how does he do that?'
"And Luca is that player in snooker. He does some stuff with the ball…I know how he does it, but trying to actually do it is another thing.
"He gets through it so well, and just an unbelievable talent. I didn't think he would beat Mark Selby in the final. I just thought over two days and four sessions, Selby would get into him.
"But he just kept playing his game, and it was phenomenal. He made that tournament – along with the 20-year-old Si Jiahui from China who got to the semi-finals.
"However more generally out there I don't think they build young players like Stephen Hendry and Steve Davis any more. In football there are more people there on top of the young players and managing them and on top of them.
"In snooker it has lost the culture, there are no snooker clubs to learn from the old pros, and I see young kids come in and they are on their phones most of the day.
"And I am thinking 'They are No8, No10 in the world, they could be No1 if they got their head down'. I don't look at phones while I am playing. Just get in the zone and play. It's work.
"But kids are different these days and it's a culture thing. They haven't got someone to learn from like I had when I was a kid. For me first of all it was Jimmy White.
"Then my dad said it had to be Steve Davis, because he was winning everything. Maybe Jimmy should have won more with the talent he had, but it is difficult getting over the line at the Crucible.
"If Hendry doesn't come along, Jimmy probably wins it. But Hendry came along and he didn't. To get past Hendry, John Higgins, those sorts of players…
"It is hard. They own that place. Hendry owned it for 10 years, so did Davis. Sometimes you had to just sneak one in like Dennis Taylor did, and Ken Doherty did.
"Obviously for me there was massive gaps where I lost six, seven years to drinking and taking cannabis. Then there was maybe another four years later where I was dealing with stuff away from the table which I didn't deal with very well.
"I wasn't focusing on snooker, I suppose everybody has them problems, but there are 10 years there where I didn't really do much. I didn't practise much, I didn't have the right headspace to win. Going to rehab taught me that happiness is an inside job, which I truly believe. And since that moment, in 2000, I have always believed that.
"I like to think that if that wouldn't have happened…also I had technical problems with my game which is the worst thing for any sportsman that plays golf, tennis or snooker, they're very technical sports. Once you start questioning how you're hitting the ball you start to overthink, lose the zone and it becomes a hard game.
"I've had a few lows, when I was clean as well. The obvious ones were putting on a lot of weight, I was dependent on drinking and wacky baccy just to get through the day. I lost my personality, lost my confidence, I felt like I needed to take substances just to feel like I could socialise.
"You get clean and become a little bit awkward in social situations, so anxiety began to affect me in certain ways. It was weird, I had to learn how to do all the stuff again, it took time. But once I got there I've realised you have to carve out a different life for yourself.
"My happy place is going running in the morning, I've got my running friends and I'm cool with that."
Unbreakable by Ronnie O'Sullivan is out on May 11th, published by Orion Books at £22.