The UK Championship favourite could win his 8th title this weekend
19:23, 01 Dec 2021
Ronnie O'Sullivan insists he will never go back to treating snooker like a 'proper job' – and would rather go and be a monk. The Rocket moved up through the gears against Thailand's Noppon Saengkham at the UK Championship to seal a 6-3 victory at the York Barbican on Wednesday.
World No3 O'Sullivan is hoping to celebrate his 46th birthday on Sunday by extending his own record with an eighth UK title success. But the winner of 20 Triple Crown tournaments says that while he remains professional about his craft, the game will never again drive him to distraction.
O'Sullivan, who at one time studied Buddhism, said: "Everyone is under pressure, don't believe anyone who says they aren't, it's that type of game. Even the greats – I know of one great player, that I won't name, who was often sick in the dressing room before going out.
"I still get butterflies and nerves - but I prefer watching and talking about snooker to playing it these days, and I have to force myself to get some more juice out of it. It will all end sometime.
"It is hard going out there, I reckon if you asked most players if they'd rather a job in TV they'd rather that than be sweating and under pressure.
"And I'm not that person anyway, I would sooner retire and go and be a monk and meditate 12 hours a day than do hard labour, even if I'll always work at my game.
"I no longer think my best is better than everyone else's best, so that's always a sign of what might be to come in the future. I'm still in, and the win's everything. I did manage to finish it at the first attempt 5-3 – you don't get paid for overtime, do you?
"I almost gave up at 3-2 down, I was struggling and he should have been 4-2. But something clicked and I was off and running again.
"I just want to be the best 46-year-old snooker player in the world, competing with the John Higginses and the Mark Williamses, and maybe even the Neil Robertsons.
"But it's only a matter of time until the younger guys start winning titles. And I am comfortable with losing and still smiling, where Stephen Hendry couldn't do that.
"I have to try still because there is a crowd out there, the fans have been loyal to me and I would never sell them short. Today was a day where I dug in. Anyone left in this is there by right, they are there because they have beaten people."
Seven-time champion Ronnie O'Sullivan books his place in the quarter-finals of the Cazoo UK Championship.
The Rocket clicked into gear from 3-2 down, reeling off the next four frames for a 6-3 win over Noppon Saengkham.
Sealed with a century 🔥
#CazooUKChampionship
@CazooUK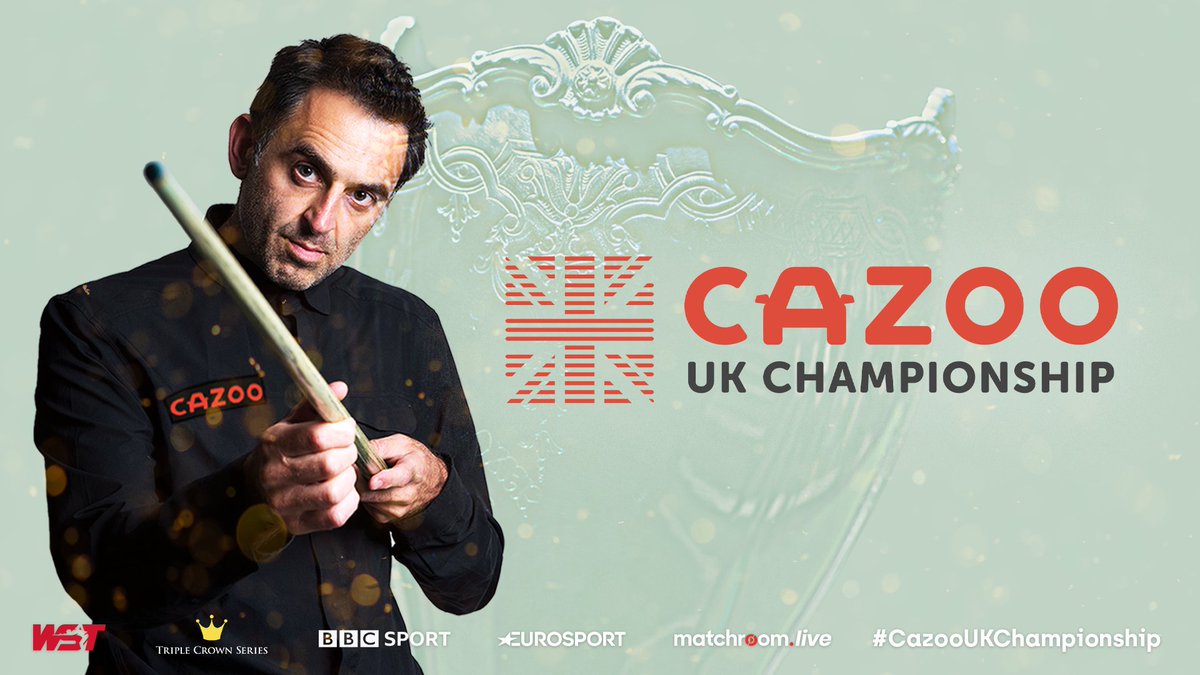 O'Sullivan began the match looking out of sorts and slow to settle – throwing in some bad misses and safety errors allowing Noppon to claim an early lead.
And in frame two the Rocket had to remind referee Ben Williams to warn him after two failed attempts to hit the brown – eventually levelling with a break of 76.
Efforts of 83 and 59 from the Thai either side of a run of 98 from O'Sullivan saw the seven-time champion trail 3-2. But from there O'Sullivan simply moved up through the gears, knocking in a 74 and a finishing 120 in winning the last four frames.
Also moving into the quarter-finals yesterday was Chinese prospect Zhao Xintong. The 24-year-old beat Leeds veteran Peter Lines - 27 years his senior - 6-4 to get to the last eight in a Triple Crown event for the first time.
The young speed merchant is such a talent that O'Sullivan has called him "our Roger Federer". Zhao said: "I am trying to win that first tournament. It was a hard game, Peter put me under a lot of pressure at 4-1 up to get back to 4-4. I will be trying very hard to win my first tournament."
Zhao has been very impressive at the UK, snooker's first major of the campaign. He had already knocked out the equally promising Yuan Sijun, Thailand's Thepchaiya Un-Nooh and then three-time UK champion John Higgins before adding Lines to his list of victims.
As a 15-year-old amateur wildcard Zhao first caused a stir at the International Championship in 2012, knocking out former world champion Ken Doherty. And swiftly dubbed the 'Wildcard Menace' he repeated the trick the following year, taking out Steve Davis before turning professional in 2016.
Lines, 51, said: "I am bit disappointed to have lost having come back from 4-1 down, but also proud to have got this far in the UK Championship, one of our biggest events. Zhao is a real talent, but it is going to be difficult for him to actually go on and win the tournament."