Ronnie O'Sullivan left long-time rival Stephen Hendry drooling after racing into the semi-finals.
The Rocket is looking to equal the Scot's record seven titles at this year's Betfred World Championship in Sheffield and back at world No1 for a fifth time in his career, O'Sullivan, 46, is now the red-hot favourite following a 13-5 demolition of Stephen Maguire.
O'Sullivan crossed the winning line on Wednesday in full cry with a superb 126 clearance. Moving the cue ball around with effortless ease, the world No1 displayed in a single frame the full range of skills that have captivated fans for 30 years.
Hendry, 53, and this week given another tour wildcard for next season, admitted: "It would be an honour for me to share seven with Ronnie, because he has taken it to a new level.
"That is probably the best and most clinical he has been - that last frame was just artistry with the cue ball. Nobody does it better, you cannot play snooker better than that.
"There has been no-one like him and probably we won't ever see his like again. Someone who has got that cue-ball control…he has taken the game to a new level in that respect.
"Look at the century breaks he has made, well over 1,000, it is just phenomenal. As a snooker player it is just beautiful to watch. You really appreciate what he is doing and how good he is.
"I am struggling to see anyone who can compete with Ronnie, I really am, he is just supreme in all departments.
"He looks focused, and he is scoring when he gets in. It will take something to beat him, I'll tell you."
The performance was cast in an even better light as O'Sullivan revealed it came after emergency surgery to the tip of his cue.
Ronnie O'Sullivan has reached a record-breaking 13th Crucible semi final - overcoming Stephen Maguire 13-5!
He beats the previous record set by Stephen Hendry.
His opponent? John Higgins or Jack Lisowski
#ilovesnooker
@Betfred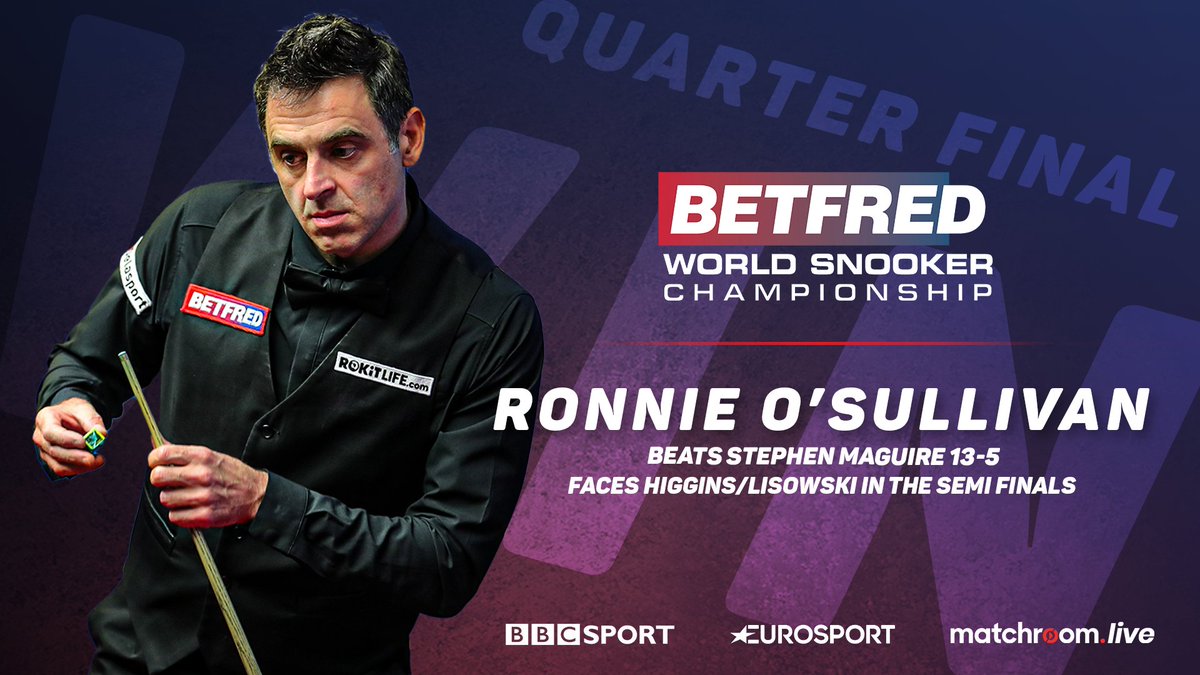 And he also acknowledged that being part of the 'Class of 1992' with John Higgins and Mark Williams has pushed him – noting Hendry was more of a lone trailblazer.
O'Sullivan said: "Listen, I am here to enjoy it, I love playing, and I am enjoying competing. Stephen is the all-time legend for me, the greatest player. He was our Tiger Woods of snooker.
"Me and John and Mark have come along and done well. But when he was flying in the 90s, he was a superstar, one man dominating the sport.
"There is a toolbox you have, and you have to use every tool you have in there. I may look relaxed or focused, but I'd rather not be playing here to be honest.
"It's a hard tournament, one of the ones I enjoy the least. I'd prefer to be in Leicester playing the Championship League, even if that sounds crazy.
"I wouldn't have to put up with all the pressure. But you have to show up for this one and give it your best.
"Getting to the one table stage in the semis…it is just such a hard venue to play at. You have to have some ability and skill and form, of course.
"But you can win it without those things – what you do need is guts, determination and a big heart.
"The café in the city where I had a problem with a fan last year have given me my own room upstairs now, so whenever I go in there it's all good, and my hotel is great.
"I try and keep as much quiet time for myself as I can because it is very hectic around Sheffield with a lot snooker fans very excited about seeing the players.
"That is great and you sign as many autographs as you can, but just occasionally there is the odd time when you might have to say 'Not right now, I'm afraid I have a match to prepare for'.
"You give the fans as much as you can and do your best, because they have come here often travelling a long way to support a great event and spending a lot of money.
"It is a big family really, the players, the fans, the staff, the sponsors and the media – everyone makes it happen."