The four-time world champion took a 7-6 lead over Mark Allen going into the final two sessions of their semi-final
09:43, 29 Apr 2023
Mark Selby lived up to his 'Torturer' nickname on Friday as he began to strangle the life out of Mark Allen at the Crucible.
Four-time world champion Selby will take a narrow 7-6 lead over player of the season Allen into Saturday's final two sessions of their semi-final in Sheffield.
The pair had to be hauled off three frames early after a grim go-slow afternoon, with spectators waiting to enter the building for the evening session featuring Si Jiahui and Luca Brecel.
And watching BBC pundits Stephen Hendry, the seven-time champion, and another Crucible winner in Shaun Murphy, did not hold back as the tournament director cut short the misery.
It means there could be up to 20 frames of this semi-final still to play. And Scot Hendry said: "It was not pretty, and not snooker I want to watch.
"I understand snooker can be played different ways, and the balls can dictate.
"But it's like they are trying to be too exact and precise. A dark cloud came over the match and the Crucible. And Mark Allen has been Selby-ed, there is no doubt about that."
Murphy said: "This is what Mark Selby does. He traps you, puts you through the mill. He is saying how badly do you want to win this? He has four of these on his mantelpiece."
There was a huge moment earlier on when Allen, leading 6-3, had Selby requiring a snooker. But the world No2 managed to get it, and instead of staring at a 7-3 deficit closed to just 6-4 to start a comeback.
Even the arena scoreboard seemed to have had enough in what proved to be the last frame of the day, as it packed up with the players locked at 6-6.
𝗘𝗡𝗗 𝗢𝗙 𝗦𝗘𝗦𝗦𝗜𝗢𝗡 ⏸
Mark Selby 7️⃣-6️⃣ Mark Allen
The Jester reels off 4️⃣ successive frames to edge his nose in front. 🃏
The players are pulled off 3️⃣ frames early. 👀
They resume at 10am BST on Saturday. 🕙
#CazooWorldChampionship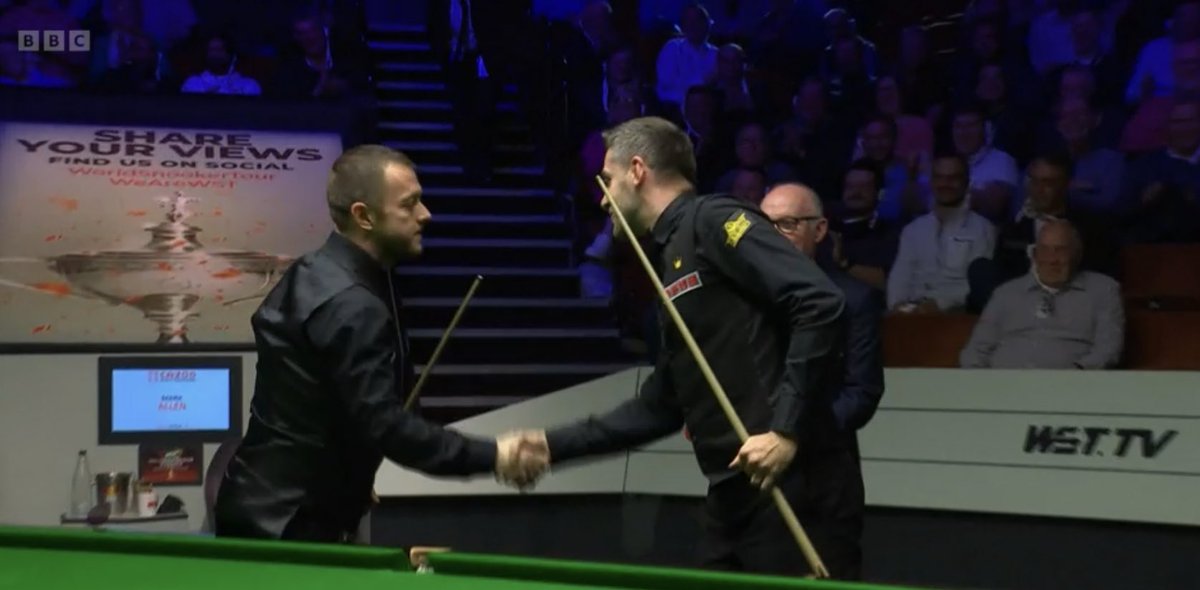 Selby fouled the pink but the points were initially added to his tally rather than Allen's before being resolved by referee Leo Scullion and marker Tatiana Woollaston.
No one should have been surprised at how deep Selby is prepared to go on the biggest stage the sport has to offer, with mental health issues he has been frank about now seemingly under control.
Before the clash, he said: "I never get bored – never. I enjoy the challenge. I enjoy the long formats because I think it gives you more chance to get involved in the match.
"You can still have a bad session and come out of the winning side. I see every match as a challenge and enjoy the mental challenge as well.
"The last 12 months before this season, I didn't. But now I am in a better place and enjoying the challenge again.
"It is my never-say-die attitude, just grit and determination and never giving in until that last ball is potted. That is what it is all about.
"I know every frame won't be one visit, some frames will take longer than others. I am willing to stay out there until God knows what time.
"Every frame is a bonus. For me, until that last ball is potted, even if you need one snooker in the frame, you have a chance to win it.
"I still believe I can win it until they are racking up the balls for the next frame…or you are shaking hands. Until that time comes, I still believe I can win it.
"When you play top players like John Higgins, it is not to put people off their rhythm, I know that against these top boys, it is not a case of clipping off a red and getting the white ball back in play.
"That is not good enough. If you do that then before you know it you are in trouble yourself, you give them the chance to win the frame.
"People say that the first shot you think of is more times the right shot. But there are other shots. I always try to put my opponent in trouble, rather than just play an easy safety shot.
"Sometimes I will try to play the more difficult one because I know if I do get it right, then I have a chance to get him in trouble. It is about making it harder for your opponent.
"My late father always used to tell me to make it hard for your opponent to win, don't just give it to them. That is what he always installed in me.
"Even as a junior, my back-up game was more advanced than some of the other juniors. I have had to work at it, it has got me through a lot of matches, and I am not going to change it now."