Master of the dark arts, or footballing God? Ramos continues to divide opinion
12:25, 17 Oct 2019
Sergio Ramos is a master.
Quite of what, however, depends on your opinion of him. A master on the field. A master of the Dark Arts who could teach Lord Voldermort a thing or two. A master at winning trophies. A master at fouling opponents. A master at scoring goals. A master at manipulating the officials.
Last weekend, the 33-year-old overtook Iker Casillas as Spain's most-capped player of all-time in Euro 2020 qualifier against Norway - another milestone in the Spaniard's already scintillating career.
He's one of the most polarizing characters in world football and has been for quite some time. This is a man who has gone head-to-head with Florentino Perez and won, he's gone head-to-head with Jose Mourinho and won and he's a man who angered, not only Liverpool fans, but the entire nation of Egypt with his treatment of Mo Salah in the Champions League final of 2018 - and he couldn't give two hoots about it.
Ramos is as thick-skinned as they come and he needs to be given his behaviour at times, but he's also one of the very best players the game has seen over the last couple of decades. Yes, his defending might not be everyone's cup of tea, but to say he's not been at the top of his game for the better part of a decade would be grossly misinformed.
At right-back, he was good - as a centre-back, he's excelled. Winning everything you can think of for both club and country, and being a mainstay in both the Spanish national team and the Real Madrid team through a plethora of managers. Ramos has it all. He can defend, he's brilliant in the air in both boxes, he scores goals for fun and big ones at that, something Atletico Madrid fans will certainly testify to. You don't get to over 100 goals for club and country and be the most capped Spanish international of all time without a hell of a lot of talent.
But plenty of players have talent - Ramos has that little bit extra. The heart and drive to go that additional mile, both in terms of basic football, and also in terms of how he makes sure his opponents know exactly who they're playing.
If Liverpool fans thought Salah had it bad in the Champions League final, they should've taken a minute to look on YouTube for the many, many compilations Barcelona fans have made of Ramos 'tackling' Lionel Messi over the years. Ramos doesn't shirk from a challenge - or a red card, being well on the way to breaking records for those as well as goals and appearances.
This is a man who ended Salah's Champions League final after nearly pulling his arm out of the socket and then had the gall to touch him on said shoulder during the Champions League draw some months after. This is the man who publicly questioned Jose Mourinho's penchant for criticising players in public, and threw his weight behind Mesut Ozil when the German clashed with Mourinho, wearing Ozil's shirt very visibly under his own Real Madrid shirt.
🇪🇸 Sergio Ramos becomes Spain's most-capped player ever 👏👏👏
🔴 168 games
🏆 EURO 2008
🏆 World Cup 2010
🏆 EURO 2012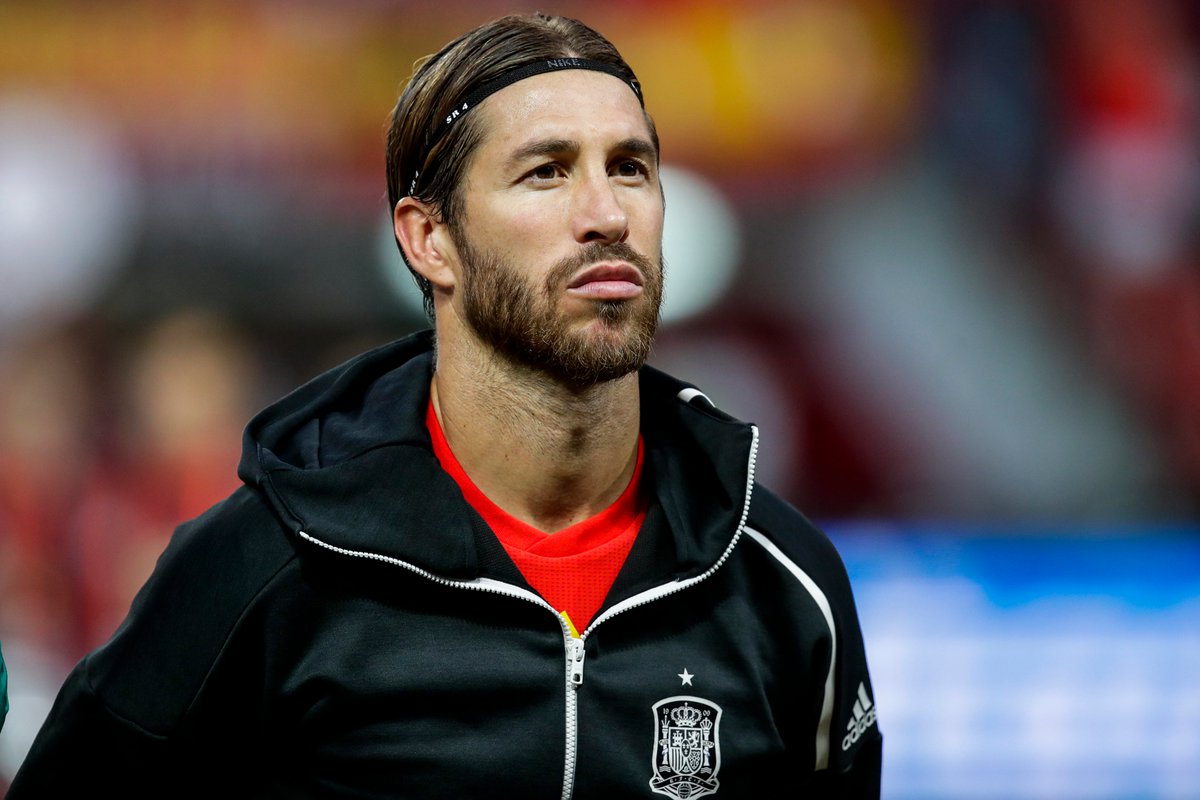 His power at the Sanitago Bernabeu is now immense, and despite some clear issues with Florentino Perez in the not so distant past, Ramos has the ear of the most important man at Real Madrid, and a contract to match his status.
Of course, his behaviour can be termed reckless and has backfired at times - the Champions League being the obvious example, when Ramos decided to get himself suspended for the second-leg against Ajax so he'd be eligible for the next knockout round - and in part that cost Real Madrid their place in the competition.
At the end of it all, Ramos is a born winner, pure and simple. You only need to watch his Amazon Prime documentary, El Corazon de Sergio Ramos, to see that.
Ramos plays football with his wife and three kids in the garden at home, and when his son Marco scores against him, he tells the kid to go and celebrate with his mother. While the poor child does just that, Ramos makes sure his other son and teammate, Sergio Junior, sees the empty net and promptly helps him race up the field and score a goal. It's never too soon to learn the dark arts, evidently. Especially if your name is Sergio Ramos.
It also shows him happy at home, playing the guitar, looking after his dogs and horses and is basically a propaganda exercise into making you think Ramos the footballer and Ramos the man are separate entities, and he's not that bad after all. Of course, they absolutely are separate entities, and we often see players who you'd expect to be awful human beings off the pitch actually turn out to be the nicest ones and vice versa.
The truth of it almost certainly rests somewhere in the middle, as it so often does. Yes, at times Ramos might be sly, but he's also as driven as Cristiano Ronaldo, as successful as any sportsman and as dangerous as Thanos. But most of all, in his prime, he's someone any manager or fan would want on their team. If they tell you anything else, they're lying.