Seven Candidates Who Could Become The First To Win The Premier League As Player And Manager At The Same Club
13:49, 10 Apr 2019
Ole Gunnar Solskjaer brought back the feel-good factor to Manchester United after he was appointed as interim manager in December 2018, following on from Jose Mourinho's two-and-a-half-year tenure, before being announced as the fourth permanent gaffer to succeed Sir Alex Ferguson, three months later in March 2019.
The Norwegian, 46, previously spent eleven years at Old Trafford as a player, procuring six Premier League titles - including one in his very first season in 1996/97 - and two FA Cups, and memorably scored the winning goal at Camp Nou against Bayern München to seal the unprecedented continental treble for the first time in English football.
Almost exactly two decades later Solskjaer is back, now at the helm, with Red Devils clamouring for the '99 hero to bring sustained success back to Manchester United, having failed to win the English title since Ferguson's retirement in 2013 when they confirmed their 20th championship.
Five people have won the English top-flight as both player and manager at the same club; Bill Nicholson with Tottenham Hotspur, Howard Kendall at Everton, Arsenal's George Graham, and Kenny Dalglish and Bob Paisley, legends of Liverpool, (with 'King' Kenny accomplishing arguably the even more impressive feat as player/manager).
No person however has yet to win it in the Premier League. Of course, in recent years over in Spain they've had Zinedine Zidane, Pep Guardiola, and Diego Simeone all accomplishing the feat at Real Madrid, Barcelona, and Atletico Madrid, respectively.
Didier Deschamps, seemingly collecting records like an over-indulged hipster, managed the feat as both player and manager with Olympique de Marseille, separated by 17 years, in the French top division, and then did the same with the France national team.
Ole Gunnar Solskjaer looks like the most likely candidate we have on our hands to manage it in the EPL, though despite his exceptional start as life as Manchester United manager and backed by the apparently bottomless pockets afforded the most followed club and richest football team in England, he'll certainly have an almighty task on his hands, with forces such as Liverpool and Manchester City trying to dictate the direction.
Six teams have won the title in the Premier League era; Arsenal, Chelsea, Blackburn Rovers, Man City, Leicester City, and, of course, Manchester United.
Aside from Solskjaer, here are several candidates, having thrown their hat into that unforgiving managerial ring, who could potentially add their names to that revered group of men, who have lifted the title as both player and manager at the same club.
Patrick Vieira (Arsenal) - currently at Nice
Arguably the greatest central midfielder to grace the Premier League, Patrick Vieira would bring back serious player pedigree to the Emirates, commanding respect and reverence as soon as he steps into that Arsenal dressing room.
After being brought from AC Milan in 1996 to North London, Vieira won three titles with the Gunners, once as captain after taking over from Tony Adams, and also collected three FA Cups. His subsequent travels back to Italy with Internazionale also brought four successive Scudettos between 2006 and 2010. After being appointed Nice manager in June 2018, taking over from Borussia Dortmund-bound Lucien Favre, Les Aiglons find themselves in seventh for the final sprint but just three points off fourth and a Europa qualification spot.
Frank Lampard (Chelsea) - currently at Derby County
Chelsea have had seven managers in seven years, and though that revolving door policy has to an extent paid dividends - two Premier League titles, two FA Cups, a League Cup, a Europa League, and a Champions League trophy - who else to bring a sense of much-needed stability than the Blues' all-time top goalscorer, fourth highest-appearance maker, and record-holder for consecutive league appearances, Frank Lampard. The 40-year-old made his foray into management by taking over Championship club Derby County, just two years after retiring as a player, and has enjoyed a stellar promotion-pushing season with the Rams.
😂 It's 2019 and Frank Lampard is managing a Derby County where Ashley Cole is scoring.
What a time to be alive!
#FACup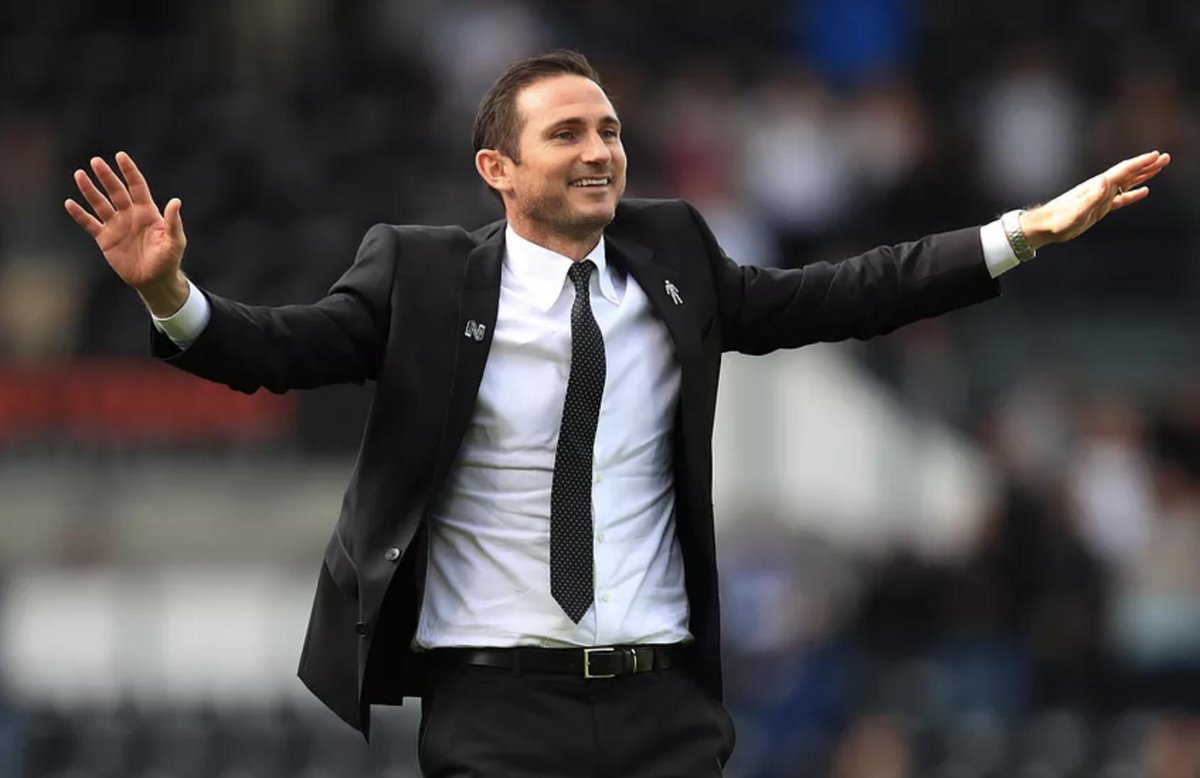 Sol Campbell (Arsenal) - currently at Macclesfield Town
Ye of little faith may jest, but all credit to Campbell; unlike some other names on the list, he's started from the bottom and now he's here. Sol has repaid the belief Macclesfield Town, once rooted to the bottom of the Football League, have placed in him as a rookie and started to steer the Silkmen out of the maelstrom that was beginning to look as if relegation was destined.
Laurent Blanc (Manchester United) - currently unemployed
If Solskjaer doesn't work, a long-mooted name in Laurent Blanc could re-emerge. The Frenchman won the Premier League once in two years in the early 2000s at Manchester United, where he ended his 20-year-playing-career. Blanc has been out of a job since his three seasons with Paris Saint-Germain with whom he was one trophy away from winning the treble-treble.
Tim Sherwood (Blackburn Rovers) - currently unemployed
Tactics Tim tackling taking over from Tony Mowbray to take Blackburn back to the top-tier and triumph in title challenge?
No.
Michael Carrick & Mike Phelan (Manchester United) - currently at Manchester United
M & M currently operate alongside Solskjaer in a visibly brilliant dugout triptych, with more passion for Manchester United in just one of their little fingers than other clubs can muster from their entire squad. Both Carrick and Phelan won the Premier League title as Red Devils, Phelan in the inaugural year of the newly-revamped competition. Particularly for Carrick, excellent for 12 years in that Man Utd midfield, stepping out of the shadows to face the spotlight alone seems inevitable in the future.