It wasn't just the pain of a disappointing Masters first-round defeat to Barry Hawkins that was troubling Shaun Murphy late on Monday night at Alexandra Palace.
The loss was irritating enough, the 2015 champion at the prestigious invitation tournament for the world's top 16 going down 6-2 to Barry Hawkins – having led 2-1 and then squandered opportunities to make that 4-1 before the 2016 finalist Hawkins stole frames four and five and then made it five on the spin to seal his place in the quarter-finals.
But afterwards a gloomy Murphy bared his soul about the neck and back pain that is in his words "seriously limiting my career", admitting the flare-ups are lasting longer, and that not being able to practice for any length of time has left him feeling like "an impostor" when out there competing against the elite of the sport.
Problems affecting the back and neck are not new for snooker players. Even if there are not other underlying and pre-existing conditions exacerbated by the thousands of hours of practice and tournament play, the unnatural demand of moving the neck upwards when in position to make the shot and sight down the cue towards the cue ball can take a grim toll.
Scotland's former LG Cup winner Chris Small, who suffered from spinal condition ankylosing spondylitis, had to retire from the game in 2005. And as well as Murphy, to a greater or lesser degree, those that have encountered serious back and neck problems include Mark Selby, 1980s player and now tournament director Martin Clark, Peter Ebdon, Anthony Hamilton, Gary Wilson, Stephen Maguire, Lee Walker, Stuart Bingham, Ricky Walden, Mike Dunn, and Joe Perry - not forgetting MC and keen runner Rob Walker.
Murphy said: "As it stands, today, right at this moment, it is having a career-limiting effect on me. Maybe not quite career-ending at the moment, but certainly career-limiting.
"I honestly can't remember the last time I played a match completely pain-free, and that eats into your patience and tolerance when you're out there – things you really need. It's not just a game of snooker going on, it's mental warfare. And so if you are playing in pain it does have an effect.
"And then a knock-on effect of that of course is that I am not able to do the five, six, seven hours a day practice that I know some of the other guys are doing. And you can see in my game that I am just not as sharp as everyone else.
"I no longer think about what it would actually be like to play without pain, not in a dreamy way any more. I have had the problem for many years and the flare-ups when it comes on strong are lasting for much longer.
"And without trying to sound too downhearted about it, I have lost a little bit of hope where that is concerned. It is hard to play in pain, and hard to put in the necessary hard work to compete with the best players. At the moment I feel like an impostor out there – like I don't really belong at the top end of the game.
"I know the rankings don't lie, but I don't feel like a top player, or a danger to some of these guys when I rock up to tournaments, because I haven't been able to put the time in to be able to compete.
"Listen, I know what works – constant hard manipulation of the problem areas on a regular basis frees the problem up. But we are not football clubs or top tennis players or golfers. We don't have the financial capability of travelling around on tour with a physio, chiropractor, chef, driver and all the things they do.
"Sure, a top snooker player earns decent money – but we don't have staff. If I could have a full-time travelling physio, I would. But I can't, and so I have to manage it as best I can."
Murphy is still a relatively young man at 39 with a young family, and is therefore clearly anxious that the situation does not deteriorate further for personal and work reasons. To have a physio devote say 20 weeks of their year to a single player might cost around £30,000, beyond the reach of almost everyone on tour.
If the problem is as pervasive as it appears, it could even be an idea for World Snooker Tour or the WPBSA to pay for and have someone on site for at least the bigger events with bookable slots for treatment.
Barry Hawkins has beaten Shaun Murphy 6️⃣-2️⃣ to reach the quarter finals of the
@CazooUK
Masters.
The Hawk preserves a 100% record against the Magician in this event [3/3]
#CazooMasters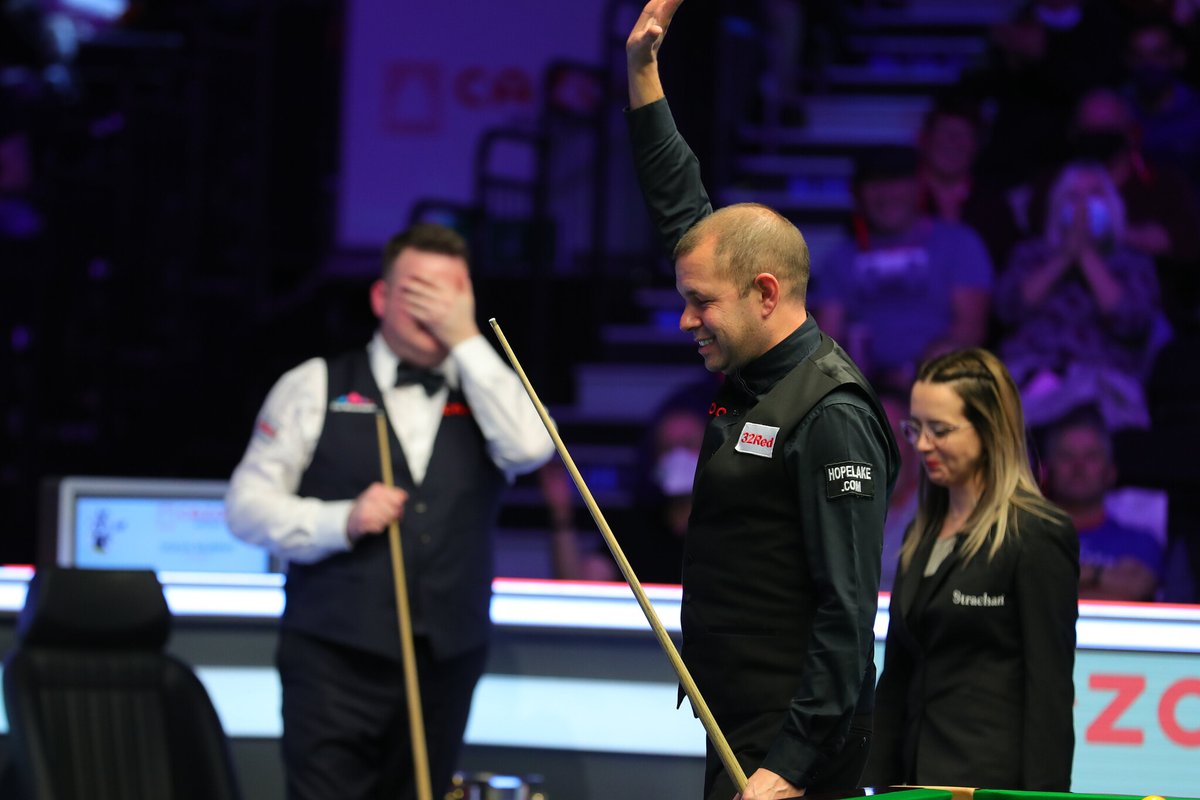 One person snooker players have turned to is John Cox, who operates a sports therapy practice with 5,000 patients out of Pontefract in West Yorkshire where he provides among other things sports massage and acupuncture with a specialism in the relief of back pain. He has also treated performers from the musical acrobatic Cirque de Soleil shows.
Cox, explaining the particular strains that a snooker career places on these areas of the body, said: "Nature putting our bodies together didn't take snooker players into account bending over a table and then raising their head. It can affect your spine, but also your gluteal muscles and hamstrings and create a lot of problems in shoulder, necks, and lower back – often muscles.
"The head is a fifth of your body weight so lifting it up so many times at that angle over 20 years takes it toll. You are designed to be upright. In one case I treat as an example the player as he bends down can twist his head, rotate his spine, pulling on his shoulder, through his ribs into his back. As a young lad you get away with it, but as you get older you are less supple."
Murphy's recounting in 2018 of how bad the injury was on the morning of the 2015 Betfred World Championship final and that he contemplated withdrawing altogether did not go down well with Stuart Bingham, his victorious opponent in that Crucible showpiece.
Responding testily, Bingham said: "It is the first time it's ever come out. Surely if you have a bad back the morning of playing you would have made it known back then. To say it three years later doesn't make sense to me."
However acute the issue may or may not have been on that particular day, there is little doubt that Murphy's condition has been there for many years and if anything is getting worse. He is not alone. And the more the authorities can do to assist players in the area, the better.