Five goals conceded in 21 minutes. This week we learnt that apparently that is the threshold for players refunded travelling fans in the Premier League. Tottenham Hotspur's dismal showing at St James' Park on Sunday was utterly shocking and culminated in the sacking of interim boss Cristian Stellini, but that wasn't the end of the story.
The players, now led by Ryan Mason, released a statement on Tuesday that read: "As a squad, we understand your frustration, your anger. It wasn't good enough. We know words aren't enough in situations like this but believe us, a defeat like this hurts. We appreciate your support, home and away, and with this in mind we would like to reimburse fans with the cost of their match day tickets from St James' Park.
"We know this does not change what happened on Sunday and we will give everything to put things right against Manchester United on Thursday evening when, again, your support will mean everything to us.
"Together – and only together – can we move things forward."
It was a touching sentiment from those players on the pitch, given the effort their fans had gone to. Most of them left in disgust after the fifth goal had gone in and headed back to the capital, but still it wasn't an acceptable performance by any means.
However, reimbursing their tickets, while a nice gesture, sets a dangerous precedent. Part of the beauty of going to the football and buying that ticket is that you never know what you are going to get. You travel up and down the country watching your team for those brief moments of ecstasy when everything falls into place. But you have to sift through a lot of sh*t to get to those moments.
What happens if Spurs are humiliated again, this time by Manchester United on home soil on Thursday? Are they going to reimburse every single fan in the stadium? Almost certainly not. There's a certain wonderment of buying a ticket and genuinely having no idea of what you are about to see. If the players fail to turn up, they fail to turn up - it's part of the gamble you take when buying a ticket. It's the one thing that separates live sport from a trip to the theatre or the cinema. The unpredictability.
The players have a message for our fans who went to Newcastle on Sunday...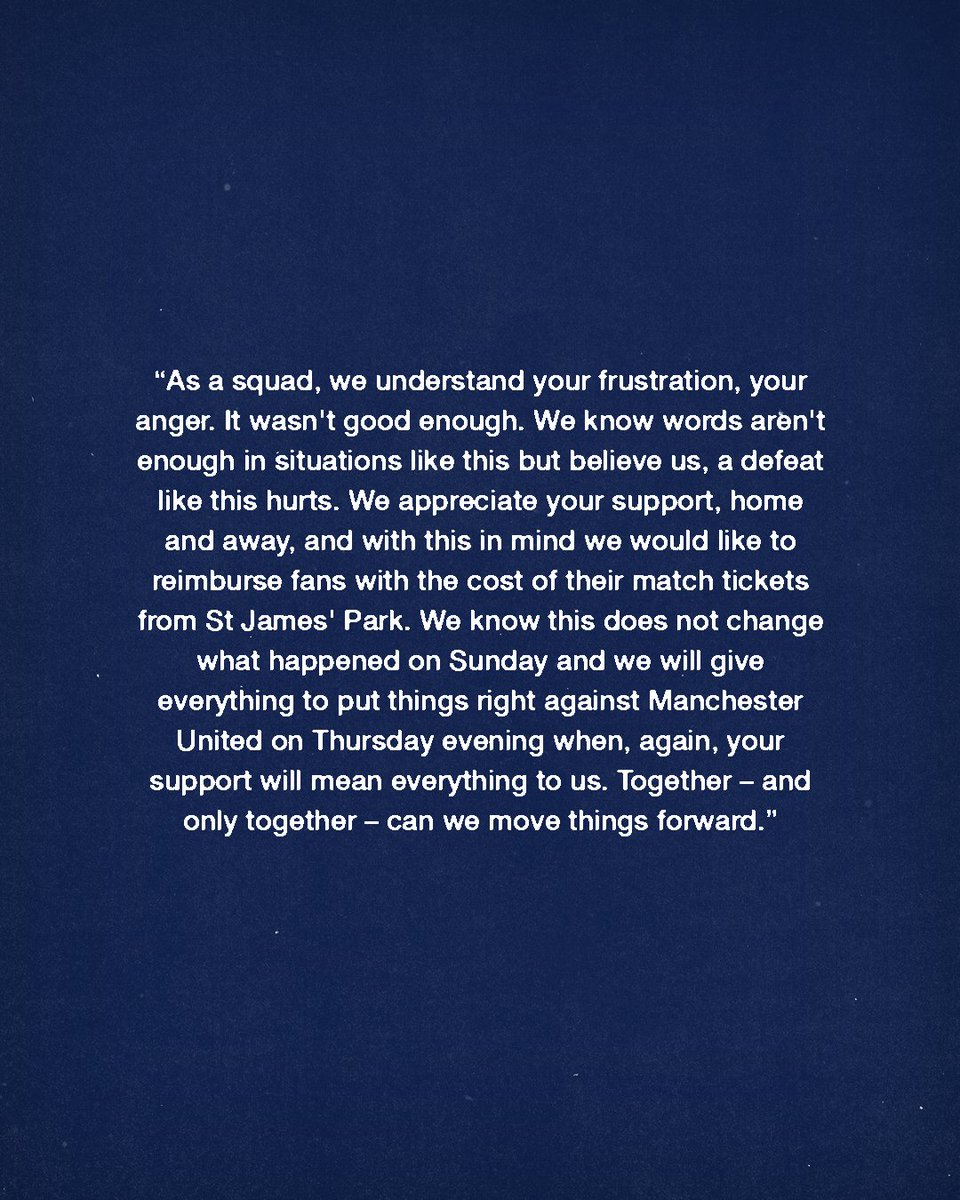 You go to the cinema to be entertained. You go to the football to support your team no matter what. Sure, you have the right to leave when you want - but you don't have a money back guarantee should your team fail to live up to your expectations. Football simply doesn't work like that. Fans up and down the country, particularly in the lower leagues, have sat through some absolute dross in their time.
Should they get to watch for free every week? Absolutely not. Premier League players may earn more money and have made this gesture from a good place, but it's not something the Tottenham fans who went would have expected. As long as this refunding system remains a rarity, it's okay. As soon as it becomes a regular thing, or worse still, football fans expect a refund when their team underperforms, we are in dangerous territory.
Football offers no guarantees. For most of us, watching our own team isn't enjoyable at all. We do it out of loyalty and love. If you want the certainty of an entertaining afternoon out, go and watch the Super Mario Bros Movie. The rest of us will begrudgingly put up with displaced passes and underperforming players until that loyalty and financial investment finally pays off.