The City team is barely recognisable since Pep Guardiola arrived at the club
07:00, 26 Apr 2022
A lot can happen in six years. Great Britain left the European Union, Donald Trump was leader of the free world and we've had a global pandemic. But football also moves on at a rapid pace, at least for some clubs, yet history has a way of repeating itself.
In 2016, Manchester City's Champions League dreams ended at the hands of Real Madrid at the semi-final stage and six years later, they meet again. This time around however, the footballing landscape for City in particular, has changed.
Back then, they were relative novices on the European stage. Six years ago, they entered their very first Champions League semi-final as underdogs, with a sense of trepidation given the strength of a Madrid side that had lifted the competition two years previous. Cristiano Ronaldo was at his imperious best, and scored a whopping 16 goals in that season's edition, while Gareth Bale was still contributing at the Santiago Bernabeu rather than Golf La Moraleja. The Welshman played a huge part in Fernando's own goal, the solitary goal that decided the tie.
Ronaldo may have now departed the Spanish capital but there is a certain level of continuity at Real Madrid, including Bale, that hasn't been seen in Manchester. That day Luka Modric, Toni Kroos and Isco started in midfield, with the two old heads likely to start again six years on, while Marcelo and Dani Carvajal are both still involved with the squad.
The 2016 Champions League triumph would set Los Blancos on their way to winning three in a row. After La Decima in 2014, following it up with such a consistent level of success and becoming the first team to defend their European crown since 1990, further established themselves as the top dogs on the continent. It's no wonder one of their most successful teams ever hasn't changed all that much.
Tomorrow is
#ManCity
's first
#UCL
semi-final at the Etihad Stadium with a crowd in six years and only the second ever - since Real Madrid in 2016.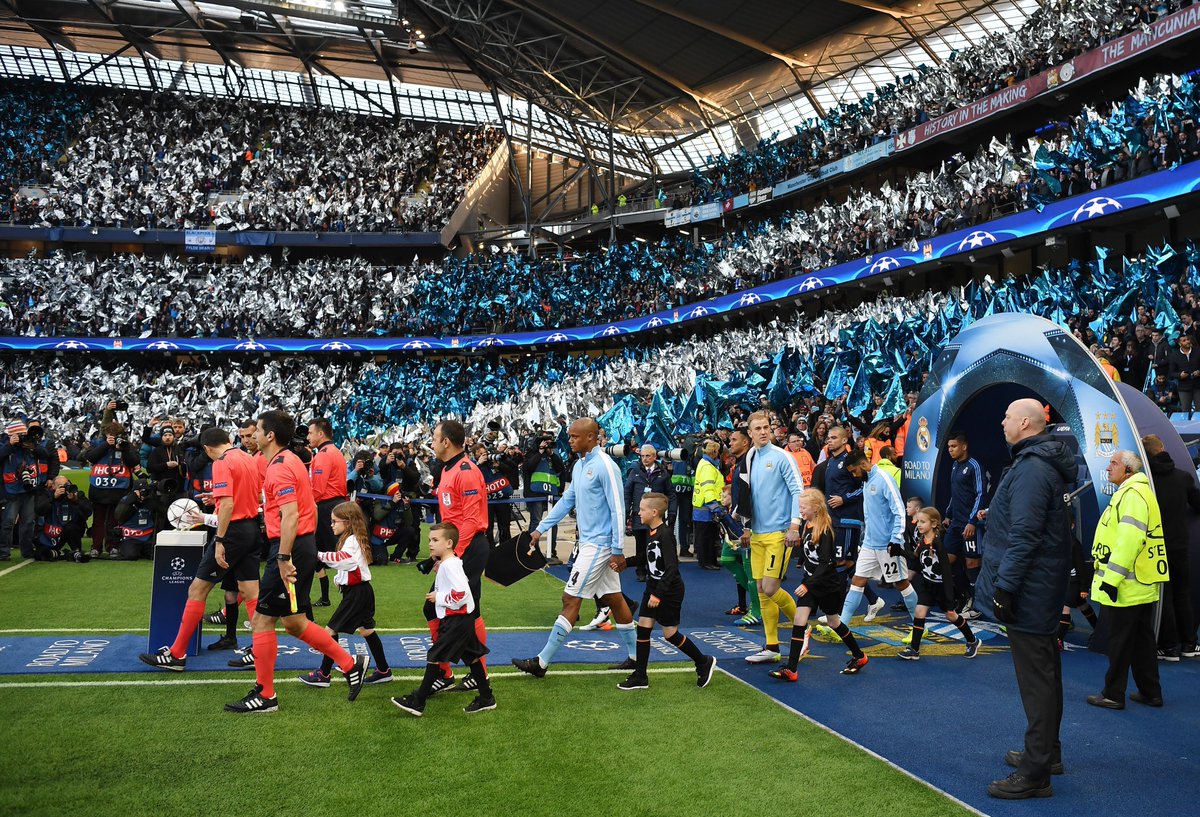 If Real Madrid were top dogs six years ago, City were excitable puppies. They had some quality, but no experience of mixing it with the big boys, and they were still trying to establish domestic dominance - failing to win the league for three consecutive years in the mid 2010s. Under former Real Madrid boss Manuel Pellegrini, they had won their second Premier League crown and reached new heights in Europe, but their squad was still slightly short of what was required to truly dominate.
Of the city team that stated that semi-final, only Kevin De Bruyne and Fernandinho remain, as the defence has undergone several overhauls under Pep Guardiola's tenure. Joe Hart, Bacary Sagna, Vincent Kompany, Nicolas Otamendi and Gael Clichy had varying levels of success at the Etihad and it's fair to say the massive investment has certainly improved the back line from what we saw in 2016.
Now Joao Cancelo and Kyle Walker provide huge attacking threats while John Stones, Aymeric Laporte, Ruben Dias and Nathan Ake offer genuine competition in the central areas. A Premier League title this year would mark their fourth in five years which would certify their domestic greatness, but the European crown is still missing.
As Real Madrid rely on old talent to pull them through, City will hope their experience of last year's final defeat will have taught their current crop enough to rectify their mistakes. Guardiola himself has surely learnt not to drop his holding midfielder before a major final, but to get to Paris, first they must do what they failed to do six years ago.
Given how much they have come on in those six years, this time they are massive favourites. Fernando has been replaced by Rodri, Bernardo Silva is in for Yaya Toure and Phil Foden is a huge upgrade on Jesus Navas. Betfred have them as short as 1/3 to qualify for the final, but to win the competition for the very first time they are going to overcome two enormous hurdles.
The most successful team in European history awaits in the semi-finals, but a victory will surely give them huge belief heading into a final with Liverpool or Villarreal. Six years on, Manchester City's time has come.
*18+, terms and conditions apply, odds subject to change.