But there was no fond farewell for Jesse Lingard, while Cristiano Ronaldo looks likely to stay
10:00, 03 May 2022
A number of Manchester United stars said a fond farewell at Old Trafford last night, as several players took part in their final home games for the club. Nemanja Matic, Juan Mata and Edinson Cavani are set to leave in the summer, and all three appeared in a surprisingly straightforward 3-0 win over Brentford. The trio are aged between 33 and 35, and their collective bow suggests United will look to replenish their ranks with younger men when Erik ten Hag takes over this summer. But the oldest man on the pitch, 37-year-old Cristiano Ronaldo, does not look like going anywhere just yet.
Mata and Matic played from the start against Thomas Frank's' men. While Matic has become a regular sight recently, having featured in United's last six games, Mata's inclusion seemed to send a message. The diminutive Spaniard was starting his first Premier League game of the season, which gave the impression of a de facto testimonial considering his contract expires this summer. The midfielder is a popular figure with players, staff and fans at Old Trafford, despite the fact it is recognised his best days are behind him.
While Matic and Mata departed to hearty applause as long-term club servants, a shorter-tenured mid-30s star also made his final bow last night. Edinson Cavani's two-year United spell will end this season. His first campaign in red looked like the start of a love affair, with the Uruguayan becoming an instant favourite. 17 goals in 39 games eased the doubts some had about his free transfer, and his relentless workrate made him a cult figure. Had his initial one-year deal been allowed to expire last summer, that might have been how he was remembered.
A troubled second season can be traced back to the signing of Cristiano Ronaldo. Cavani wore the number seven shirt for the Red Devils last season, but ceded it under no shortage of pressure to the Portuguese star. Cavani also ceded his place in the team, no longer serving as United's primary attacking outlet. A series of injuries, absences and slow returns from international duty have seen him limited to just 18 appearances this term. The fact he has only scored two goals in these outings has meant his presence isn't always particularly missed. But United fans will remember the good times even if, like in the case of Mata and Matic, it was a marriage that perhaps lasted a little too long.
Not every departing United player got the opportunity to say goodbye though. Jesse Lingard is in the final weeks of a United spell that has lasted from when he was nine years old. Now 29, you perhaps would have expected a player who has scored in two cup final wins and given so much of his life to the club to have earned a final round of applause. The Stretford End would have certainly obliged, but Ralf Rangnick chose not to bring the midfielder into the fray.
Lingard's brother, Louie Scott, took to Instagram to express his disgust at his sibling being denied a chance to say a proper farewell. "20 years of blood sweat and tears. 4 domestic trophies, 3 cup final goals. Not even a farewell. No wonder it's Conference League next season". It was a brutal take, but an understandable one. Lingard has often been made a lightning rod for United's failings, while his decisive contributions in big games have been forgotten.
Lingard's brother loool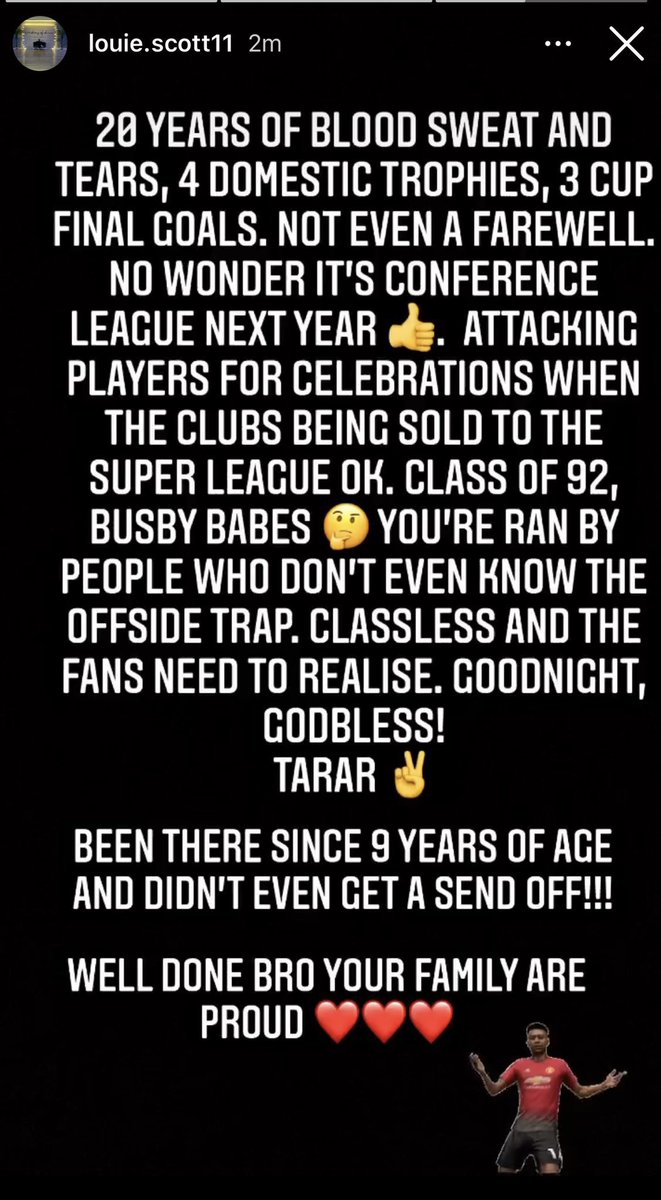 There are doubts over some players' futures, such as Phil Jones who was awarded a substitute appearance despite having a year to run on his contract. Ronaldo is another player linked with an exit, but the 37-year-old phenom appeared keen to quieten this talk. After being rapturously received by the fans after a man of the match performance, the striker looked into a television camera and appeared to mouth the words "I'm not finished". Despite being older than the clutch of teammates who were lovingly pensioned off at full-time, Ronaldo certainly seems like a man with more to give. He has notched 24 goals in 37 games during United's darkest period since the 1980s, and he looks determined to drag the club he first joined 19 years ago out of the mire.
Last night felt like the end of an era for Manchester United. Several players and their interim manager, all took part in one last home tie together. Fans hope next season will bring fresh ideas, fresh players and a renewed vigour. It will be fascinating to see how the Red Devils line-up in their next Premier League game at Old Trafford.