Conte usually turns his teams into well-oiled machines, but that is yet to happen in north London
18:28, 19 Feb 2023
What a difference a week makes. Last weekend, Tottenham Hotspur were left licking their wounds after a 4-1 thumping at the hands of Leicester City. While those same Foxes capitulated against Manchester United earlier in the day, Spurs managed to score a rejuvenating 2-0 victory over West Ham United. While their London rivals stare into the gaping maw of relegation, Tottenham can afford to look up. This victory puts them into fourth place, not bad for a team so often cited as being in crisis.
The mark of a mediocre half of football is usually the hyperfocus on a moment of supposed refereeing failure. It is my sad duty to report that the moment where Thilo Kehrer appeared to handball a Richarlison touch dominated the half-time chatter surrounding a damp squib of a first half. It is The Sportsman's view that it was an unavoidable incidence of ball-to-hand, but the fact we're even talking about it betrays a complete lack of substance in the opening 45.
Jarrod Bowen came closest to lifting the clouds of mediocrity. The England forward pulled a shot wide from outside the box. It was a tricky distance but the complete lack of pressure suggested he should at least have hit the target.
There was a jilted opportunity when Dejan Kulusevski bundled a cross into a box packed with eager Spurs shirts. At the other end, Pierre-Emile Hojbjerg drew a routine save from Lukasz Fabianski with a distance-strike. It was all so cagey, bumbling along with the half-heartedness of a pre-season knockaround.
The second half started with a fluid attacking move from Spurs. Harry Kane played in Kulusevski, whose square ball was fired towards Fabianski by Richarlison. Kane then tried to go it alone, as he so often has to. Declan Rice was robbed in possession by Kulusevski but Kane's resulting cross-shot ended up resembling neither.
The double act is at it again 🔥
Instant impact from Heung-min Son ⚡⚡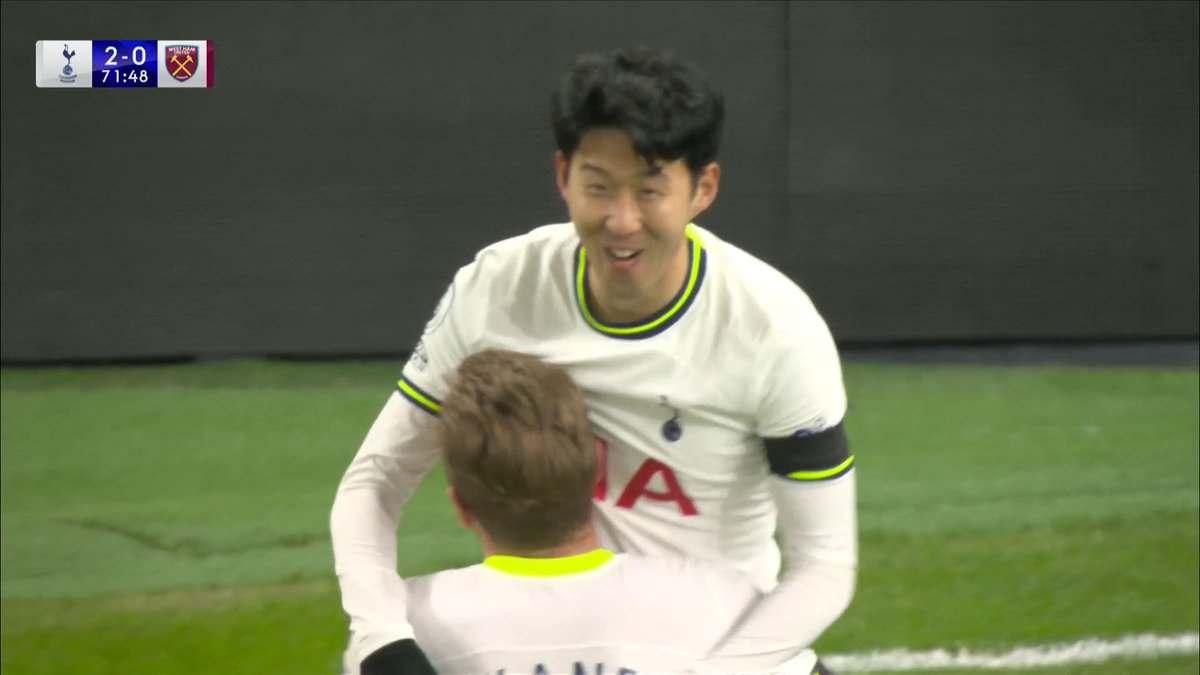 But instead of club record scorer Kane, it would be Emerson Royal of all people that opened the scoring. Collaborating with fellow full back Ben Davies, the scorer benefited from a perfectly weighted ball. The finish would have put a smile on Kane's face, with the defender applying a touch akin to that of a striker.
Kulusevski tested West Ham's crumbling resistance with a curled shot from the right flank. The former Arsenal keeper was equal to the attempt, with his efforts being one of the few bright spots for the humdrum Hammers.
Things went from bad to worse for David Moyes' decaying side as Heung-min Son broke his duck. The South Korea superstar came off the bench and turned back the clock, latching onto a Kane through ball and finishing superbly. Conte will be hoping his misfiring forward kicks on from this moment of resurgence.
The prevailing issue with this Spurs side has been consistency. Conte was hired for his ability to forge disciplined winning machines out of dysfunctional teams. But 15 months into his tenure, he is yet to achieve that metamorphosis. Case in point, Tottenham's 1-0 defeat to AC Milan in midweek probably had more to recommend it than this staccato display. But once the stuttering Spurs machine started flowing this afternoon, it was still effective enough to get the job done. Now, Conte must find that elusive consistency if he hopes to retain their place in both this year's and next year's Champions League.
*18+ | BeGambleAware | Odds Subject To Change