Ex Reds captain reunited with former teammate Jamie Carragher on 'The Greatest Game' podcast
10:44, 09 Jan 2020
Liverpool legend Steven Gerrard sat down with old pal Jamie Carragher on the latter's podcast "The Greatest Game", in which he grills football stars, faces, and fans.
The former Reds captain and vice-captain enjoyed a lucrative playing career together on Merseyside, which reached its apex with the 2005 Champions League Final, to make it five European trophies for Liverpool.
Academy graduate Gerrard left Liverpool after 26 years in 2015, and after a short spell in the MLS with Los Angeles Galaxy, hung up his boots and entered the world of management with Scottish Premiership giants Rangers, who are currently once again vying with Celtic for the title.
Gerrard is under contract at Rangers under 2024, which is coincidentally the current expiry date of Jurgen Klopp's tenure at Liverpool.
In September 2019, Klopp - on the verge of ending Liverpool's agonising three-decade wait for the league title - provided an interview in which he expressed who he thought his successor should be.
"If you ask who should follow me, I'd say Stevie. I help him whenever I can."
Gerrard, in just his second season of full-time management, spoke about the German's gushing endorsement but stressed that he is content north of the border and that he may not be ready for the Liverpool job just yet.
I'm very flattered [by Jurgen's comments] because of who he is but there's a lot of people who naturally think after Rangers, if Jurgen was to go in a year's time or two years time, I'm next. I don't.
"If I got offered it, it's a completely different ball game. But sitting here right now, I'm fine, I'm calm, I'm happy. If I'm at Rangers for another two, three, four years, I'm OK. It means I'm doing something right. I'm in no rush to try and jump. I'm not looking over the fence and anywhere else. I'm proper content.
"I wouldn't take the Liverpool job just because of what Jurgen said. I'm quite mature enough to know that I have to be ready for the Liverpool job.
"If Jurgen stays at Liverpool for another four or five years, brilliant. If Liverpool decide there's another guy that is more suited to the job after Jurgen, that's a better candidate than me, that's fine.
"I think for me there's a realisation, if it's going to happen, it will happen."
Gerrard is also of the staunch belief that he won't be in management for 20 or 30 years and also that he would love to see the Scottish League incorporated into the English one, stating that he "would love the Scottish league to filter into the English leagues, all of them, to save and help the Scottish game".
We are back!🎙
In episode 9,
@Carra23
chats with
@LFC
legend and
@RangersFC
Manager, Steven Gerrard!
#LFC
#RangersFC
Available on Apple Podcasts, Spotify, or wherever you get your podcasts!
👇 👇 👇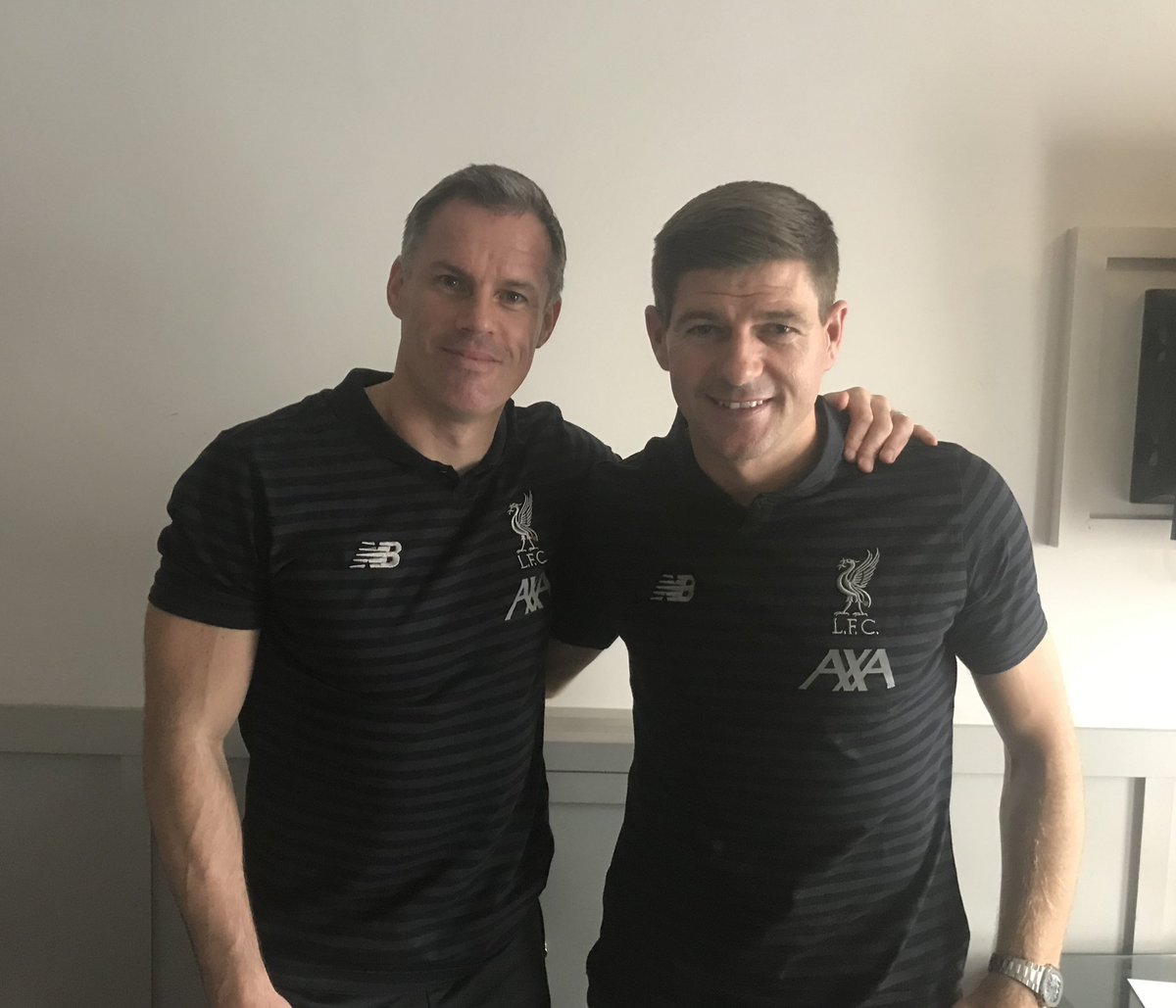 He also spoke about his relationship with the current Reds gaffer, rueing that he didn't have the opportunity to have "15 minutes coming off the bench" for the German manager in his playing days. Gerrard enjoys a good relationship with Klopp, and watching Liverpool as a fan more than ever as that title drought starts to see the welcome rain clouds approaching. He is also not averse to asking Klopp for advice on management.
"It's not like a daily thing or a weekly thing. I could text him and say 'Oh, you've done that in the game, what was your thinking behind that?'
"If I'm in his office, straight away he's an open book and he'll give you whatever you need.
"He's that thick-skinned and that confident, and backs himself that much, and that's what I love about him."
Right now, the priority for Gerrard is strictly confined to Glasgow, namely stopping Rangers' fierce rivals Celtic hitting the record of ten titles in a row (they're currently on eight, Rangers hold the record on nine). Carragher enquired as to where that would rank on his list of achievements in such a rookie career.
"I think outside the Champions League it'll probably be the next best. Celtic fans are desperate for nine-in-a-row."
There are no regrets about choosing not to remain on Merseyside, where he coached the Under-18s side between February 2017 and April 2018, and take the giant steps onto the touchline in front of the watching world at one of the most recognised clubs in the United Kingdom.
"My plan before I started was [to] go and get comfortable on the grass and see where it is after a couple of years. But you know even after I had done it after six months or even a year, I was thinking, 'If I do this for another year, and another year, I might be wasting two years'. Because what's the difference between coaching Liverpool Under-18s one season to the next season. You're competing for the same things."
When asked whether his lack of experience was an issue before taking over at the Scottish giants, Gerrard conceded:
"It was a concern, and that's the reason why it was so important when I spoke to Rangers that I needed certain people next to me because I'm going to make mistakes and I'm not going to be ready for certain things. I do need people to lean on.
"My concern at the time when the Rangers offers came in was that to stay at Liverpool and maybe [that job] might come and that's the one that I need.
"Maybe that is made for me."