The former WBC champ says he will trigger the rematch clause for a third fight
09:46, 25 Feb 2020
Deontay Wilder has blamed a number of external factors, including his elaborate pre-fight costume, for his heavyweight title defeat to Tyson Fury on Saturday. And the fallout could put paid to hopes of a unification Battle of Britain between Fury and Anthony Joshua.
The American lost for the first time in his professional career in the WBC championship bout in Las Vegas more than a year on from their drawn first encounter, with Fury dominating before eventually completing a seventh-round stoppage. But Wilder has claimed that the heavy suit he wore on his ring walk in tribute to Black History Month played a huge part in his defeat.
"He didn't hurt me at all, but the simple fact is that my uniform was way too heavy for me," Wilder explained to Yahoo Sports. "I didn't have no legs from the beginning of the fight. In the third round, my legs were just shot all the way through. But I'm a warrior and people know that I'm a warrior.
"It could easily be told that I didn't have legs or anything. A lot of people were telling me, 'It looked like something was wrong with you.' Something was, but when you're in the ring, you have to bluff a lot of things... I knew I didn't have the legs because of my uniform.
"I was only able to put it on [for the first time] the night before, but I didn't think it was going to be that heavy. It weighed 40, 40-some pounds with the helmet and all the batteries. I wanted my tribute to be great for Black History Month. I wanted it to be good and I guess I put that before anything."
🤯 Deontay Wilder: "He didn't hurt me at all, but the simple fact is my uniform was way too heavy for me. I didn't have no legs from the beginning of the fight… I didn't think it was going to be that heavy. It weighed 40lbs with the helmet and all the batteries." [@YahooSports]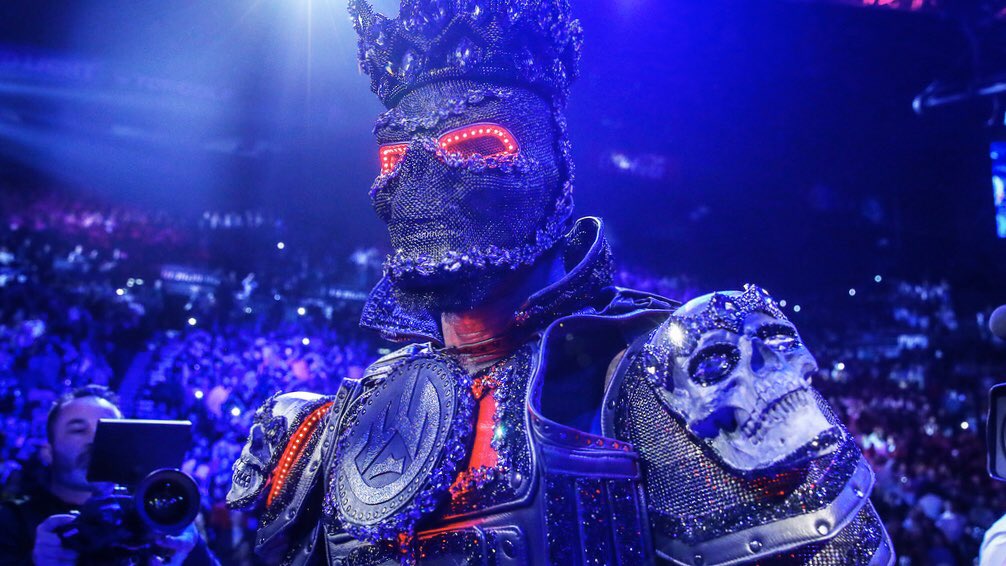 Wilder also bemoaned Fury's foul play and his own assistant trainer's decision to throw in the towel. Fury was docked a point for a cheap shot after referee Kenny Bayless had called for the two to break, and Mark Breland then conceded the fight against the pre-decided wishes of his fighter.
"I am upset with Mark for the simple fact that we've talked about this many times and it's not emotional," Wilder explained. "It is not an emotional thing, it's a principal thing. We've talked about this situation many, many years before this even happened. I said as a warrior, as a champion, as a leader, as a ruler, I want to go out on my shield.
"So I told my team to never, ever, no matter what it may look like, to never throw the towel in with me because I'm a special kind. I still had five rounds left. No matter what it looked like, I was still in the fight."
Of the referee, Wilder told The Athletic, "Bayless had come in my dressing room, looked me in my eyes and said if I hit Fury in the back of the head – rabbit punch – or hit off of the break, he would disqualify me or deduct two points from me. I guess those rules just applied to me because they didn't apply to my opponent. [Fury] hit me in the back of the neck and the head all night and Bayless didn't do anything about it."
The Bronze Bomber says that he will now trigger the rematch clause built into the initial fight deal. "The rematch is definitely going to happen. We're going to get it on. I want to get right back to it."
If Wilder does officially take up his option to fight Fury for a third time then it could put hopes of a fight between the Gypsy King and Anthony Joshua in doubt.
Joshua's promoter, Eddie Hearn, insisted on Monday that he will do "everything it takes" to make a clash between the two Brits happen, but added that a fight between WBA, IBF and WBO champion Joshua and Kubrat Pulev is tentatively arranged for June should WBC king Fury be forced into a rematch with Wilder.
Wilder has 30 days to activate the rematch clause, with a third bout likely later this year if he does opt to take on Fury once more.