The Bayern Munich player is the complete forward and there's more to come
13:06, 29 Feb 2020
Until the last week, when I heard the words 'I am inevitable', my first thought was of Thanos. Now, thanks to the Champions League, I think of Robert Lewandowski.
Most of the headlines following the Chelsea Bayern Munich game were about Serge Gnabry, and rightly so given the former Arsenal and West Brom reject (you played a blinder there, Tony Pulis) dismantled Frank Lampard's men, and along with Alphonso Davies, was the star of the show.
Yet at the very heart of it all was Lewandowski, a forward so prolific that his teammates have suggested he should be in line for the Ballon d'Or. Of course, we live in a time with Ronaldo and Messi, so that's sort of like asking if DC hero Wonder Woman is the best female superhero film out there when we have Marvel's Captain Marvel. It's just a different level, and we all know it.
However, Lewandowski has been a once in a generation striker during his career, which is far from over if nights like last Tuesday are anything to go by, with the forward prolific not just in front of goal but in the entire final third for his team. He of course really announced himself during his time at BVB, and scored 74 goals in 131 games for the German side, helping them to win the Bundesliga title not once but twice and of course get to the final of the Champions League as well.
In the least shocking turn of events since Captain America decided to reunite with Peggy Carter, Bayern Munich decided to swoop for him and ruin any chance BVB had of actually asserting long term dominance. At Bayern, Lewandowski has thrived. The German national side must look at him and wish he wasn't Polish given his output for club and country.
ℹ️ All-time
#UCL
top scorers:
⚽️1⃣2⃣8⃣ Cristiano Ronaldo
⚽️1⃣1⃣4⃣ Lionel Messi
⚽️7⃣1⃣ Raúl González
⚽️6⃣4⃣ Robert Lewandowski
⚽️6⃣4⃣ Karim Benzema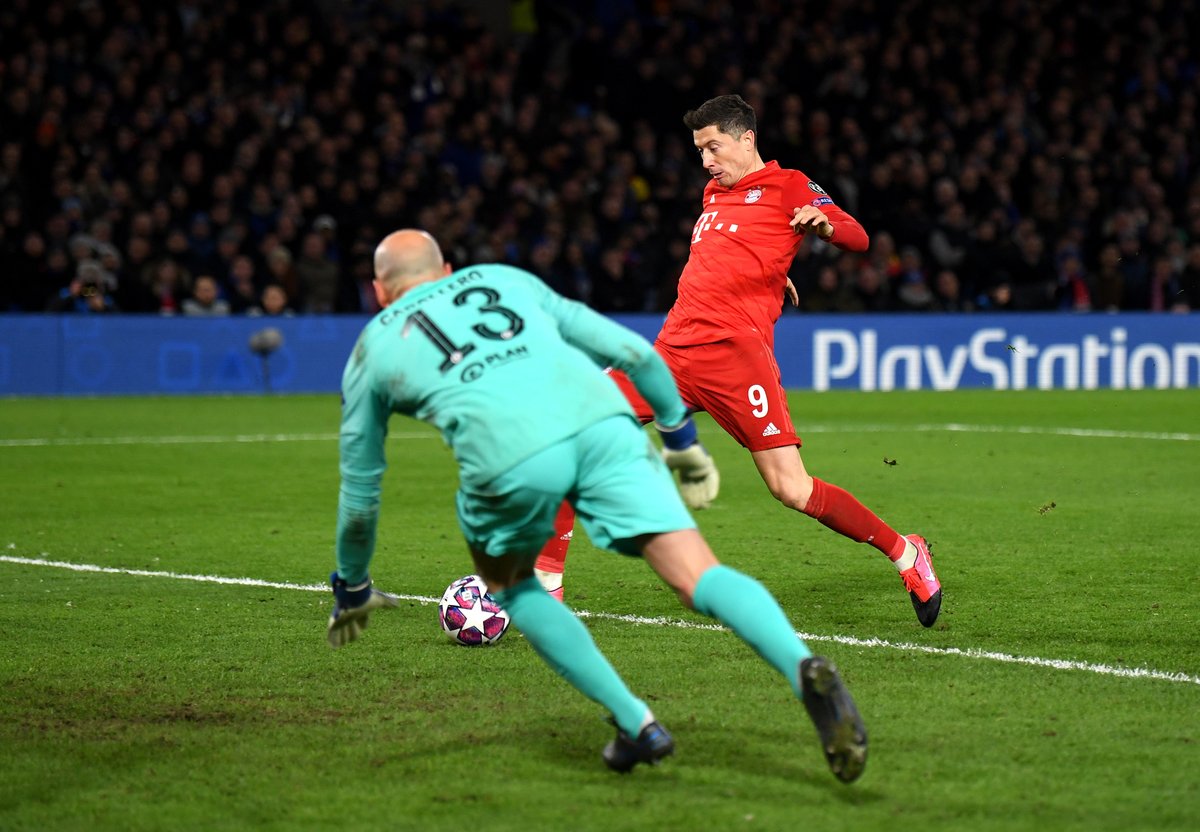 In the 2015 Ballon d'Or awards, he claimed 4th place – but there are plenty of people who feel he should have been in the final three more than once, and some who will argue he should've won it outright. The difficulty here is of course in the Messi / Ronaldo duopoly, it's hard for mere mortals to compare, and even Virgil van Dijk failed to break that, with only Luka Modric managing it after an outstanding season since Kaka last lifted the individual award.
He's no stranger to Golden Boots, and after the game at Stamford Bridge, equalled Cristiano Ronaldo's record of nine away goals in the Champions League in a single season – and you'd expect there to be at least a couple more this season as well.
Ironically, it was the game against Chelsea where it became so clear Lewandowski was everything the Blues did not have. Yes, Giroud is a good striker, but Lampard doesn't want to be playing him and in relation to Tammy Abraham, that's like having the Euro millions winning ticket compared to finding a quid on the street.
Lewandowski won the striker lottery – he's tall, powerful, skilful, good with both feet and his head - a natural born goal scorer and a classic number nine in that respect, but also someone who is seriously underrated in terms of how he plays positionally and with the link-up play. You could put him in any side in the world, any system, and he'd thrive – how many forwards can you truly say that about? None at Stamford Bridge, that's for sure, where the only inevitability is missing chances and misery.
Sadly for Chelsea, I doubt once we get to the endgame in three weeks time, there will be anyone around to counter Thanos with the phrase 'I am Iron Man'. Even without the Bavarians having Lewandowski, who is now out for a few weeks through injury. All it will take is one click of Gnabry's fingers and the Blues will be dust.