Club's plan receives mixed reaction from supporters
15:23, 05 Sep 2019
Swinton, one of the great names of rugby league with a history dating back to 1866, are looking to rebrand themselves as Manchester for next season.
The club has led a nomadic existence since leaving its old Station Road home in 1996 playing at Leigh, Whitefield, Salford and Bury before landing in their current home at Sale.
Swinton are trying to rebrand as Manchester Lions but will retain their famous blue shirts with a white vee as well as incorporating 'Swinton' on their new badge.
In 1960, plans to launch a new rugby league club in Stretford were ironically opposed by Swinton and Salford who made up a Manchester XIII for a game against the New Zealand tourists in 1961.
In a statement, the club argue a change is needed to ensure the club's financial stability by broadening its appeal ahead of the 2021 Rugby League World Cup.
There are plenty of other clubs in Greater Manchester already including Leigh, Salford, Oldham, Rochdale and Wigan so Swinton's bid to assume a new identity is certainly bold.
"This decision is most definitely not for shareholder gain but against the true need to secure a future for the club and save it from extinction," a statement reads.
"It's also worth noting that the board have rejected several firm approaches to merge with other clubs in the immediate past but these approaches have been rejected because they were speculative and would do nothing to safeguard the lineage of the Lions as a stand-alone club.
"The board firmly believe that there is a significant opportunity to broaden the appeal of Swinton by becoming THE rugby league club of Manchester."
The club has looked at relocating nearer its home but plans for a new stadium in Agecroft have apparently stalled.
Manchester is blue! 🔵
In the Betfred Championship at least...
@Swinton_Lions have confirmed that they have applied to rebrand to Manchester Lions from 2020.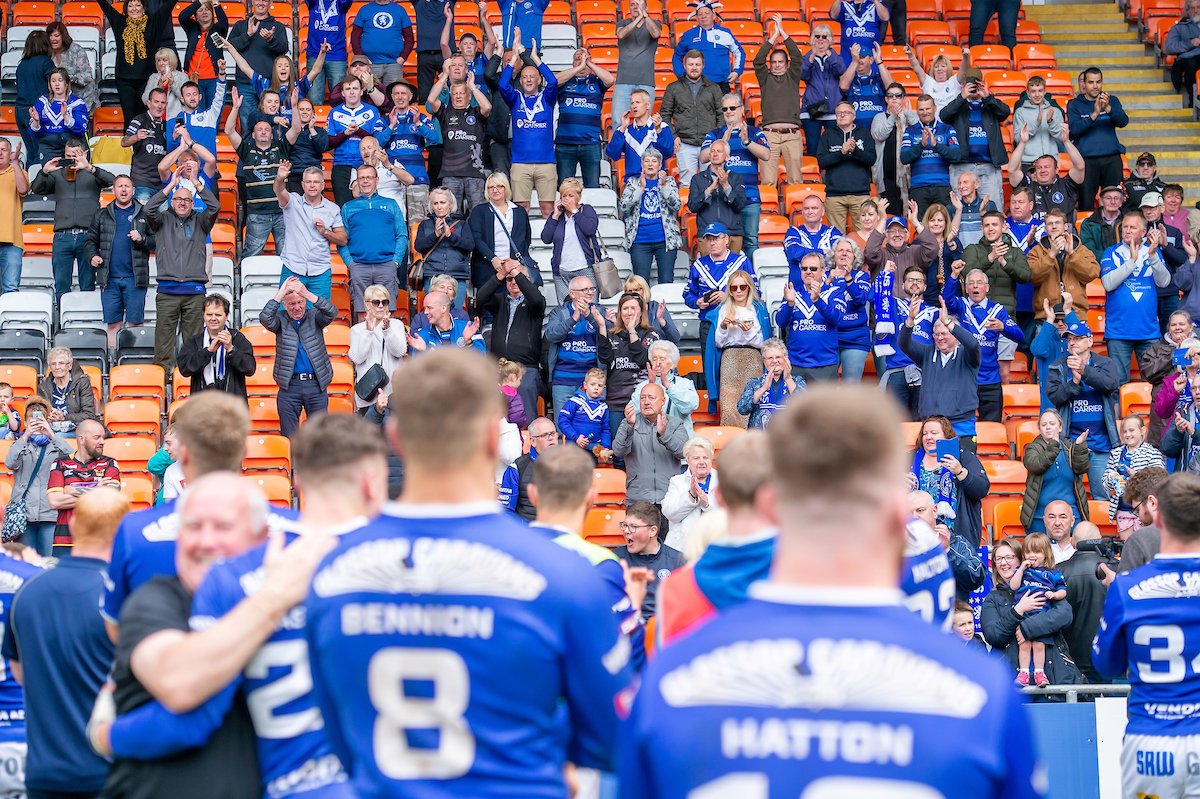 The statement continues: "The board have considered supporter feedback regarding brand name options in respect of the playing name.
"Having assessed these options carefully, we believe the most effective way to reflect the Swinton name is to display it prominently on the badge and keep it highly visible throughout branding.
"As such the original branding has been changed, a sympathetic evolution rather than a revolution. The title "Swinton" remains alongside our year of Foundation (1866), the iconic rampant Lion and our Six "Championship" stars. The 2020 home kit will also see the return of our famous white 'V' on blue shirt."
Reaction on social media has been mixed with the loss of 'Swinton' from the brand being seen a snub to tradition. A minority of fans have said they will not support a team with the new name which seems a little strange given Swinton haven't actually played in the town of Swinton for more than 20 years.
Swinton's traditional enemies, Super League side Salford have also been linked with a 'Manchester' rebrand in recent years but fans of the Red Devils have argued passionately that they need to retain their identity.