The Arsenal player has returned the compliment heaped on him by the Liverpool boss
11:47, 10 Feb 2020
Halloween 2019 was very nearly, very frightening for Jürgen Klopp and his Liverpool team. But for the neutral football fan, the holiday's eve provided an exceptionally entertaining game as the Reds participated with a ten-goal Carabao Cup thriller with Arsenal before, once again, coming out on top at Anfield.
Divock Origi's 90th minute goal for the home side took the tie to 5-5 and subsequently to penalties, with Liverpool eventually booking their place in the quarter-finals of the competition.
A riotous topsy-turvy encounter had seen Arsenal take a two goal lead in the first-half through the 18-year-old Gabriel Martinelli, and though Liverpool ultimately took the spoils it was the Brazilian's performance that distracted Klopp in the aftermath.
In what was his seventh appearance for Arsenal since moving from Ituano in São Paulo of his homeland in July, Gabriel Martinelli scored his sixth and seventh goals of the season.
The overall outcome may not have been what the youngster would have wanted, but his contribution was far from under-appreciated: Klopp, named FIFA men's coach of the year, subsequently proclaimed Martinelli "talent of the century". And so the love-in began.
High praise from a man who has directed such attacking pedigree as Mohamed Salah and Sadio Mané, the collective recipients of the Golden Boot awards across the last two seasons, as well as Martinelli's compatriot Roberto Firmino. Not to mention Robert Lewandowski and another Gunner, Pierre-Emerick Aubameyang (both at Klopp's previous club Borussia Dortmund).
The compliment has now been reciprocated by the teenage forward, speaking to Marca he said: "I feel very proud that one of the best tacticians in the world speaks well of me."
It seems talent recognises talent.
Our first teenager to score 10 goals in a single season since Nicolas Anelka in 1998/99...
🇧🇷 Gabriel Martinelli: baller 🤙
#CHEARS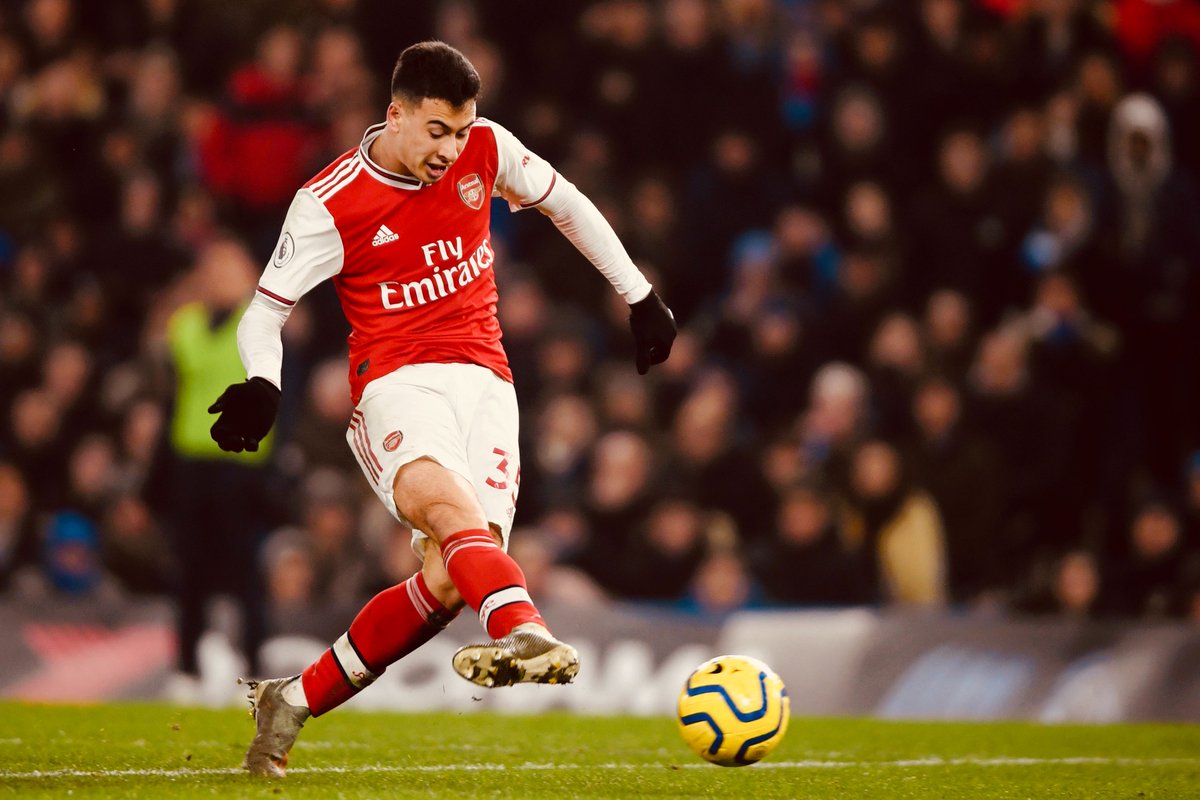 Martinelli currently has ten goals from 1300 minutes of play in his debut season in England (to put this in perspective, across the 2019/20 campaign, his teammate Alexandre Lacazette, a £52.7m signing in 2017, has half of that from 1500 mins). Not only has Martinelli swiftly endeared himself to the Gooner gathering, but it is becoming apparent that his status is being elevated across the country if a high-profile figure as Klopp can proclaim such a gushing statement.
Klopp had initially focused his praise on his young charge, the centre-back Sepp van den Berg, the 17-year-old Dutch centre-back who had renounced the advances of such European behemoths to seal a £4.4million deal to Merseyside in the summer, and had been granted his first-team debut in that match against the Gunners.
"Van den Berg played an incredible game. That's really difficult to deal with these guys," the German had said, via the club's official website. "Martinelli's pretty much the same age but he's a talent of the century, he's an incredible striker, so it's really difficult."
Klopp's fondness and nurturing of youth is evident to even the most casual observer of the sidelines. For that particular game back in October, there were four teenagers named in Liverpool's starting XI - their youngest in any competition since January 2017 with an average age of 23 years and 122 days. Trent Alexander-Arnold has become the premier talent in his right-back position and can genuinely go toe-to-toe with the best the continent has to offer (just ask Barcelona). The Englishman is still just 21 years old.
Van den Berg, also reciprocating Klopp's individual praise upon himself, articulated the particular focus eloquently (The Mirror):
"The warmth you feel, as a young player at Liverpool, is so special. I will tell you the best example of this. At other clubs, you arrive in the morning and people will say 'Good morning' or shake hands.
"But, here at Liverpool, you get a hug from the manager! Jürgen Klopp gives you a hug - and it's those special little things that made all the young players feel appreciated and valued.
"That kind of warmth from the manager gives us the hope that we are all on the path to the Liverpool first team. Thanks to Klopp's approach and vision, I am up against the best attackers in the world several times a week."
In his own interview with Marca, Martinelli was also complimentary towards his current manager, the former Arsenal player and captain Mikel Arteta, and the man under whom he had started life in England under, Arteta's predecessor Unai Emery. Emery was dismissed from the role at the end of November after 18 months in charge of the club. Under Arteta Martinelli's game-time has been developing, playing the full 90 minutes in his last three Premier League games and scoring two goals.
"Unai helped me a lot; he was the first who trusted me and picked me. I will always be very grateful. He was the one who gave me the first minutes in Europe. Mikel now also gives me a lot of confidence. I am very grateful. Always try to help me and give me advice so I can improve my football. In that, I think he is amazing because he tries to give attention to all the players and is a very good person."
In a notorious world of back-biting, bitterness, and occasional animosity, Martinelli apparently taking a leaf out of Klopp's das Heft is welcome: there's a lot of love to go around.