Amir Khan's 'Crypto Fight Night' is heading to Dubai on 16th October
18:02, 14 Sep 2021
You have seen your favourite YouTubers knock out basketball players. You have seen MMA fighters destroy pensionable boxing legends. You have seen a former two-weight world champion box against a billionaire he met on holiday. Now all your fistic dreams will come true as Amir Khan presents 'Crypto Fight Night', a night of high-quality boxing where all your favourite cryptocurrency traders will fight against each other.
Wait, you don't have a favourite cryptocurrency trader? Not a fan of Raghav 'Reggie' Jerath? Surely you have got a Barney The Boi poster on your wall? Can I interest you in Ahmed? That's his name, just Ahmed. Like Madonna. You would be forgiven for wondering what the hell is going on, but basically some people who have built a following for their financial acumen in the growing world of cryptocurrency and NFTs will be taking part in a boxing event in Dubai on 16th October.
The WBC have even commissioned a special WBC Crypto Belt for the event, because of course they have. This prestigious championship will be the prize for the eagerly-awaited main event between RookieXBT and Loomdart. Yes, everyone in crypto has a name that sounds like your first email address from school.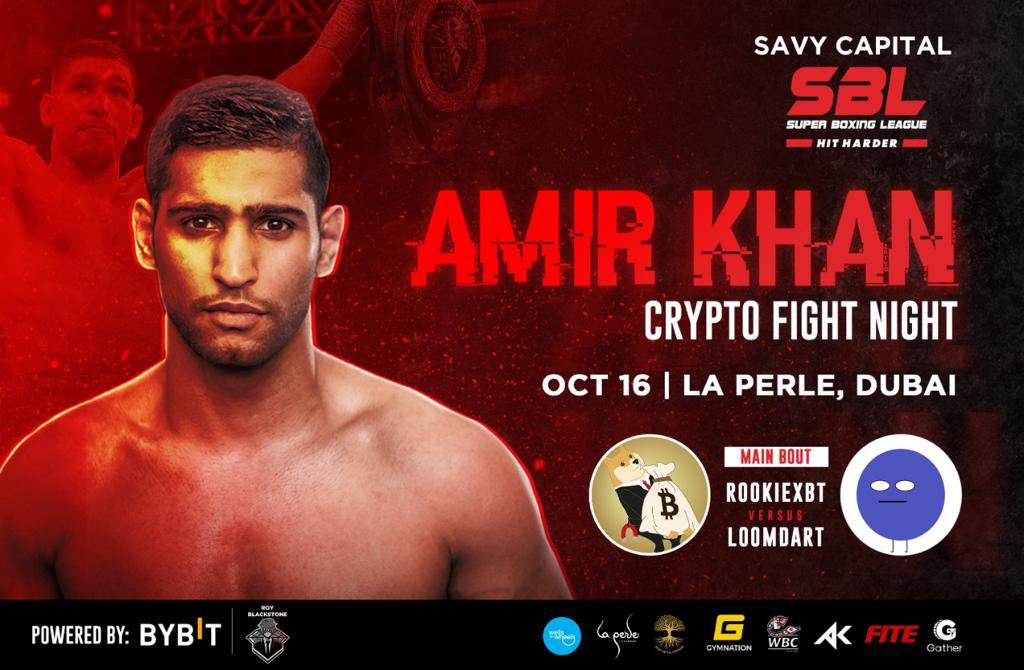 Amir Khan, perhaps as penance for not sharing those strawberries with his 'I'm A Celebrity..' campmates, is fronting this co-promotion with the Super Boxing League. The company previously hosted India's first professional boxing league back in 2017, but appears to be trying to re-position itself as a Triller alternative in the "what if we do boxing without the boxers?" era of this grand old sport.
There are at least some proper fights on the undercard, as Dubai's own Mohammad 'Not That One' Ali Bayat Farid vies for the WBC Asia heavyweight gong against New Zealand power-puncher Hemi Ahio. There will also be pro-debuts for Amir's cousin Abdul Khan, England's National ABA Youth Champion, and Tal Singh, the English amateur champion managed by 'King Khan'.
For genuine boxing die-hards, there is little here to get excited about. For followers of these crypto-influencers there is perhaps intrigue to be had in seeing them knock each other out, then purchasing an NFT of the decisive blow afterwards. But more discerning fans of the fight game can at least take solace that these are healthy, young men competing against people with a similar level of experience.
The gruesome Evander Holyfield affair on Saturday should serve as a warning that those far past their physical and athletic prime should be protected from the boxing ring. Equally, this at least does not carry the odious stench of a Floyd Mayweather vs Logan Paul situation. That 'fight' was a glorified spar with the air of choreography hanging inescapably in the air, as Paul escaped with just enough success to keep interest high for his next outing.
If you choose to watch 'Crypto Fight Night', you know exactly what you are getting into. You will witness some giants of the world of cryptocurrency attempt to work out the difference between a block and the blockchain, plus some boxing matches featuring legitimate prospects on the undercard. As bizarre as this event sounds, let's hope boxing can get through it without making an exhibition of itself.