They'll go head-to-head at the Manchester Arena on May 2 on the undercard of Whyte vs Povetkin
13:00, 06 Mar 2020
Katie Taylor's fight with Amanda Serrano has been billed as "the biggest female fight of all-time", according to Eddie Hearn with the bout confirmed on Friday. The two are set to go head-to-head at the Manchester Arena on May 2 on the undercard of Dillian Whyte vs Alexander Povetkin.
Taylor, from Ireland and the undisputed champion, will take on seven-weight champion Serrano in a clash which pits two of the biggest names in female boxing against each other. Putting her lightweight belts on the line, Taylor won't be affected by the magnitude of the bout but just who is Serrano?
Born in Puerto Rico and growing up in New York, the 31-year-old has a record of 28 KOs (38-1-1) and has caught the eye with some stunning performances in the last year. Defeating Heather Hardy with a brilliant points victory at Madison Square Garden in September, she later got the better of Simone Aparadcida Da Silva in Miami at the start of 2020. Nicknamed 'The Real Deal', it's true. She is a supreme fighter and one of the best in female boxing.
Serrano's first passion was actually swimming but when her older sister Cindy attended the gym of her husband to box in order to get fit, Amanda would tag along and soon got hooked. Though, as elnuevodia.com reports, she didn't even attend a family viewing of Oscar De La Hoya's bout with Puerto Rican legend Felix Trinidad in 1999, she soon developed a passion for the sport through her sister's career.
In order to make a career, she followed in her sibling's footsteps after graduating from school and, while her mother was hesitant, she soon proved she could handle herself and compete.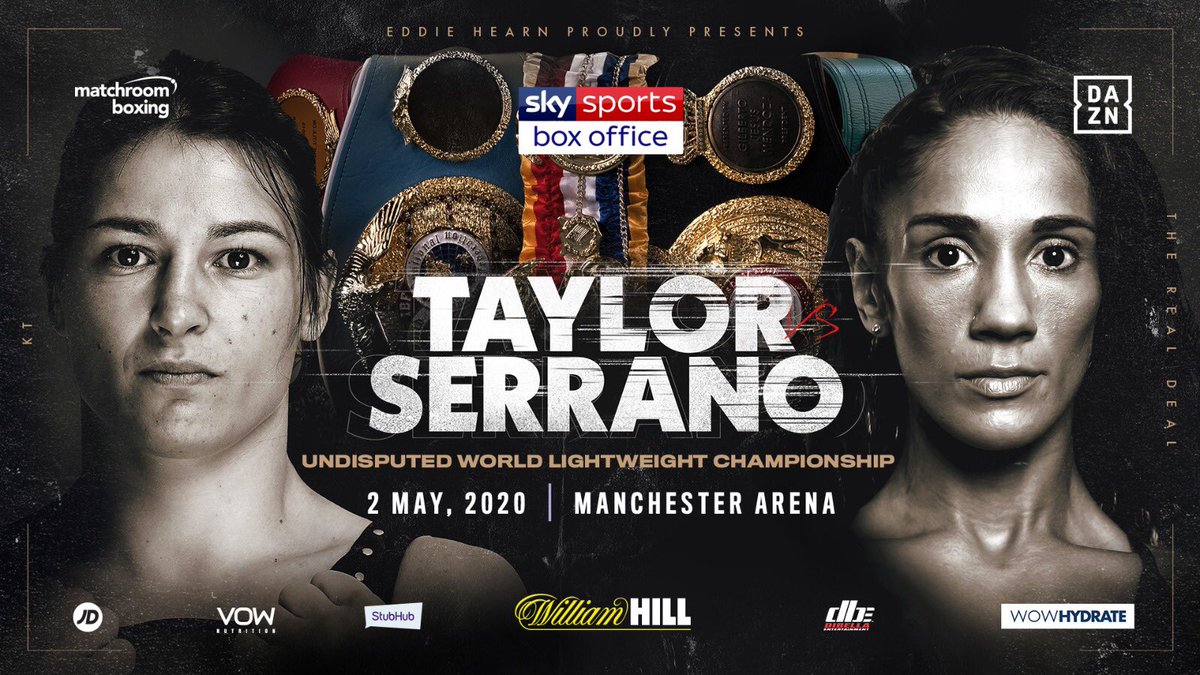 Following a brief amateur career in which she won the Staten Island championship in 2008, her fighting credentials came to the fore. Speaking to Shape of the first time she was defeated in an amateur bout, she said: "Losing sparked a fire in me. I'm naturally competitive and I knew that I never wanted to experience the feeling of losing ever again."
She soon moved into the featherweight division and then climbed the ladder, continuing to switch divisions, all the while still winning.
"I'm happy we finally got this big fight made because both myself & Katie deserve to be in this position," Serrano told Matchroom Boxing of this week's big announcement. "While our fight could have been a main event, I'm still grateful it's happening. I'm not going to talk down to Katie, as I know she won't to me, so I'll leave it at this: one thing that's for sure is that we'll both leave it all in the ring."
However, as reported by the Irish Sun, she has still aimed some barbs at Taylor: "She's an average woman. She's a girl. My trainer Jordan saw her in there with my sister when he was across the ring when my sister fought her and you know, she's average.
"There's nothing really to her. She's not no superhero like everyone paints her to be." Interesting.
The fighting talk is all part of the game ahead of the bout but will prove handy too when she makes the move into wrestling. In 2019, it was confirmed she was training to become a WWE 'Female Superstar' working alongside Jonathan Figueroa AKA Amazing Red.
Going up against Bray legend Taylor sees a real meeting of two determined winners.
"The whole of Ireland and Puerto Rico are going to be watching this absolute war between the Undisputed champion and the seven weight division champion - it doesn't get any bigger!" Hearn told Matchroom Boxing. This is a seismic bout in the women's sport.