Ray Mancini is a force of nature. The former WBA lightweight world champion turned actor, producer and commentator can sling out quips and quotes as fast as the combinations he used to throw in his epic fights back in the 80's.
The boxing Hall of Famer has been enjoying a whistle-stop tour of the UK, catching up with old friends and turning out at a speaking engagement in the midlands with Joe Calzaghe – one of his favourite fighters.
"Very few fighters I followed with great passion – Joe's one of them. Not because he's Italian, because of the way he fought and the way he handled himself," says the man whose explosive style earned him a legion of admirers and the nickname 'Boom Boom'.
It was a time when Leonard, Hearn, Duran, and Hagler were doing their thing in one of boxing's truly great eras. Boom Boom was very much a part of the scene when the USA was the place to be. Whilst happy to reminisce, Mancini admits that the centre of the boxing universe has shifted a little.
"Everyone knows how fanatical UK crowds are, for football and boxing too. It's a great opportunity for these [American] fighters to fight in front of a boisterous crowd. You're used to that, but we don't get that in the States very often.
"Boxing isn't a premier sport like it was in the States. Here you get 15, 20 to one hundred thousand at Wembley Stadium. It's incredible! It's a wonderful thing to see. I'd want to come over here to fight if I was still fighting! Also, to be a real world champion, you want to fight around the globe. That was the good thing about guys in the 70's – Ali, Arguello, Roberto Duran, they fought all over the world. To be known as a true world champion, you want to fight around the world and let the people see you in person."
Mancini won his world title at the second time of asking with a first-round stoppage of Arturo Fritas in May 1982. He came up short in his first title tilt against the great Nicaraguan Alexis Arguello.
After defending his belt against Ernesto Espana, it was the turn of South Korean Deuk Koo Kim to challenge the champion from Youngstown, Ohio. The venue was Caesar's Palace in Las Vegas, and few gave the overseas fighter any chance. Kim proved to be tougher than expected, the pair went toe-to-toe throughout until a big Mancini right hand landed in the 14th round to end the contest. Kim suffered a cerebral hemorrhage, lapsed into a coma and despite the best efforts of local surgeons, the challenger lost his fight for life four days later.
"I used to fight for the love of fighting," Ray says, the smile waning. "I loved every part of being a fighter. I fought for righteous reasons, to win the title for my father and to be the best champion for the city of Youngstown. But after that fight, there was nothing good about it for me. It became a business. I lost the love for it and looked for the door after that."
The traumatic events of that night sent shockwaves throughout the sport and led to the WBC reducing the number of rounds in championship fights from 15 to 12, along with allowing referees to order standing eight-counts for fighters in trouble. The other sanctioning bodies eventually followed suit.
Despite his sorrow over Kim's death, Mancini has never agreed with the decision to cut rounds in title contests.
"The last 15 round fight was four years later. If you're looking at changing boxing you've got to do it immediately. The WBC was the first to do it. Still to this day I'll tell you that the true championship distance is 15 rounds, not 12. Any ten round fighter can go 12, very few can go 15. That's the difference between champs and chumps, pretenders from contenders. That's why there's so many versions of titles now. Very few can go 15.
"My fight started the discussion, but it wasn't the reason - it was network television. Television wanted 12, not the boxing community. Television is the real promoter."
Ray Mancini recovered enough from the Kim fight to defend his WBA belt a further four times before losing to Livingston Bramble by 14th round stoppage in the Spring of 1984. Mancini lost the rematch on points the following year. Years later, two unsuccessful comebacks followed, firstly against Hector Camacho before his final contest against Greg Haugen thirty years ago.
"I should've ended it in 1985," Ray says with a shrug. "When I came back to fight Camacho in 1989, that was personal. When I came back to fight Greg Haugen, that was ego.
"I'd never been married before, but after the Camacho fight, I got married, I had my second child in November of '91 and then I went to training camp two months later. Every day I'd be crying like a baby. Remember the song 'Tears in Heaven' by Eric Clapton? It came on [the radio] the same time every day and I'd be bawling like a baby, getting ready to go to the gym. I couldn't control it. I was away from my wife and my babies, and I felt guilty about leaving them. And then, I was in the dressing room before the fight and I told my trainer, 'I don't want to do this, I don't want to be here!' He said, 'It's a helluva time to tell me now, aint it?'
30 years ago April 3: Greg Haugen stops Ray Mancini in 7, 140lbs, Reno-Sparks Center. In 1st big fight since splitting a pair with Hector Camacho, Haugen dominates comebacking "Boom Boom," who is fighting for 1st time in 3 years & for only 2nd time in 7 years.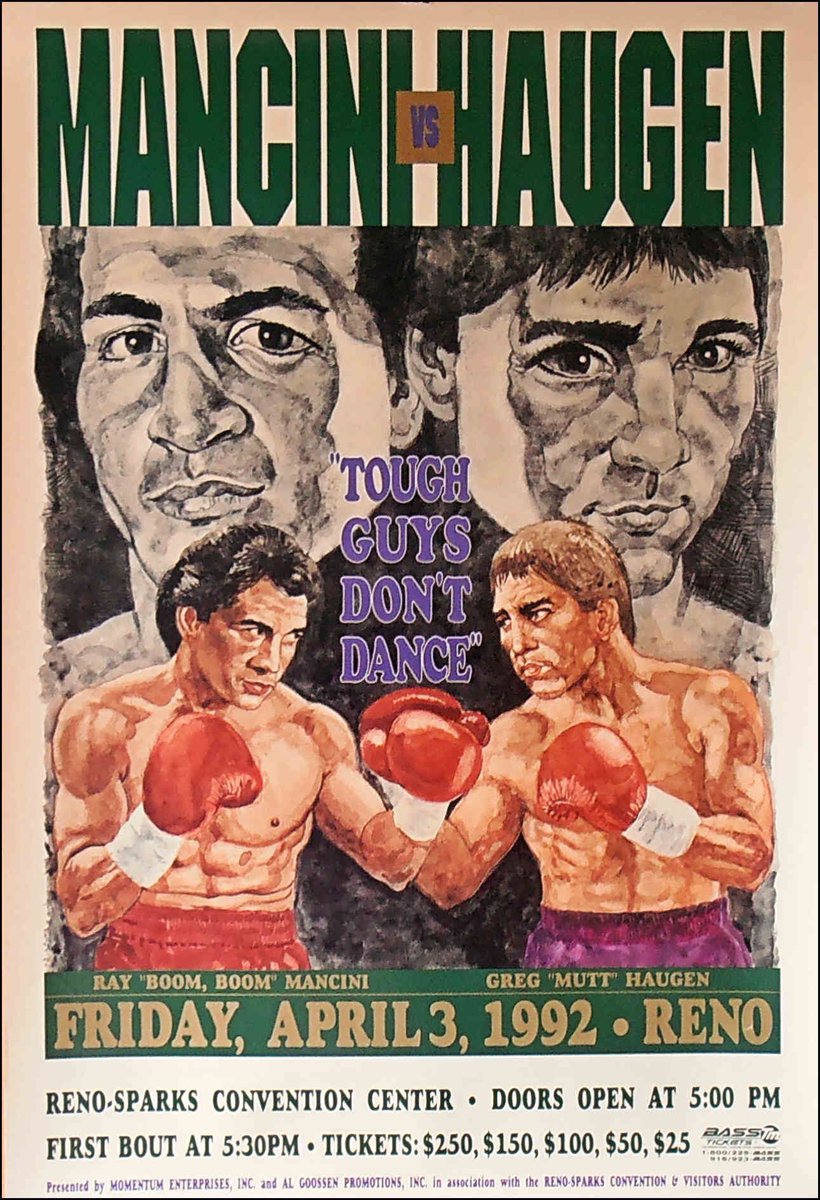 "I used to have the attitude – you're getting carried out or I'm getting carried out. One of us is getting carried out. This time, it was, 'please God don't let me get hurt! My wife and my babies they need me!' That's no excuse, it's just what it is. Napoleon once said that after 30, a man's spirit is not made for war. There's a reason. It's a different life. Greg Haugen was a tough man who used to stand in front of you. If I'd fought him when I could fight, I'd have kicked the shit out of him. But at that time of my life, he beat me good. What you gonna say?"
Despite retaining cynicism for the fight game, Mancini cannot lose his passion for boxing and his work as an analyst has kept him right up to date and fully across the sport.
"I'm a big fan. Lightweight up to junior middleweight is where it's been the last few years – there's a plethora of talent there, guys going up or down. At any given time, any one of them can win. There's not one guy that can dominate the divisions.
"Let's look at the lightweight division, Tank Davies is just destroying people. I've got to know Tank and he's a wonderful young man and a hell of a fighter.
"Welterweight, Errol Spence is the best for me. Everyone wants to see him and Terence Crawford. Crawford is a special, special talent. Those are the two best, but I think Spence beats him. Spence is a little too strong. That's what I think. I think he'd break him down eventually. But we have to see it, right?
"What Canelo's done over the past couple of years is incredible. He's been fighting so often – nobody's doing that anymore. But the fact he's going up two or three weight classes and beating these fighters, is incredible. He's got his hands full with Bivol. Bivol can fight. He's the real deal and I don't know if he's going to get past him. I'm picking Bivol because he's bigger and stronger. He's a big strong guy who knows how to fight.
"But if he [Canelo] does beat him, they're talking about Golovkin III. They should've have done the fight after the second one. Golovkin certainly won the first fight, the second one was closer, but I thought he also won that one. Now? He hasn't been fighting enough and what Canelo's been doing the last few years, I don't think Golovkin beats him."
Away from the ring, Mancini has forged a career in the entertainment business with a variety of roles from acting to producing. The worlds of boxing and showbiz do often collide. The great and the good from La La land can often be found ringside on the big nights but finding a niche in the movie business is an altogether different proposition. It's another challenge the 61year old has embraced.
"In the ring I control my own destiny. My work is in my own hands, but when you're raising money for films, it's not in my control. You can make the pitch, but you depend on others. Look, I love what I do, I enjoy the chase.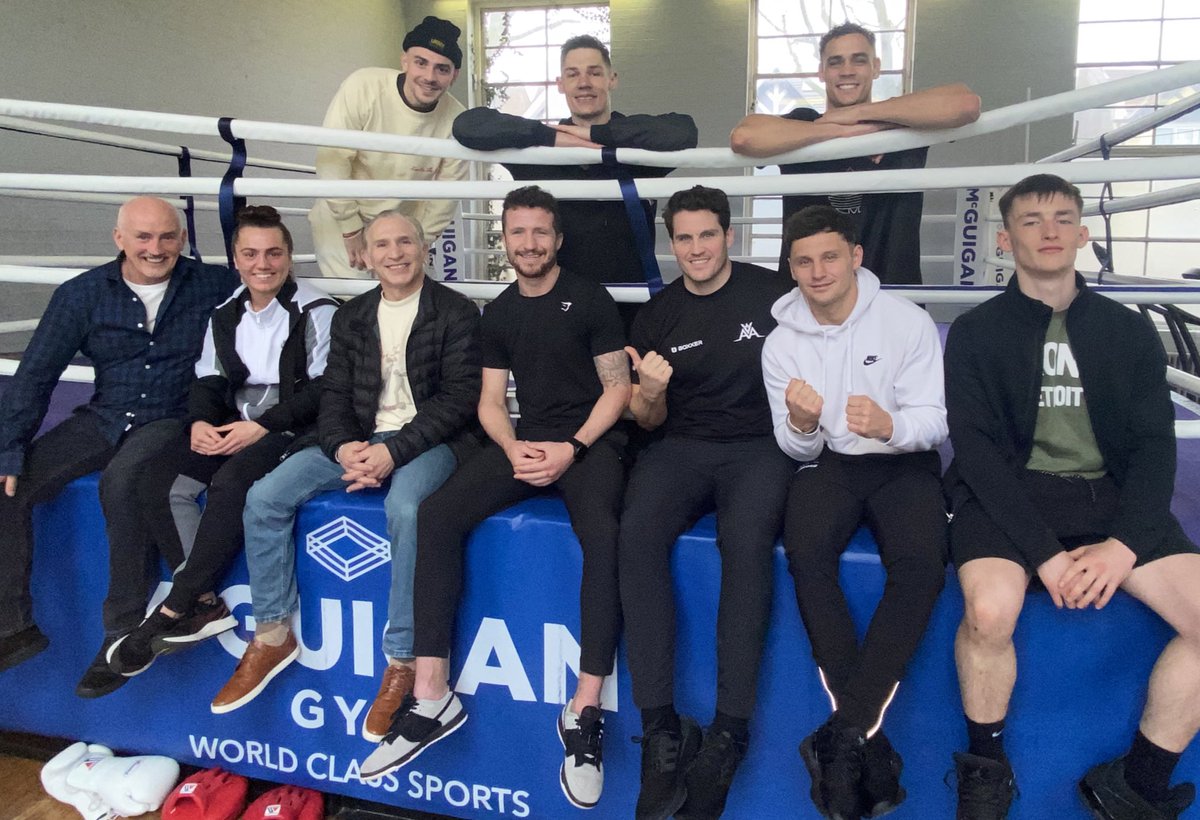 "I have a series with Netflix, it's in the hands of the CEO. It's a crime thriller about my city of Youngstown. I've also got two feature film projects in pre-production. Hopefully I'll start shooting one in May and the other at the end of the year.
"I've been blessed, I'm pretty fortunate. A lot of people tend to stick with what they know, and that's smart in many ways. I like to step out of the boxing and do things that I don't know 100%. Sometimes you've got to be thrown into the fire to learn and that's me with the entertainment business. I've produced for the studios, and I've produced independently and come out of it pretty much unscathed."
In light of recent events, there's a final – not altogether serious -question to be asked. Would he have any advice for Will Smith on how to throw a right hook?
"That was uncalled for!" Ray laughs. "I don't know Will Smith, I met him one time when he was training for the Ali movie. He's a good guy, he has a lot of power in Hollywood and is a major star – but that was not the place. Take him backstage and give him a beating! Do it on national television and you look like a jerkoff!" Ray continues to chuckle, before dropping his final line of the conversation.
"I saw him in the gym, and as they say, for a fighter, he's a hell of an actor!"