Football /
The 4 Things We Learned from Tottenham Hotspur 4-0 Everton
Son Shines And Allardyce's Reputation Suffers At Wembley
Harry Kane became Tottenham's record scorer in the Premier League era as Mauricio Pochettino's men thumped sorry Everton at Wembley.
Knocked out of the cup by city rivals Liverpool last weekend, Sam Allardyce's men started well and had a Wayne Rooney goal correctly disallowed before the hosts assumed control.
Heung-Min Son converted Serge Aurier's low centre to make it 1-0 before half-time, with an offside Kane fortunate to put his side 2-0 up just after the break.
From there, Everton capitulated, as Kane and Christian Eriksen added futher gloss to the scoreline.
Here are four things we learned from the clash at Wembley Stadium.
1. Spurs successfully target Everton's left
It's no secret that Everton manager Sam Allardyce wants a new left-back during this month's transfer window.
With normal first-choice Leighton Baines in and out through injury, utility player Cuco Martina has plugged the gap with mixed success of late. Reinforcements over the next month are, as such, now a must.
The lack of quality and cover in the position is something the Blues will have to rectify urgently on this evidence. Attack after attack came down the Spurs right as Serge Aurier took up a particularly advanced position. Given the amount of ball the Ivorian received during the opening period, it's safe to assume that Mauricio Pochettino agreed with Allardyce's assessment as to where Everton's weaknesses currently lie.
It was no surprise, then, when Aurier supplied the opener down that side for Heung-Min Son. Again, Martina didn't cover himself in glory, but the black hole on the Toffees left was also accentuated by Gylfi Sigurdsson's narrow positioning on the left of midfield.
Such is the nature of Premier League scouting and analytics, the area is bound to be targeted again in the coming weeks by Everton's future opponents.
Thus, if Allardyce wants results to tangibly improve, the left-back position needs to be a matter of urgency.
2. Tale of two offsides brings VAR into focus again
In a week in which VAR was heavily criticised by certain sections of the media, one decision in particular at the national stadium provided a timely reminder as to why the game's govering bodies are looking to implement the new technology.
Just about everyone inside of Wembley Stadium- goalscorer Harry Kane included- waited for the officials to raise their flag for offside as the prolific striker prodded home from close-range to double Spurs' lead.
It was remarkably similar to an effort from Wayne Rooney that was disallowed in the first-half, but on this occaison, human error provided the hosts with a helping hand. The goal was given, and Spurs went on to take full advantage.
Sure, VAR is not without its flaws. Slow and often grating, the time taken to make decisions via the touchline screen can often sap the life out of footballing atmospheres.
That, though, is in itself still not enough of a reason to ignore such help when goals like Tottenham's second are given erroneously.
A timely reminder that some sort of technology in the game is absolutely necessary- perhaps when it was most needed.
3. Kane breaks another record- but Son shines brightest for Spurs
It takes a lot to eclipse Harry Kane- particularly on a day in which the irrepressible striker set yet another record - but Heung-Min Son arguably did just that with another superlative performance at Wembley.
🎉 👏
- Kane: 98
- Sheringham: 97
At the age of 24, Harry Kane becomes Tottenham Hotspur's all-time top Premier League scorer!
#THFC
#TOTEVE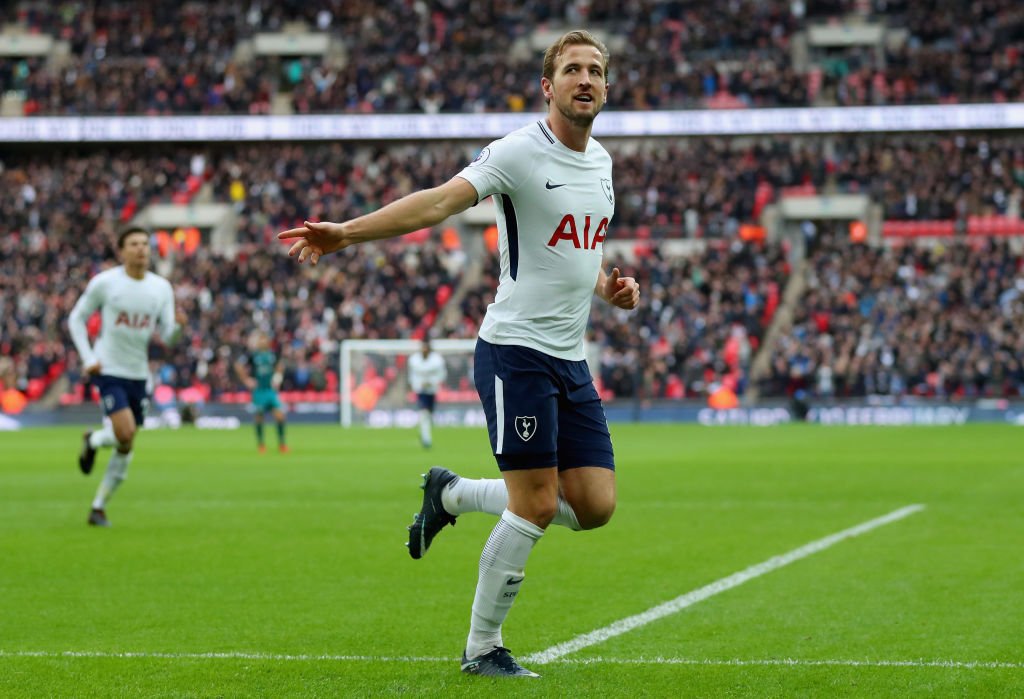 Scorer of the game's crucial opening goal, the popular South Korean set up a superb third for the home side in a performance that was also full of direct running and clever touches.
For long spells, Son was the standout player on a pitch also featuring the considerable talents of Kane and Dele Alli.
The former Bayer Leverkusen player has long been an important cog in Pochettino's wheel- but seems to have reached a new level this campaign, becoming one of the club's talismen on the pitch.
Dele Alli's woes in the first half of the season allowed Son the space needed to step up to the plate as a major creative influence for the north Londoners. Now, with the former moving back into form, Spurs seem ideally placed to put pressure on those above them in the final months of the season.
Son, you feel, will be central to that if today is anything to go by.
4. Allardyce's early improvements falling by wayside as Everton capitulate
Believe it or not, there was a time in the not-too-distant past when Tottenham and Everton were almost neck and neck in the quest to break into the Premier League's elite.
Under Roberto Martinez, the Blues even finished ahead of Saturday's opponents as recently as the 2013-14 season. In the four years since, though, the two clubs have travelled starkly different paths.
The gap is now cavernous.
Pochettino's Spurs are, for all intents and purposes, part of the league's top table; Everton, meanwhile, appear to be drifting aimlessly despite the promise of a new dawn under major shareholder Farhad Moshiri.
Reaching their nadir earlier this season as they slipped into the relegation zone, Allardyce's appointment as manager brought temporary solace to a club lacking any sort of identity. Relegation worries eased, with supporters once again looking up instead of down.
That initial resurgence, though, has quickly dissipated. Two draws and four defeats bringing them crashing back down to earth in super-quick time. Defensive improvements have fallen by the wayside, while a total of just two goals during the turgid sequence shows the extent of the improvement needed in the final third.
It paints a dire picture. Pragmatic football without tangible results hardly seems worthwhile for success-starved supporters.
Unless matters swiftly improve, Allardyce is unlikely to hold onto his position for any length of time.