The 5 Best Teams To Start With In Football Manager 2019
10:59, 01 Oct 2018
If there is one thing more satisfying in Football Manager than building an empire it's taking a sleeping giant back to the top. But such is the realism of the Sports Interactive series fairy-tales aren't really possible for any but the most dedicated and experienced gamers. The top clubs to manage, then, are invariably big names currently down on their luck but with the financial power to ascend to the top of the game.
With that in mind, and as excitement about Football Manager 2019 ramps up following the unveiling of a host of new features, here are the five clubs we are most looking forward to managing when the new game is released on November 2.
Arsenal
Fourteen years without a Premier League trophy and eight years without a Champions League quarter-final, Arsenal enter the 2018/19 season as the sixth best team in England with no clear strategy to get back into the elite. In previous editions of Football Manager it had felt strange to jump into Arsene Wenger's shoes. That era is now over; there has never been a better time to start a career as Arsenal manager.
The money will be tight, but this is a talented squad with plenty of potential in the youth team. Signing a commanding centre-back and replacing Granit Xhaka are probably the top priorities if you want a top four finish in year one, and although Champions League qualification will no doubt be the only way to avoid the sack it won't be an easy challenge. Unai Emery's mixed start is testament to the scale of the task at hand.
Challenge: Win the Premier League; Difficulty: 8/10
Valencia
After a couple of difficult seasons in La Liga Valencia unexpectedly finished fourth last season, earning the a place in the Champions League and – potentially – kick-starting a bright new era for the club. However, Valencia have failed to win a single league game so far this season (five draws, one defeat) and were beaten 2-0 by Juventus in their opening European match. It looks as though manager Marcelino won't be able to build on their success. You can.
Now is a good time to start a campaign in Spanish football. Real Madrid appear to be at the end of a cycle and may struggle with the transition under Julien Lopetegui while Barcelona simply aren't the force they once were; clubs generally tend to be less dominant on Football Manager, too, meaning breaking the duopoly won't be as difficult as in real life.
Challenge: Win La Liga; Difficulty: 9/10
Prefer to consume your
#FM19Feature
content in video form? Check out the Headline Feature round-up on The FM Show 👇
🎬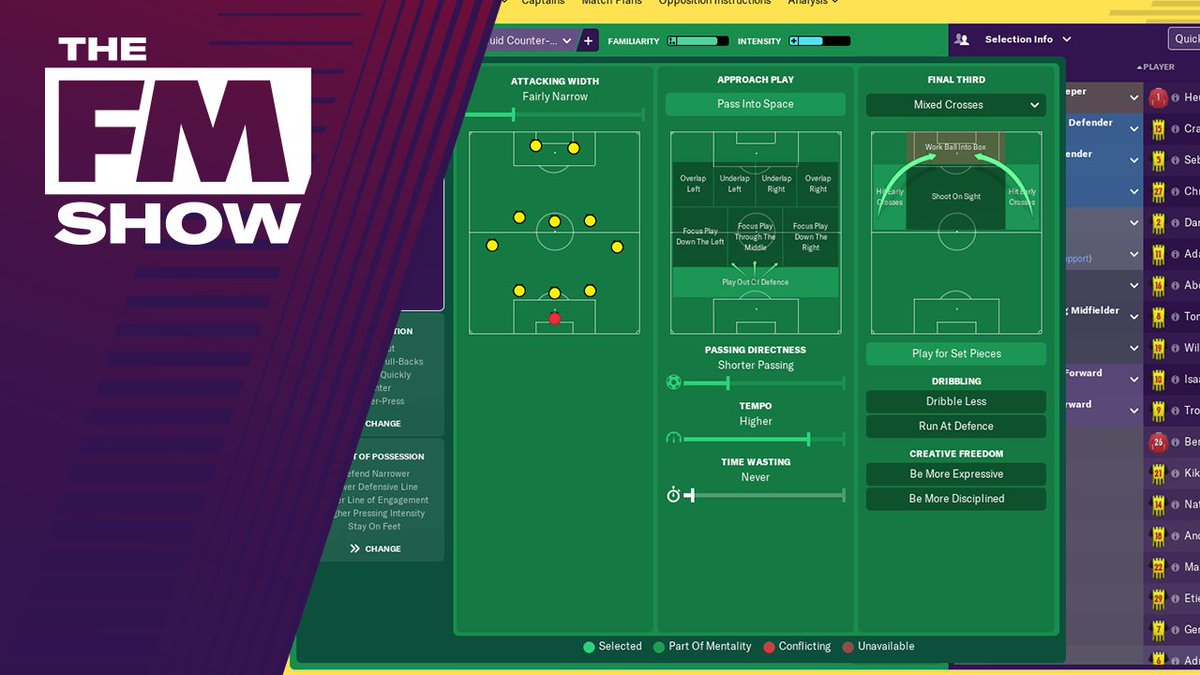 Aston Villa
Defeat in the Championship play-off final last year plunged Villa into financial crisis and threatened to begin a relegation spiral for the former European Cup winners. The club had squandered their chance with a billionaire owner... only to get a second bite this summer when the NSWE Group bought a 55% stake. Suddenly Villa have yet another opportunity to buy their way back to the big time.
Steve Bruce's desperately uninspiring football is messing it up again for Villa, and so it's only fair you rewind the clock to July 1st and take control. With Yannick Bolasie, John McGinn, and Tammy Abraham added to the squad it should be easy enough getting Villa promoted, before big funds are provided for an assault on the top ten. A huge club with a huge bank balance; Aston Villa is the perfect project for FM19.
Challenge: Become a top 10 Premier League club; Difficulty: 5/10
AC Milan
The Rossoneri spent £170 million on new recruits last summer in an attempt to bridge the gap to Juventus but instead finished sixth – and were almost kicked out of the Europa League after breaching financial fair play rules. Fortunately AC Milan have only sold Leonardo Bonucci, getting Gonzalo Higuain in return.
This is a very talented squad with plenty of exciting young players (Andre Silva, Hakan Calhanoglu, Gianluigi Donnarumma, and Alessio Romagnoli) with which to build something special. Fighting Juventus for the Serie A title won't be possible in the first season, particularly with Cristiano Ronaldo in their ranks, but within a couple of seasons winning the league – Milan's first since 2011 - is a realistic goal.
Challenge: Win Serie A; Difficulty: 8/10
Sunderland
After finishing rock bottom of the Championship last season some predicted Sunderland, arguably the most chaotic and badly run club in the country, to once again fight relegation. Fortunately the Black Cats have stabilised and currently sit third in League One.
Winning League One in your first season shouldn't be a problem, but the real challenge here is to take the six-time English champions back to the Premier League after years of gradual decay. New ownership has improved the financial situation and shouldn't make it too tough to put together a squad capable of finishing in the top six in the Championship.
Challenge: Get back to the Premier League; Difficulty: 6/10