His performance against Leicester showed TAA's sheer talent
12:00, 29 Dec 2019
As Trent Alexander-Arnold tweeted following Liverpool's demolition of Leicester City, anything Mbappe can do, he can do as well. Trent was probably referring to the celebration he copied after his goal, but to be honest, he could have meant any of the assists or passes completed during the game as well.
It was a mercurial performance from the young right-back and one that made the Arron Wan-Bissaka stans look like they were performing a live-action version of the Homer Simpson disappearing into the bush gif. The debate over who's the better right-back seems to have raged on this season – and let's be honest, Wan-Bissaka is a good defender who has tons of potential and is impressive for his age – but he's not on the same planet as Trent – few are.
Alexander-Arnold is only 21 years of age and has only been able to legally drink in Las Vegas since October. He's so young yet so talented, and the myth he's a poor defender seems to have taken on a life of its own this season – wrongly. Fair enough, you can say defending is the weakest part of his game but that's like saying the weakest part of the Christmas dinner is roast potatoes and not the pigs in blankets. They're both clearly amazing. It's hardly calling him a sprout. His defending is stellar and while he might make the occasional mistake, so did Ashley Cole in his prime. All players do.
The thing that really sets Trent apart is his vision and passing of the ball. He loves his assists and you'd be hard-pressed to find a better crosser of the ball in world football at the minute. His crosses and assists are naturally the thing most people talk about when praising him, but he has an eye for goal as well – and brilliant goals at that. Not only that, but Trent can pick a pass like few others.
So it's only natural that people would make the comparison between the young Englishman and midfielders of years gone by. Many people have mused he should move into midfield – Gary Lineker has made no secret of the fact he thinks that's where Trent will end up – and he's not going to be wrong on this evidence.
Trent is a brilliant right-back – in fact, plenty of people would tell you the best one in the world at the minute, and he certainly has shades of Dani Alves in him – but arguably has more quality on the ball. If crosses were the only area he shone in going forward, it makes sense to laud him as the best right-back for the next decade. It's his vision and range of passing that make some people think he's actually wasted as a right back.
Trent Alexander-Arnold's game by numbers vs. Leicester:
105 touches (most)
100% shot accuracy
60 passes
37 passes in opp. half
17 total crosses (most)
12 open play crosses (most)
5 recoveries
3 chances created (=most)
2 assists (most)
1 penalty won
1 goal
An absolute joke.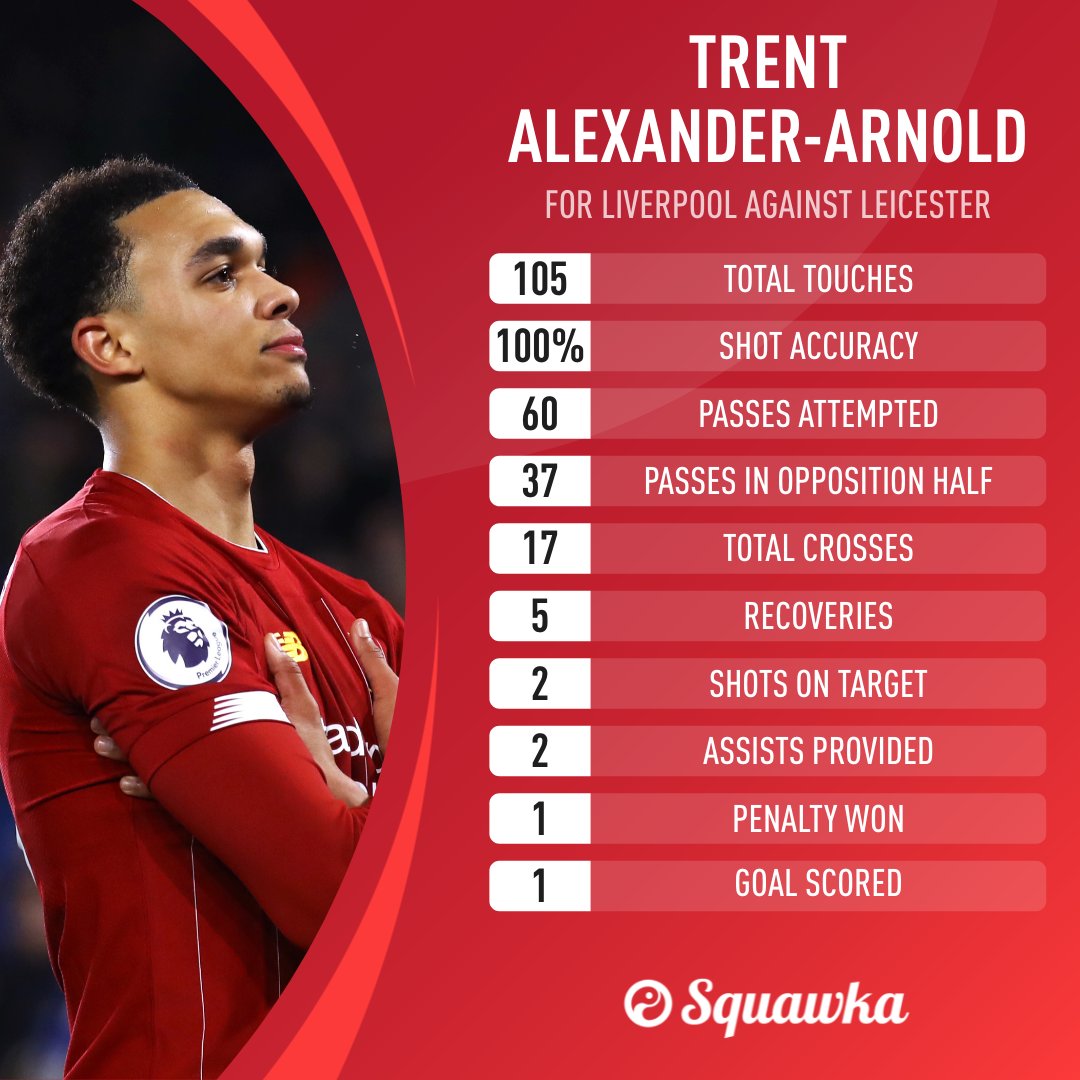 At the minute, his position suits the Liverpool side. They have a wealth of talent in midfield and he is the best right back around, and one who gives so much to the team. Klopp has also tweaked the side and the tactics slightly this season to allow Trent more freedom coming inside and almost operating as part of the midfield at times, which has only helped his game and team further.
However, in the future, there's no reason to say Trent wouldn't be better suited as a midfielder who controlled the game and sprayed passes in a manner Steven Gerrard could only dream of. What a luxury for Klopp and what a dilemma for him to have.
Liverpool are no stranger to versatile players, and have just handed James Milner a new two-year deal, with Milner able to play in the middle of the park and also on the flanks of defence – but just imagine in five years when Trent can also do that. It would be like a hybrid James Milner on a combination of prime English tea, Ribena and crack. A scary thought for all opponents.
Sometimes in football, we fall into the trap of putting too much pressure on players – especially young English players – and end up talking them up when their talent doesn't quite fit the brief, or watching them crash and burn. However, when it comes to Trent that is not and will never be the case.
His stats in terms of assists are already mind-blowing, and it's now just expected he will amass more than Paul Scholes and then some by the end of his career – and that's if he stays as a full back. His performance against Leicester showed his sheer talent and was an outstanding display in a busy period for the club – something that seems to bring the best out in Trent.
Anything Mbappe can do indeed – and he might want to draft some tweets with Xabi Alonso, Andres Iniesta and Kevin De Bryune on there as well for the future.