St Helens face Salford in a crunch semi-final as they target a fourth Grand Final win
08:00, 17 Sep 2022
Jack Welsby had to leave his junior club Shevington Sharks because he was too competitive for his age group.

"Winning is all I have ever known," he tells The Sportsman. "I think I crave success as much as anybody."

For the boyhood Wigan fan, a move to St Helens amateur side Blackbrook was the first step to the dark side, the first move on an extraordinary career trajectory that would yield professional silverware almost straight away. The hero of a dramatic 2020 Grand Final win over his beloved Wigan is still only 21, but all he has ever known are trophies.
He's now desperate for another, as Saints go into a semi-final with Salford in pursuit of a fourth Grand Final win.
READ MORE:
Welsby became a Saints icon with that dramatic on-the-hooter try as a little-known teenager, a moment that handed club legend James Graham the ultimate retirement gift, and left him forever in Welsby's debt.
Welsby had grabbed the ultimate reward for chasing down a lost cause, something Graham believes epitomised the player and the club. "There's more to that chase than meets the eye," he said. "Chasing lost causes is a St Helens thing.
"It's a reflection of the attributes that club brings to players they recruit and develop."
This season has been a breakthrough year for Welsby.

After a season-ending injury to young Saints scrum-half Lewis Dodd on Good Friday, the young England international has stepped up and flourished.

Named in the Super League Dream Team, Welsby is also favourite for this year's Betfred Super League Young Player of the Year Award, and on the final three-man shortlist for the big one - the prestigious Steve Prescott Man Of Steel.

"I have been lucky with silverware through the early part of my career but I think that is down to the greats I'm playing with like James Roby and Jonny Lomax," Welsby tells The Sportsman.

"They breed that winning mentality into you. I'm still trying to take in as much as I can from Robes and do what I can for the team.

"It's still surreal for me to be surrounded by the great players that I am. It's all I ever wanted to do as a kid.

"You get excited at this point of the season, and whenever we hear the words Grand Final at St Helens there is always a buzz."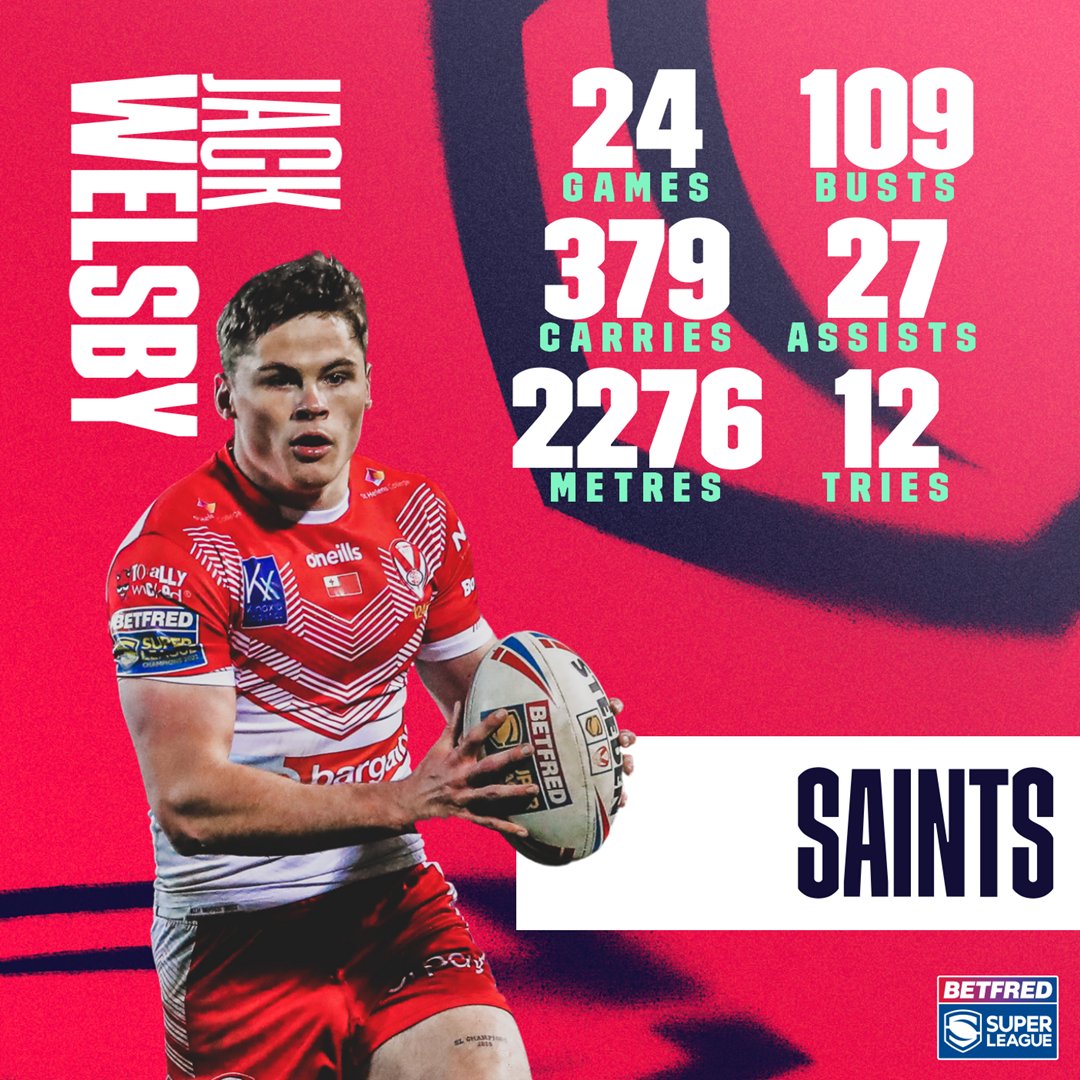 Saints are hearing those words a lot.

They play Salford this Saturday in a home playoff semi, with Old Trafford again only 80 minutes away. Their playing squad has been stretched more than ever by injuries this year but that 'St Helens thing' of chasing lost causes has still seen Kristian Woolf's side finish with the League Leaders' Shield.

"It's been a tough year but we have enjoyed it," Welsby adds. "We finished top of the pile which is what we set out to do and puts us in the best position for these semis.

"I think we have been doing it tough this year with injuries and positional changes and that has gone unnoticed. Going under the radar is not a bad thing. Other teams have improved and caught us up but that leaves us looking forward to these challenges that are coming.

"We probably haven't had enough recognition this year but if we win it again then we will. We want to make it four and put our names in history."

Standing between St Helens and that shot at history are Salford, whose stunning rise in 2022 has seen the Red Devils emerge as genuine dark horses for the crown.

Champions sides rarely need any extra motivation, but Saints are desperate to ensure departing coach Kristian Woolf signs off on a high.
He leaves for a job in the NRL, working alongside legend Wayne Bennett at The Dolphins, having won two Grand Finals in his two Super League seasons. His players are desperate to give the highly-respected coach the hat-trick.

"Kristian going was very sad to hear," Welsby admits.

"It was always going to happen and although it's obviously not what the players wanted to hear, it's probably the best thing for him and his family.

"I want to send him home with a trophy, he's been brilliant for me personally, helping me and bringing me through, making me more comfortable with my game.

"I wish him all the best going back and I'm sure he will kill it as he's one of the best coaches I've ever worked under."