December 26th is the centrepiece of the packed Christmas schedule
09:01, 26 Dec 2019
In other countries, they take Christmas off. La Liga takes a break of two weeks over the festive period while Bundesliga teams put their feet up for almost a whole month. Of course, this is in stark contrast to the footballing schedule around Christmas and the New Year in England. It's the most wonderful time of the year, but it's also the busiest time of the year.
Boxing Day is the centrepiece of this packed schedule. After the confinement and etiquette of Christmas Day, this is a day that provides some sense of refuge for football fans. It's little wonder then that Boxing Day fixtures tend to draw some of the biggest attendances of the whole season, with friends and family back home for the festive period.
The tradition of football on Boxing Day dates back to 1860 when Hallam and Sheffield, the two oldest clubs in world football, played the first-ever fixture between two clubs. Back then football wasn't even recognisable as the game we know now. Instead, the match was played under Sheffield Rules, a 19th-century interpretation of the modern sport. This underlines just how deep-rooted the tradition of Boxing Day football is.
Football, usually an arena of tribal division, becomes an influence of good will over Christmas. Fans around the country, for instance, hold food collections at this time of year. Even going back to World War I, British and German soldiers put down their weapons and called a temporary truce over the festive period to have a kickabout with each other between the trenches.
🍻 Division One on Boxing Day in 1963, the year everyone turned up drunk from Christmas Day...
GOALS GALORE!
#OnThisDay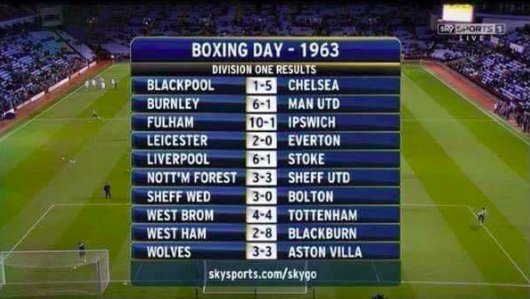 This is a volatile time of the year to play sport. Many lower-league teams will struggle to get their games on if there is a cold snap over the next few weeks, but these fixtures remain a much-loved feature of the sporting calendar. There's a certain magic to standing on a terrace at this time of year.
Of course, so many fixtures in such a short space of time demands a lot of Britain's football players, particularly at the elite level. But the Premier League has introduced a winter break for the first time this season, with a two-week break coming in February. That should allay some of the concerns voiced by the likes of Pep Guardiola and Jurgen Klopp, who claim their teams are being pushed to breaking point.
Some traditions are worth preserving, and Boxing Day, for a lot of British fans, fits that bill. For a certain section of the country, the festive period wouldn't be the same without football on. It's just as big a part of Christmas as mince pies and rubbish films on the TV. The rest of Europe just doesn't get it. They're missing out.