Son of Alf-Inge Haaland continues to make a huge impact on European stage
10:39, 24 Oct 2019
The small matter of his side going down to a home defeat to Napoli on Wednesday night was not going to be enough to stop Erling Braut Haaland hitting the headlines once more.
With his two goals in Red Bull Salzburg's 3-2 reverse, the Yorkshire-born Norwegian had taken just three matches to become the first player to score six goals in his debut Champions League season. He is also the first teenager since Karim Benzema at Lyon to net in his first three games in the competition.
If you think you recognise Haaland's name, that's because he is the son of former Manchester City, Leeds United and Nottingham Forest man Alf-Inge Haaland, the tough defender perhaps harshly remembered by most for being on the wrong end of a horrendous Roy Keane tackle.
Born in Yorkshire - though he's represented Norway's senior side at international level - while his dad was playing for Leeds, he harbours ambitions of taking to the field at Elland Road.
"The dream is to win the Premier League with Leeds," he has previously said in an interview with Norwegian newspaper Aftenposten. For now, though, impressing for Red Bull Salzburg will be his main focus.
Equipped with his father's spirit, Haaland also boasts an exquisite eye for goal while his large frame - he stands at 6'4" - makes him a nightmare for defenders.
Already this season he has 20 goals in 13 matches, and he has four league hat-tricks. Some fans in Salzburg are tipping him to finish on 40 goals in the Austrian Bundesliga alone.
Besides the records he made on Wednesday he is also in the record books as the third-youngest scorer of a Champions League hat-trick behind only Raul and Wayne Rooney following his opening-night heroics in a 6-2 win over Genk.
While there has been plenty of talk and intrigue about this potential striking superstar, he is really beginning to announce himself on the main stage this season.
Alf Ingve Berntsen coached the teenager at his first club, Bryne FK, the same side at which his father Alf-Inge began his career in the early nineties.
Located in western Norway and playing in the top division in 2016, it was here where Haaland Jr. made his debut at just 15 years of age.
Speaking exclusively to The Sportsman recently, Berntsen was delighted for his former player.
"It made me joyful and happy," Berntsen explained when reflecting on his treble against Genk. "It was so nice to see his performance. I'm glad for him and there will be so many people who are proud of him."
Now the world is watching and he is the name on everybody's lips when it comes to Europe's top young players, but for Berntsen it was immediately clear that Haaland was a star talent.
"From day one," he responds without a moment's hesitation. "He has always been like this, scoring lots of goals. He would score so many in training and always with a smile on his face.
"He's always been the same guy - always scoring, always smiling."
The top goal scorer of the
#ChampionsLeague
so far this season:
• 19-year old Erling Haland from RB Salzburg has currently scored 6 goals, followed by Lewandowski with 5 goals! 🔥
He has scored 20 goals in 13 matches for
@RedBullSalzburg
this season 👏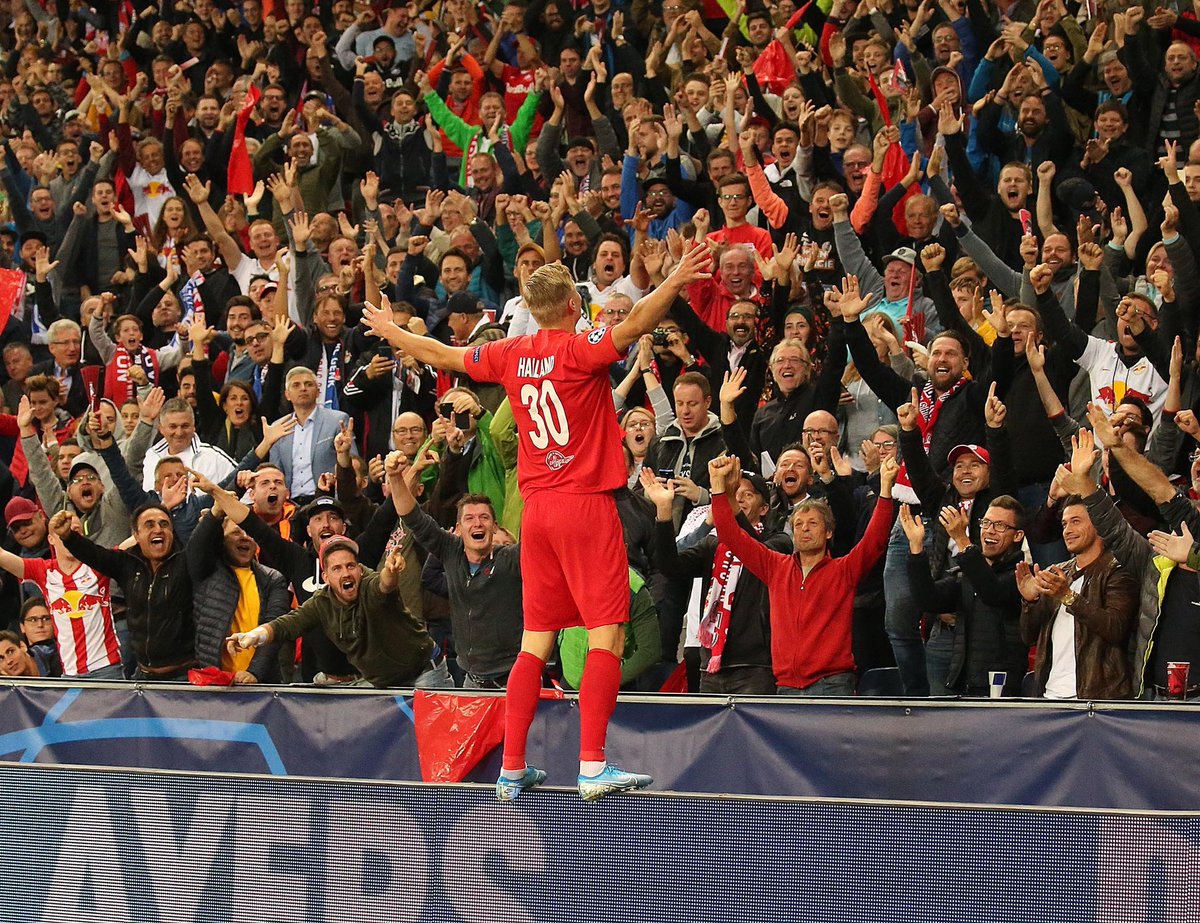 For those yet to see his talent first-hand, Berntsen went on to sum up Haaland's main attributes: "He has great positioning and is very strong and fast, with good combinations. He is a good finisher and is always at an advantage in the box.
"In Norway, some of the bigger clubs have academies. We don't, but we still have young players from six to 15 and Erling played with boys who were older than him. He was that good and, because of the older boys, he had to be smart, knowing where to be and the best spaces.
"Even when he was 10 or 11, he was upfront and scoring goals. He has never been small, always tall. It's so nice to see how he's developed."
Haaland Sr. made over 180 Premier League appearances and has been there for Erling every step of the way.
"His father has played a big part in his career. He has never trained him but is always there for advice.
"Having played for Norway, his father has been at the top. He can give the right advice, of where to be on the pitch, how to be on the pitch.
"He knows what to do at a new club, how to deal with living in a new city and country."
A huge influence, Alf-Inge has clearly passed on his professionalism too.
"Erling is very disciplined," Berntsen says of the youngster. "He has always been very serious about the things you have to do to make it as a professional. He is so dedicated.
"He has a deep desire to win," said Bernsten. "It's a big part of him, to be a footballer, to work hard and to win."
Erling Braut Håland is a SERIOUS talent 🔥
He scored a first-half hat-trick on his Champions League debut 🤩
Already his fourth hat-trick of the season and he's only 19 😳
Despite his obvious talent, it's been somewhat of a meteoric rise for Haaland. When Salzburg beat Rapid Vienna to lift the Austrian Cup last season the youngster wasn't even picked on the bench.
With striker Moanes Dabbur leaving for Sevilla, and Hannes Wolf and Xaver Schlager joining RB Leipzig and Wolfsburg, Haaland has taken his chance with both hands.
Berntsen is delighted but hopes there is not too much pressure heaped onto Erling's young shoulders.
"People forget he is just 19 - from the New Year to the summer he didn't play many minutes. He is still improving and is a great prospect.
"He's now played for two months and is enjoying himself but when you are only 19, you will have ups and downs.
Playing under Ole Gunnar Solskjaer at Molde, Haaland scooped up the Eliteserien Breakthrough of the Year award in 2018, and a reunion with his former coach at Manchester United has been mooted. Rumour has it the pair remain in touch and Solskjaer will certainly have watched his hat-trick heroics with interest.
The question is, could he play at Old Trafford one day?
"I think it is possible," admits Berntsen, with a slight amount of hesitation in his voice. "There were clubs interested and Haaland could have joined a bigger club than Salzburg but he and his father knew he would get a chance there and it is a good choice."
Get ready to hear the name Erling Braut Haaland a lot more.