Football is cyclical in nature, and the career of Eric Bailly has been particularly so. The centre-back put in a sterling performance against Atalanta on Tuesday night in Manchester United's 2-2 Champions League draw. The oscillating fortunes of the Ivorian have led to him being the subject of headlines declaring him the solution to United's defensive problems. Just like he has been countless times in an Old Trafford environment that has seen him average 18 appearances a season across all competitions. In truth, it has never really happened for Eric Bailly during six troubled campaigns in the red half of Manchester. Will this time be any different?
What seems inevitable is that he will get the chance to prove his suitability. United's finest defender, Raphael Varane, left the field injured in the first half in Bergamo. Victor Lindelof was missing due to a training ground knock. With Ole Gunnar Solskjaer starting his last three games with a back three, and Manchester City looming at the weekend, it seems likely Bailly will feature. His display on Tuesday probably merits it, even though Pep Guardiola's men are sure to provide a sterner test than the fifth-placed team in Serie A.
United have been here before. Eric Bailly has a tendency to put in dominant displays at the back, where his every intervention is vital. These are often followed by abject displays where his positioning and decision-making is called into question. This perception of the former Villarreal defender is not helped by the fact he often doesn't get the chance to play his way out of a bad patch of form. Bailly has been beset by injuries during his time in Manchester.
His first season in red remains his most prolific in terms of appearances, playing 25 league games and 38 times in total. Since then, he has only played over 20 games once in five seasons. The scarcity of Bailly's performances presents two differing opinions on him. One is that he has never truly settled and felt like a Manchester United player. The flipside is the fact that a large portion of the fanbase rates him incredibly highly, basing this opinion off the brief cameos they do see.
Hence, after a European performance where his stunning last-ditch blocks and running battle with Duvan Zapata kept his side in the game, many are touting Bailly as vital for United. Recency bias is nothing new. Axel Tuanzebe's outstanding display as United beat Paris Saint-Germain in last season's Champions League group stage led many to call for his continued selection. The hype abated as the performances declined, and the defender now finds himself back on loan at Aston Villa.
Impressed by Eric Bailly tonight? 💪
#UCL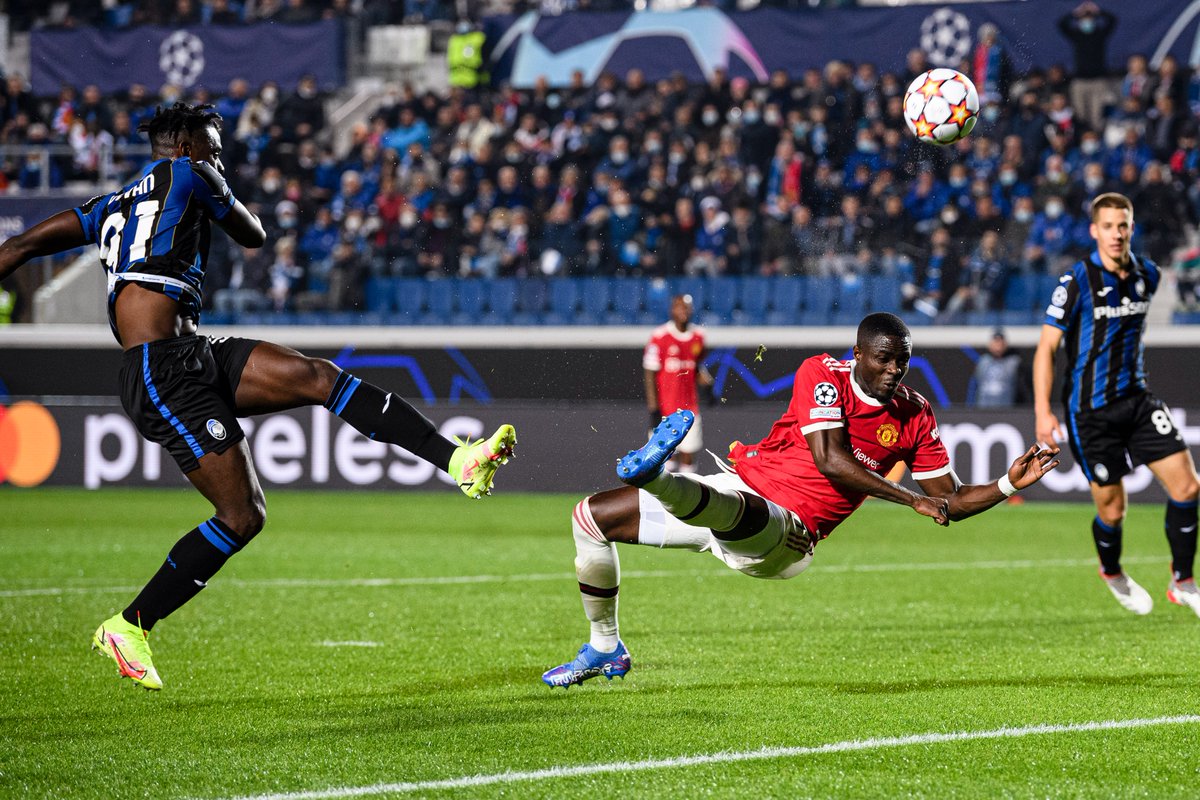 Bailly's situation evokes that of his United teammate Jesse Lingard. Bailly is 27 years old, but his infrequent selection sees him still treated like a player with potential. Potential is exactly what he had when he arrived at Old Trafford. Athletic, physically dominant and capable in possession, the Ivory Coast international scooped Player Of The Month in August 2016. But a mixture of injuries, poor performances in big games and a club in a wider state of flux have left him no closer to reaching his potential than he was five years ago.
It was this lack of progress that led to howls of derision when the defender was signed to a contract extension in April of this year. Bailly's deal was due to run out in 2022, and most observers felt like the time was right for United to cut ties with a player who had never quite made the grade. Instead, he has been kept on until 2024. Some interpreted it as an attempt to protect his value, a strategy the club have also employed with Lingard.
But it is hard to conjure a market for a player who barely plays, and for the most part this season Bailly has not made it onto the pitch. Atalanta was only his second appearance of the season, the first coming in the Carabao Cup defeat to West Ham United. But this most unusual of seasons at Old Trafford has seen him come in from the cold, and if he can stay fit there is a real chance he can make an impact.
The idea behind Solskjaer's 3-5-2 formation is to strengthen in defensive zones and offer a more compact look that is harder for teams to break down. Against Tuesday's opponents, a counter-attacking team in their own right, it looked ill-advised. Against Manchester City on Saturday, it could be just the ticket. With Varane a doubt and Lindelof also coming off the back of an injury, any three-man defence United can construct is likely to include Bailly. While a Manchester derby is as fiery as baptisms get, another strong showing could catapult Bailly to the forefront of Solskjaer's plans.
There can be no inconsistencies this time, no barren run of form after a promising performance. The man who started the season as United's fourth-choice centre-back has the potential to jump the queue. If Eric Bailly is to revive his Manchester United career, the resurgence must continue at Old Trafford this Saturday lunchtime.