The Defining Sporting Moments Of Theresa May's Time In Office
10:23, 24 Jul 2019
On July 23 2019, Boris Johnson outpaced rival Jeremy Hunt to seal the Conservative Party leader contest, and so ended the 1107 days of Theresa May's reign as Prime Minister.
Johnson has become the second publicly unelected bureaucrat to take the position of head of government in the United Kingdom .
May became Conservative Party Leader in a similar manner on July 13 2016 and subsequently took the residency and mantle of Prime Minister from predecessor David Cameron.
Theresa May's tenure will ultimately be defined with the failed negotiation to adequately withdraw the UK from the European Union.
Here at The Sportsman, we do not claim to be the most politically astute, but we certainly take an interest in some of the defining moments in British sport that have punctuated May's time in office.
Back in that summer of 2016, in football Leicester City had just made history by achieving their first ever league title in their 132-year-history.
That was two months before May was sleeping in Number 10. Since then, Chelsea and Manchester City have both gone on to reach a tally of six league titles, the latter doing so in a breath-taking domestic treble-winning season in 2018/19.
One person May did outlast was Jose Mourinho at Manchester United, who was appointed a little over a month previous and sacked in December 2018.
May bested Mou by 171 days. The Portuguese did however pick up a Europa League title to complete the trophy collection for the Red Devils.
Three days before May's appointment, Lewis Hamilton had won his fourth British Grand Prix Trophy at Silverstone, to seal his third straight victory at the historic circuit. Three years later, in the very same month, the F1 superstar won his record-setting sixth, and is now in pole position to claim his sixth Drivers' Championship.
This feeling, this moment, it's everything. Each and every time I go out onto the track, I'm honoured to represent Great Britain and I'm so proud of all my fans. We did this together
#TeamLH
.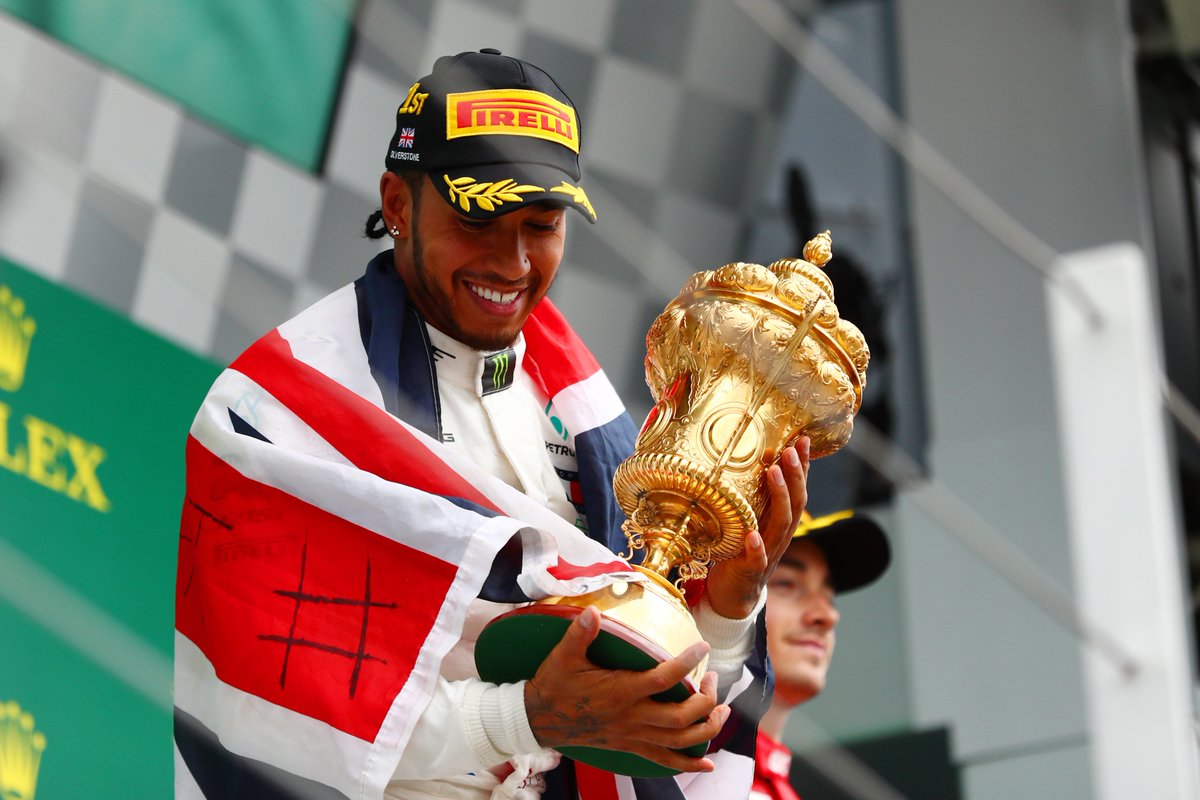 There have been three back-to-back English winners of the UK Snooker Championship, and Brits Mark Selby, Mark Williams, and Judd Trump have all claimed the title of World Snooker Champion. England retained the Rugby Six Nations Championship in 2017, with Ireland and Wales winning thereafter.
Chris Froome became the first cyclist in over 35 years to claim all three Grand Tour winners' jerseys with victories in the Giro d'Italia, Tour de France, and Vuelta a España across 17/18, Geraint Thomas won the 2018 edition of the Tour de France.
In boxing Anthony Joshua gained and lost his world heavyweight titles, with victories over Wladimir Klitschko, Carlos Takam, Joseph Parker and Alexander Povetkin, relinquishing to the unfancied Andy Ruiz Jr. The once exiled Tyson Fury staged a remarkable comeback that reached its apex in pushing Deontay Wilder to the brink in December 2018.
In 2019, May was precariously teetering on actually convincing as a football fan, though still a long way off from running through fields of wheat to running down the wing.
When the leader of the opposition Jeremy Corbyn praised Liverpool's remarkable Champions League Semi-Final turn-around and suggested the PM could 'take some tips from Jürgen Klopp', May also didn't waste the same opportunity in her rebuttal:
"I actually think that when we look at the Liverpool win over Barcelona last night, what it shows is that when everyone says it's all over, that your European opposition have got you beat, the clock is ticking down, it's time to concede defeat, actually we can still secure success if everyone comes together."
Then there was AFC Fylde, with Dave Challinor's men being congratulated by the PM on reaching the Play-Off Finals of the National League in May 2019.
"AFC Fylde is a very good example of how clubs can engage with their local communities and we want to see this partnership taking place", May responded when prompted in the PMQs by Fylde MP Mark Menzies.
She then went on to celebrate Sheffield United's rise back up to the Premier League after coercion from MP and Blades season ticket holder Paul Blomfield.
And of course, both the Men and Women England teams, the Lions and Lionesses, reached the Semi-Finals of their respective World Cups. The Under-17s men's national team - with players such as Phil Foden and Rhian Brewster - had their first success at their own tournament in India 2017.
Perhaps the greatest moment came in the dying embers of her tenure, as Eoin Morgan, Jofra Archer, Ben Stokes & Co reached the promised land in the most dramatic way possible, beating New Zealand in the ICC Cricket World Cup, with May attending the final at Lord's.
A genuine moment of pleasure for Theresa May in a maelstrom of misery that has finally, mercifully, dissipated.
Yesterday PM
@Theresa_May
hosted England's Cricket World Cup winning team at Downing Street 🎉🏏
#CWC19