Bury face expulsion from the Football League on Friday
14:16, 22 Aug 2019
What is a club in any case? Not the buildings or the directors or the people who are paid to represent it. It's not the television contracts, get-out clauses, marketing departments or executive boxes. It's the noise, the passion, the feeling of belonging, the pride in your city. It's a small boy clambering up stadium steps for the very first time, gripping his father's hand, gawping at that hallowed stretch of turf beneath him and, without being able to do a thing about it, falling in love.

Sir Bobby Robson
Bobby Robson had it right. A football club is worth so much more than those who are in charge of it and in Bury, they have been driven to the brink of extinction. Our open letter to Steve Dale called for him to step aside and allow this historic club to be saved at the final hour, with the two-time FA Cup winners running out of time before their expulsion from the Football League is confirmed.
The English Football League have done little to prevent this disaster from materialising - in fact, they have assisted Dale in his destruction of the club. Their 'fit and proper test' to assess potential owners is clearly farcical. Dale, in‌ ‌fact, took control of the Shakers in December without full approval from the Football League, something that cannot be understated as the club dangles from a cliff edge.
Former players forced to leave the club have spoken out about mismanagement under Dale. Players not being paid has lead to serious consequences, with midfielder Stephen Dawson on the brink of losing his home. Last season's left-back Chris Stokes was forced to hand in his notice having gone three months without payment and told The Sportsman about the help the Professional Footballers Association gave to the players during that difficult period.
Simon Barker (Senior Executive of PFA) has come in and told us what our rights are as players and they've financially paid us half our wages. Obviously, without that, us as players and staff wouldn't have been able to carry on with our lives as we have families, we have mortgages to pay.
Without that support, players would have faced serious consequences. Somehow, despite the circumstances, they sealed promotion in May, against all odds but then it all fell apart. Dale failed to pay the players and the staff so, with offers on the table, they all left, having to prioritise their own futures above the club.
📝 An open letter to Steve Dale, owner of
#BuryFC
...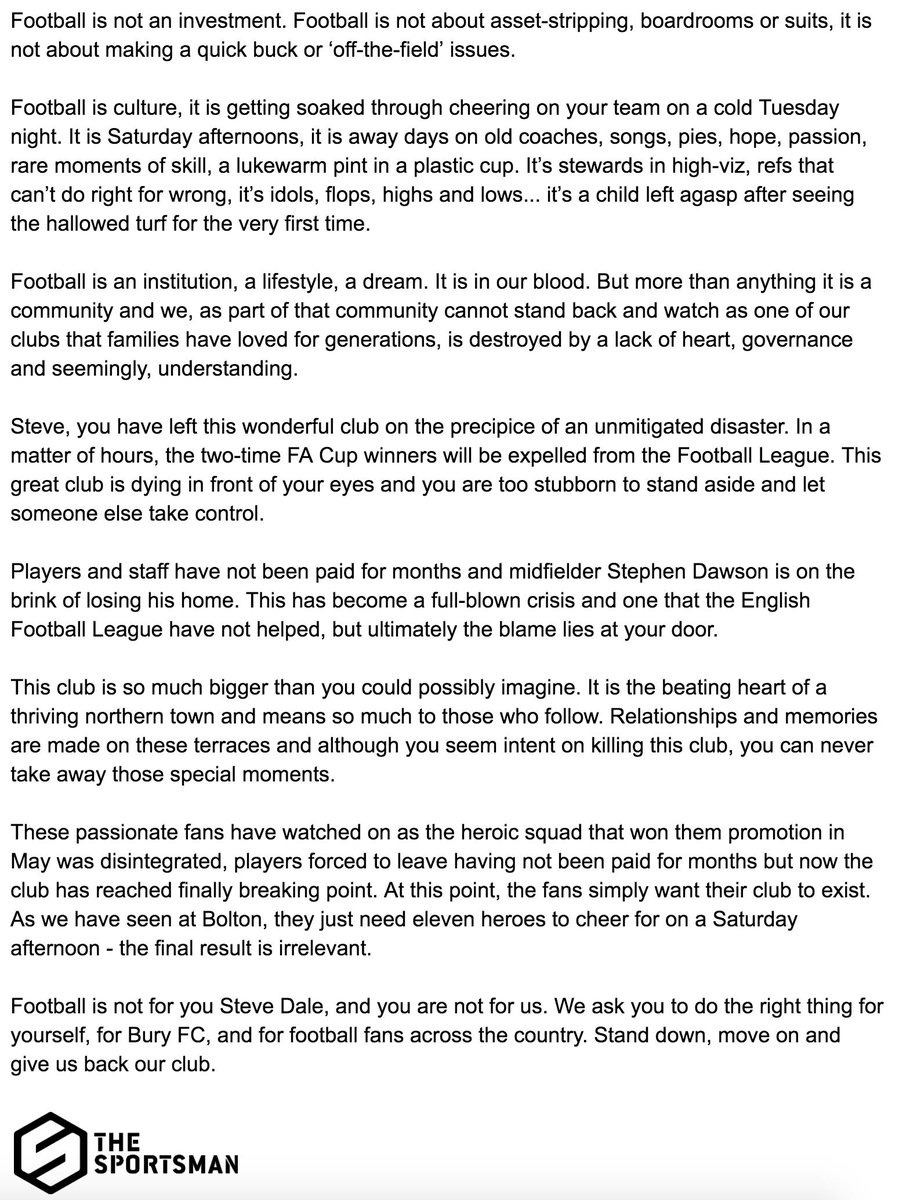 Unable to start the season and rooted deep in administration, Bury's record currently reads, played none, -12 points, three weeks into the season. The EFL have set tomorrow's firm deadline to see proof of funds and continue to seek assurances that the club will be able to complete all of their fixtures, if this cannot be achieved they will be expelled from the league, and only three teams will be relegated from League One this season.
This will be a blot not only on the Football League but on the whole of English football. The ownership test must be made more difficult and this can be seen across League One as clubs are run into the ground. Six miles from Bury, Bolton are only just keeping their heads above water, fielding a youth team every week with only a handful of senior players on their books. Manager Phil Parkinson understandably handed in his notice this week after gallantly sticking by the club through all of this off-the-field troubles.
Meanwhile, Coventry are playing their home games in Birmingham, another club ripped from the heart of its community. The Football League must sit up and take note of these clubs as football fans understand that they, in their current state, are not fit to govern lower league football.
In Germany, where club ownership is scrutinised, this would not be allowed to happen. In fact, back in 2004, Bayern Munich even bailed out their rivals Borussia Dortmund with a €2 million interest-free loan, when the club could not afford to pay their players wages, although this was not revealed to the public until 2013.
Although it would be a brilliant gesture, it is hard to imagine any club digging deep into their pockets, putting themselves in financial danger to help save Bury. If the Shakers are bailed out by another side it sets a dangerous precedent; Bolton and several other lower league sides also need financial help and could also legitimately expect a club to come in and save them.
One good thing must come out of this mess and that is the Football League ownership rules. Proper proof of funding must be seen and never again can there be a situation where somebody can take control of a club without passing these tests.
The clock is ticking. Bury need a miracle.