The Barcelona magician has assisted the Catalan outfit's last five goals
13:01, 15 Feb 2020
Lionel Messi hasn't scored for three whole games. Lionel Messi hasn't found the net in nearly 300 minutes of football for Barcelona.
You might be panicking wondering what an earth is going on but there's no need to worry. The mercurial talisman hasn't lost his footballing superpowers, he's merely swapped goals for assists. Messi has actually hit 26 shots without scoring. However, he's set up Barcelona's last five goals.
Defeating Real Betis 3-2 and Levante 2-1, the Argentine set up every single strike. Even when he's not scoring, he's still key in the Catalan giants finding the net. Interestingly, it's been mooted Messi may be modifying his game as he gears up to enter the twilight of his career.
Turning 33 this summer, his body has taken more kicks and bashes than probably anybody else in football. There's no question about whether his quality will diminish but, as he ages, that physical element is going to take its toll so, to ensure he gets the best out of his qualities, dropping deep may be key.
Wayne Rooney, playing men's football since his mid-teens and thus playing at the top level for fifteen years, successfully changed his game by reverting to a central midfield role from attack. The Manchester United legend's game became about controlling the tempo and finding killer balls.
🗣️ @ANSUFATI is living his dream alongside Messi at
@FCBarcelona
! 💫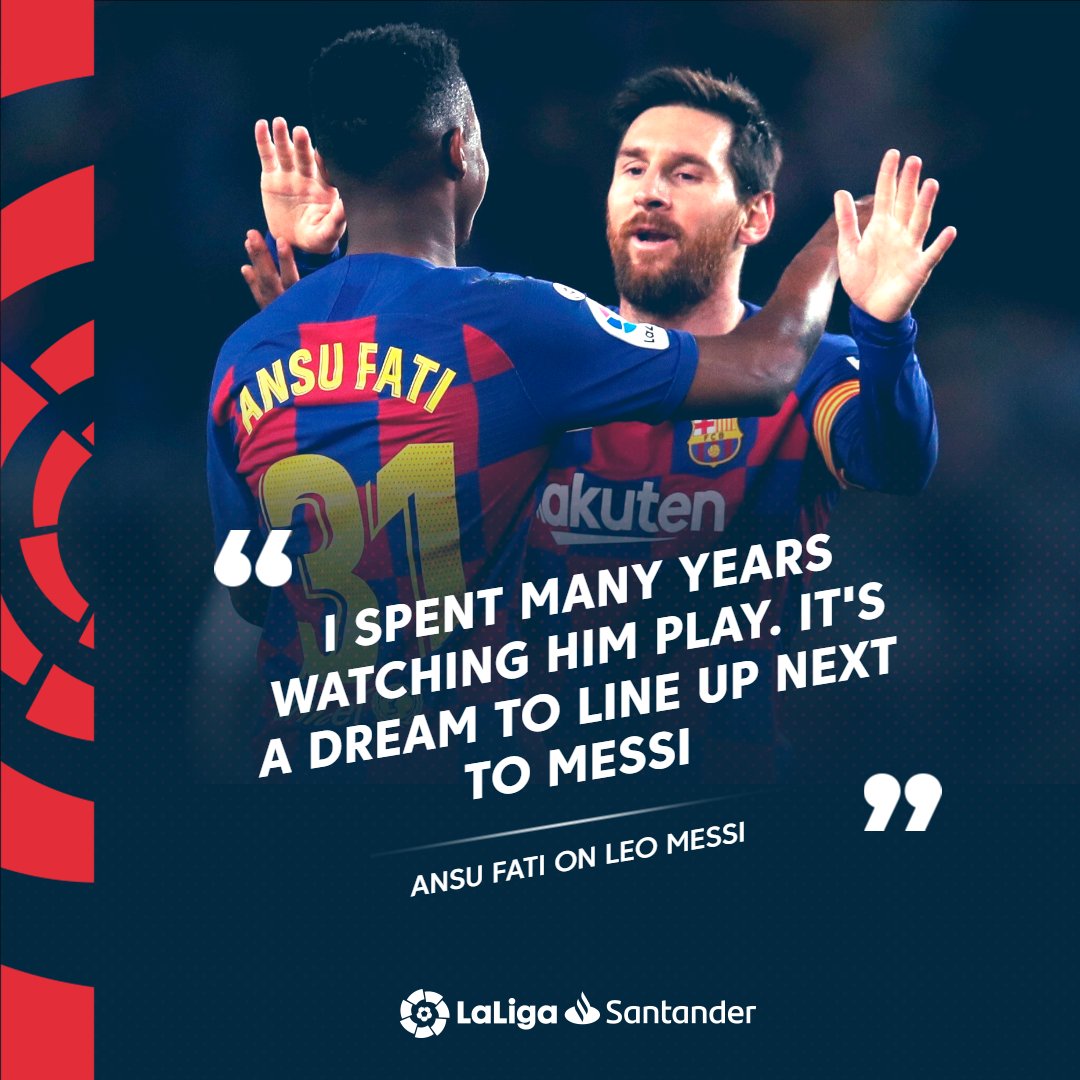 Messi is defined by his insane balance and low centre of gravity as he slaloms through the opposition, as well as his incredible prowess to hit the target from basically anywhere on the pitch. Though as his legs start to slow as happens to all, he too will focus on threading balls through the eye of a needle to his younger, more nimble team-mates in the years to come.
Only this week, days after the Superbowl final, Messi was compared to a quarterback on social media as he set up Ansu Fati, who at 17 is almost half his age, twice against Levante. Playing from deep, he later set up all three goals against Betis. That hat-trick of assists was the fourth of his career. Incredible.
This season, Messi has already recorded double figures for goals (14) and assists (11) and, in Europe's top five leagues, only Borussia Dortmund's Jadon Sancho can match it with 13 strikes and 12 chances created and converted.
Yes, the goals have dried up, but he's always involved in everything good Barcelona do.