Rugby League /
The Good, The Bad and the Ugly of Super League Round 11 - Wakefield Stun Saints And Wigan Leave It Late
Wigan players celebrate a dramatic win at Leeds on Friday night. Picture by Allan McKenzie/SWpix.com
The Good
Wakefield ended their five-game losing streak in style with an impressive 24-20 victory over St Helens. Saints are on top of Super League and have been electric for most of this year, so claiming their scalp is something to savour. Trinity have a brilliant opening 23 minutes to thank after running in four tries in a row. Justin Horo was at his rampaging best while Bill Tupou was a menace in a different role on the flank.
But it was their rush defence, especially the way they closed down St Helens' playmakers Jonny Lomax, Ben Barba and Theo Fages, that was responsible for the win. Saints were below par but still almost stole it at the death. Wakefield's spirit, and they way muscled up in defence, was evident in an outstanding result. That two points will give them confidence that a top four spot in not out of their reach.
Warrington and Castleford continue to truck along nicely and pick up wins. The Wire made it six on the bounce with their 40-26 defeat of Hull KR. The Tigers completely blitzed the hapless Catalans, who couldn't even score a point. Has Daryl Powell found a new fullback in Jake Trueman? It looks like it. The 19-year-old has only played seven games, and is a halfback by trade, but is making a real fist of the number one jumper.
St Helens' lead is cut to just two points after today's defeat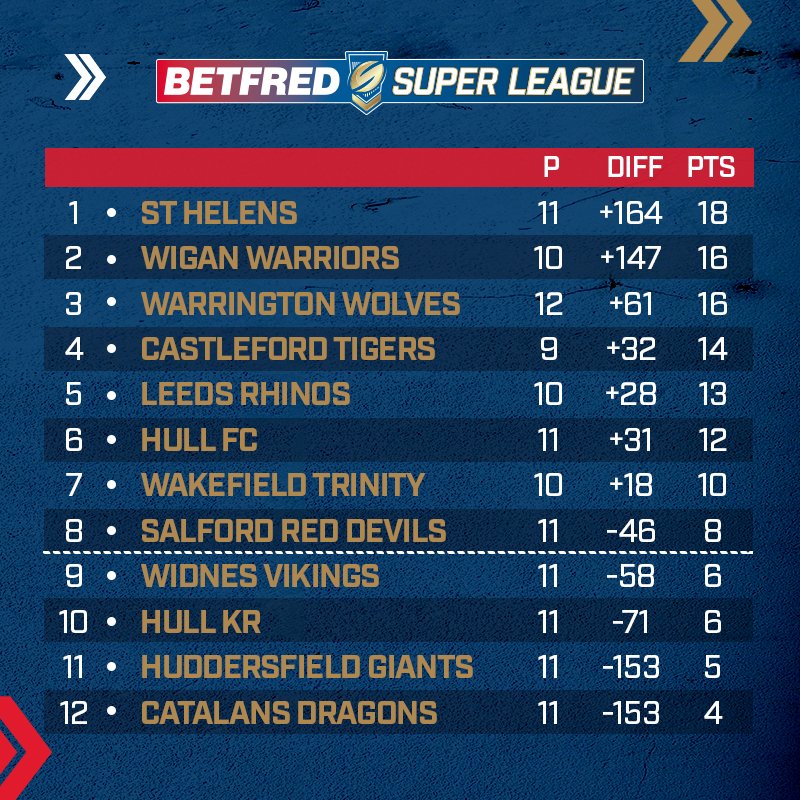 The Bad
Yesterday we saw a spate of cards for foul language aimed at officials. Mark Percival was sin-binned for abusing a tough judge during his team's loss to Wakefield, while notorious shrinking violet Danny Brough got his red card for alledgely calling an official a "f%cking c$nt". Not a good look for the game at all.
The Leeds vs Wigan clash was supposed to a be a blockbuster at Headingley, two of the best teams in Super League locking horns. But it was a damp squib, a snorefest until the last 10 minutes. After the match Leeds coach Brian McDermott admitted: "That game was awful... I almost fell asleep watching it". You can always count on brutal honesty from McDermott, and he was right on the money. A shame two of the top clubs couldn't produce a better spectacle.
The Ugly
With more losses for Widnes, Huddersfield, Catalans and Hull KR this weekend the bottom four is becoming very predictable. Both the Dragons and Giants have won just two games, and don't look like winning many more at this point. Huddersfield need a head coach, and fast, while the ground on Steve McNamara's feet must be unstable. How many more defeats and poor performances can Catalans' owners tolerate?
The Vikings and Robins both have injury issues and are struggling to field fit teams. If Salford keep their squad intact and don't suffer any serious injuries to their big names, they should just scrape into the top eight. Last year nine victories (and three draws) was enough after 23 rounds for Huddersfield to make the semi-finals. It's very hard to see any of the current bottom four reaching that mark this season.