The Good, The Bad and the Ugly of Super League's Super 8s: Round Three
17:00, 03 Sep 2018
The Good
Wigan cracked open the race for Old Trafford with a thumping 30-10 win over St Helens at the Totally Wicked Stadium. This was the Warriors of old – tough, uncompromising, physical and full of running and offloads. Morgan Escare more than made up for the loss of Sam Tomkins, while back-rower pair Joe Greenwood and John Bateman made their presence felt in both attack and defence. Two months ago it looked like no one could hold a candle to St Helens, but Wigan have showed why not to write their chances off.

Hull KR took a big leap towards Super League survival for 2019 with their nail-biting 38-36 win over Leeds. At a sun-baked Headingley fans were treated to a see-sawing contest filled with some amazing tries and ordinary defence. But this crucial result, combined with the plucky victory over Toronto in Toronto a fortnight ago, has the Robins back on the right path. You can't say the same for the Rhinos, who on average are conceding 35.6 points a game. That is simply not good enough. Twice they had the lead in commanding positions, and twice they folded with Hull KR getting the cash in the end.
Salford continued its late season transformation with a big walloping of Halifax as expected. Again Jackson Hastings caught the eye, this time finishing with two tries, two try assists and six tackle busts. Enjoy the Aussie while you can in Super League, he probably won't be here long. If the Red Devils can knock off Toronto on their own turf this Saturday, then they will be home safe.
Tough night at the office for Saints as they are beaten by Wigan. We go again next week
#saintsandproud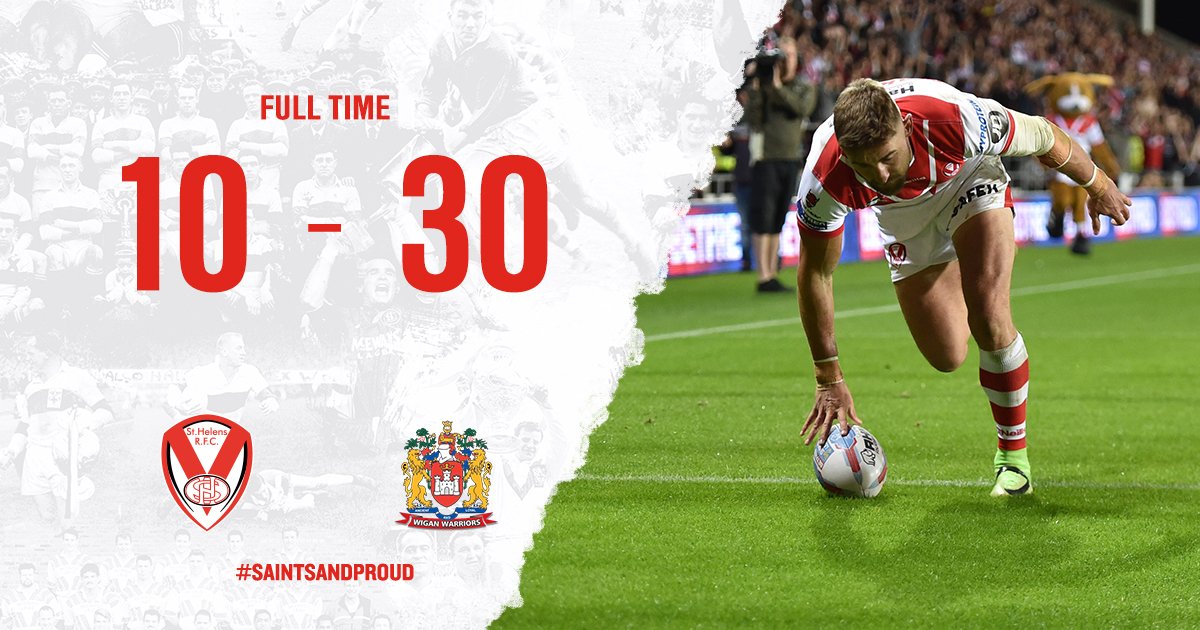 The Bad
Friday's loss to Wigan was St Helens' third loss in their past four games. The Warriors are no mugs, and deserved their victory, but there will be some concern seeping into the Saints camp. The season is a marathon, not a sprint, and a slip-up now will not be an issue as long as they regain their touch in the next month. We should know more after their trip to Perpignan.

The Ugly
So long Widnes, it's been nice having you in Super League. Saturday's terrible 42-22 loss to Toulouse in France has just about condemning the Vikings to the Championship in 2019. If their defeat to London in round 1 of the Middle Eights was a shock, this was less so. The bottom has really fallen out of Widnes, who have not only forgotten how to win, but also how to defend and compete. If they are lucky they might make the Million Pound Game, but at this moment in time they'd struggle to beat a university team.
Tough times at Hull FC after they were embarrassed 80-10 at Warrington. Yes the Black & Whites have injuries, but that is simply an abysmal, pathetic effort. Owner Adam Pearson says heads will roll and so they should. Hull FC still had 11 of their first-choice 17 playing on Thursday, and this was a case of a lack of effort and poor attitude, not down to missing talent. The Wire woe was their seventh loss in a row and heaps more pressure on coach Lee Radford. There are a few players at the club who are a bit long in the tooth, and some who are clearly not aiming up at the moment. An interesting off-season awaits for the Black & Whites.