The quality, drama and sportsmanship on display were a sight to behold
09:57, 04 Aug 2021
It felt like the peak of Test cricket at the time. Arguably, it remains the greatest ever game in the sport's history. Edgbaston 2005 was the most incredible rollercoaster of a match you could ever wish to see. A resurgent England were up against the all-conquering Australia, and the result was simply unforgettable.
When the two sides arrived at Warwickshire's HQ on the morning of 4 August 2005, the Aussies were confident of backing up a big win at Lord's in the First Test and putting to bed early any talk of England finally winning back the Ashes after 18 years. But the news that Glenn McGrath had been ruled out shortly before the start of play after stepping on a cricket ball during a friendly game of rugby in the warm-up was just the boost the home side needed.
What followed on that first day was monumental. England racked up a mammoth 407 in less than 80 overs, including a frankly ridiculous 10 sixes on the opening day of play with Andrew Flintoff teeing off to hit five maximums in a 62-ball 68 having combined with Kevin Pietersen to put on 103 in 17 overs for the fifth wicket.
The following day saw the visitors post 308 in response, and it looked like a decent reply once Brett Lee and Shane Warne got to work at England's top order in the third innings, reducing them to 31-4 and then 75-6 to leave Michael Vaughan's men scratching and clawing their way towards some sort of defendable lead.
THERE WAS A MEASURED DESTRUCTION ABOUT FLINTOFF'S BATTING AT EDGBASTON
But that is where Flintoff stepped up again, carrying England to 182 all out - a lead of 281 - with some of the most incredible hitting ever seen on British soil. A couple of magnificent lofts back down the ground for six, one of which actually landed amongst electric cables in a camera gantry on top of the stand behind the bowler's arm, as fearsome quick Lee was smashed to all parts. But that knock of 73 would be just the start of Freddie's contribution on that Saturday.
With Australia confidently rolling along at 47-0, the target of 282 seemed to be getting more and more miniscule. But then came one of the greatest overs of all time.
Vaughan called upon Flintoff in the first bowling change of the innings, with the all-rounder on a hat-trick after having cleaned up the Aussies first time around. And while he didn't claim Justin Langer's wicket with his hat-trick attempt, he bowled the opener brilliantly off the second ball with the benefit of an inside edge.
Then came the pure theatre, with Flintoff sending Australia skipper Ricky Ponting darting all around his crease with ball after ball of testing deliveries. When the final scheduled ball of the over was called an overstep, the England star made the most of the extra delivery, sending down a magnificent outswinger off the outside edge of Ponting's bat to wicketkeeper Geraint Jones.
#OnThisDay
in 2005, one of the greatest and closest Tests of all time came to an end in Edgbaston!
📸 The defining image belonged to Andrew Flintoff, who broke off the celebrations to console a crestfallen Brett Lee 👏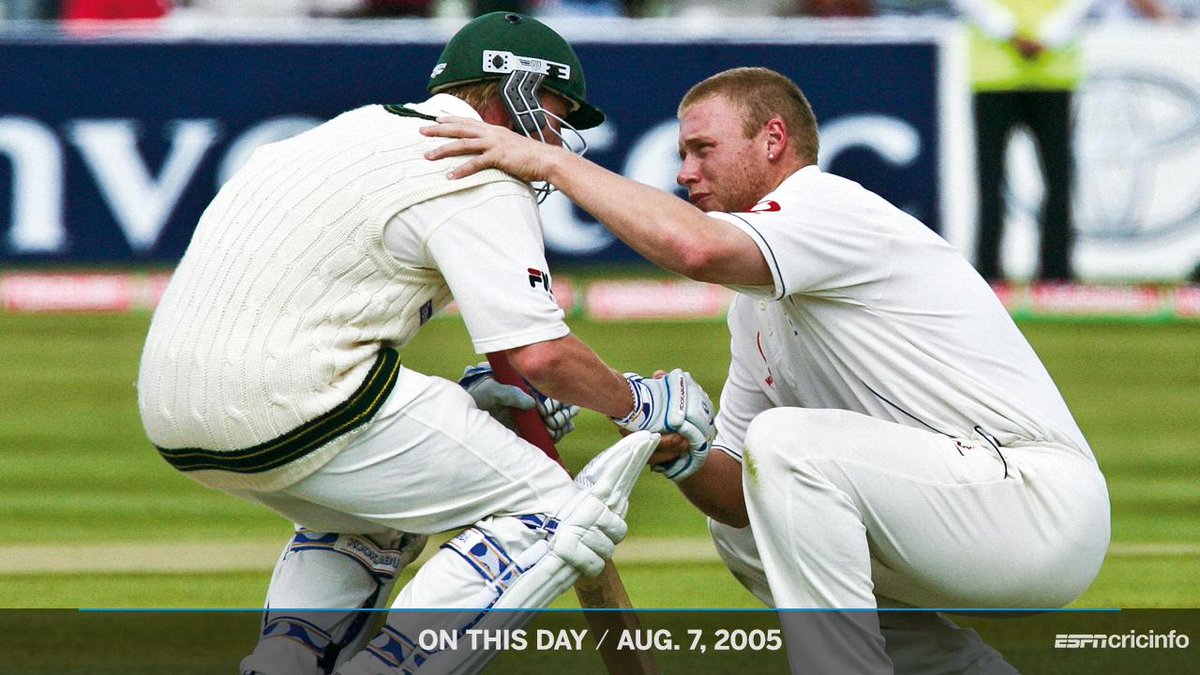 As if that wasn't enough, the fourth day finish was drama of the highest calibre. The morning began with Australia on 175-8, still 107 short of victory, but Warne and Lee set about eating into the lead. When Warne was eventually claimed by Flintoff after back-heeling his stumps, out stepped last man Michael Kasprowicz – McGrath's last-minute replacement. Australia still needed 62.
Over an utterly compelling spell, Lee and Kasprowicz chipped away and chipped away until they needed only single figures to complete an incredible victory. Simon Jones had misjudged a potential catch at third man with 15 to win. Outside edges found gaps rather than fielders. Whatever Vaughan tried didn't seem to work.
Then, with three needed, Steve Harmison sent in a rising short-of-a-length delivery which Kasprowicz got a nick on on the way to Geraint Jones. As Billy Bowden's crooked finger was raised, England players began celebrating one of the greatest wins of their long Test cricket history.
And yet, in the madness of it all, the most iconic image of the lot was about to be snapped. After a stunning performance with bat and ball in the most dramatic of victories, Flintoff's first move was to console Brett Lee. It summed up the respect between the two sides at a time when Australia's era was about to drift to a close and England would gradually make their way to the position of the world's number one Test team.
Everything came together over those four days to make the most fabulous sporting drama. There will never be another Test match like it.