The Inexplicable Rise Of The Mash Up Football Shirt
11:28, 25 Mar 2019
Manchester City are the latest club to get the mash-up treatment as their kit deal with Nike comes to an end.
Nike have produced similar shirts in the past for Barcelona, Inter Milan and Arsenal - incorporating many shirts into one eye-catching design.
Next season, City will be wearing Puma gear as part of a huge new contract which will also see the German supplier provide kit for the other clubs owned by CFG including Melbourne City and Girona.
The Nike Swoosh has been something of a lucky mascot for the blues, coinciding with the Pep Guardiola's arrival and subsequent success.
This mash-up kit includes nine in all. Some fan favourites - such as this season's striped dark blue away shirt - and some lesser celebrated kits such as last season's Double Decker purple and orange kit. There's also a space for a shirt that wasn't even a playing shirt - the special edition training top produced to mark the club's 100 point season.
While some fans would appear to be enjoying this "remix" of some old shirts, others see it as Nike's final chance to squeeze some more revenue from the final days of its City contract. I mean, six years? Is this really a milestone anniversary worthy of such fanfare?
The City shirt will be worn as a pre-match warmup top when they face Fulham this weekend. In all, 6000 of the tops will be sold - all individually numbered. While there may be some eye-rolling at City's shirt, other mash-ups of the past have considerably more gravitas.
The recent Inter Milan design by Nike at least marked a tangible anniversary - 20 years of partnership. Plus, it was actually worn in a competitive game and not some vanity project. Only 1,908 shirts were released - commemorating Inter's founding year - 1908,
The Inter shirt featured 10 different designs and because it featured just two colours - blue and black - it looked perfectly acceptable when worn out on the pitch.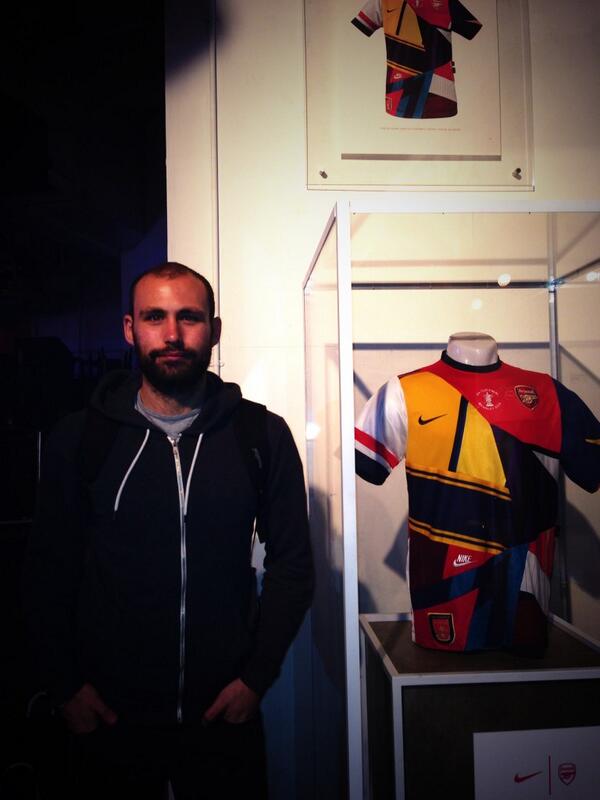 Barcelona's own mash-up design wasn't used in a game either - probably because of the mix of main shirt sponsors. Inter's long-standing deal with Pirelli is one of the most famous and enduring in football so creating a hybrid kit was relatively simple.
The Barca shirt was released last November to mark 20 years of Nike's involvement with the Catalonian club. Using the front, back and sleeves, Nike were able to include an element of every home shirt from the last 20 years in the design. Again, this worked well because Barcelona have never had a bad kit though next season's chequerboard design might challenge that.
Arsenal were the first club to get the mixed-up treatment, with the shirt produced to celebrate the end of Nike's 20-year association with the club. Like City's newly released effort, this shirt included home and away designs and because it was the first of its kind was rated highly by Gunners fans and collectors alike.
Puma replaced Nike as the Arsenal apparel supplier but next season the three bars of adidas will once again adorn the Gunners kits, evoking memories of some classic designs of the late 1980s/early 1990s.
The phenomenon of the mash-up shirt is not unique to Nike. Ahead of last year's World Cup, adidas had a go and mixing some home and away shirts of their national teams including Argentina and Germany though the end results really didn't get the juices flowing.
Maybe the most innovative mash-up shirt was that produced by Hummel for Denmark last year. Christened the 'Frankenstein' kit, no shirt was like any other making them highly prized by collectors. The shirts were made from those once owned by supporters. Denmark wore the shirts against Chile in March and they were late auctioned for charity.
This trend is not unique to teams either. Players have started commissioning their own hybrid shirts featuring the different jerseys of clubs they represented. In the past 12 months we've seen Ruud van Nistelrooy and Jari Litmanen wearing composite designs of all the clubs they played for during their career.
With the thirst for retro shirt designs showing no sign of slowing down, there will be more tweaks and variations on this theme. Maybe there's a market for a sofa made up from different "swatches" of old shirts or even curtains? Actually, I'd better get that patented.
Closer Look: The Inter Milan mash-up shirt by Nike celebrates 20 years of
@Inter
and
@nikefootball
Only 1,908 of this Vaporknit version have been made available to celebrate the year the club was founded, 1908.
This shirt will be worn in the Milan Derby this weekend.
#Inter