The women's doubles finalists were not allowed to speak to the crowd after their final
18:00, 10 May 2023
The Madrid Open is one of the biggest events of the ATP tour, with past winners including Rafa Nadal, Novak Djokovic, Serena Williams and Simona Halep. However this year, the clay-court tournament organisers have not just shot themselves in the foot, but shoved the barrel when the sun doesn't shine, and pulled the trigger.
They've been accused of sexism. And it hasn't simply been a one-off incident this spring, it's been a culmination of things that paint an archaic picture in the Spanish capital. The most obvious and glaring piece of sexism came as the doubles finalists were not allowed to speak to the crowd after their defeat.
Every male finalist in the singles or doubles, loser or winner, addressed the crowd after their matches, and this enraged both duos. The defeated Jessica Pegula and Coco Gauff were left enraged while Victoria Azarenka and Beatriz Haddad Maia's victory was soured by this decision.
"I don't know what century everyone was living in when they made that decision," said 29-year-old Pegula.
"Or how they had a conversation and decided, 'Wow, this is a great decision and there's going to be no-backlash against this'.
"I've never heard in my life we wouldn't be able to speak. It was really disappointing. In a $10,000 final you would speak.
"It spoke for itself. We were upset when it happened and told during the trophy ceremony we weren't able to speak. It kind of proved a point." Meanwhile Azarenka said it was "hard to explain" to her young son Leo why she was not able to address him in a victory speech. The decision around the speeches is inexplicable, and as of yet the organisers are yet to provide a comment, but it wasn't the only eyebrow-raising decision they made over the past two weeks.
Jessica Pegula on Madrid Open sending her an apology letter after cutting women's speeches: "No, but they sent me an apology letter. The letter made everything okay (smiling)."
Pegula's dry sense of humor has never been more appreciated 😂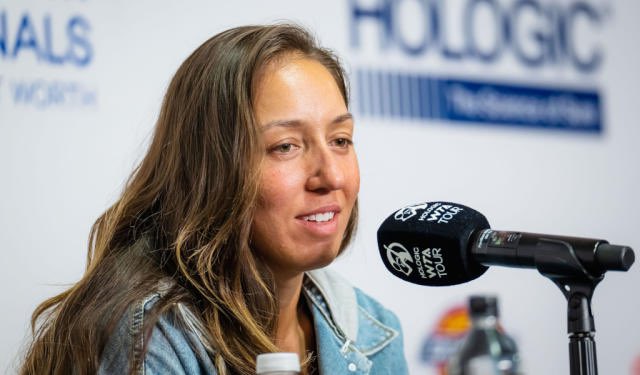 The ball girls had worn crop tops and shorts skirts for the majority of the tournament, but ahead of the men's final they changed into different outfits after complaints. The ball boys in the women's matches wore less revealing clothes, baggy polo shirts and longer shorts than the ball girls.
These ball boys and girls appear to be models, however this time it is slightly more subtle than the 'Hugo Boss' embossed models that shocked the world at this event in 2004. Still, it isn't a good look 19 years later.
The sexism issues continued at the Madrid Open this year when home favourite Carlos Alcarez was presented with a lavish three-tiered cake on court, to celebrate his birthday. Now, it is worth taking into account his nationality, but Aryna Sabalenka was also presented with a cake on her birthday - a single-tiered, far more modest looking design.
As a one-off, that is not worth mentioning, but when you combine it with the other factors we have discussed, it paints a decidedly dodgy picture for the tournament organisers. In a sport where it looked as if progress had been made in terms of equal prize money and fan interest, the Madrid Open, arguably the biggest event outside of the traditional Grand Slams, has let the sport down.
It's a reminder that there is still plenty of work to be done, across the board.