The Gunners have secured five wins from five in a rampant start to the WSL campaign
08:55, 07 Nov 2021
The 'I' world is still mentioned with a smile around North London. The only club in the Premier League era to go through an entire season undefeated and be awarded a gold trophy at the end of the season as a result are still heralded as one of the greatest sides we have ever seen on these shores.
Now, under new manager Jonas Eidevall, Arsenal's women look like they could repeat the trick after a scintillating start to the season. Chelsea and Manchester City had gone toe-to-toe for the title last season and only lost one match apiece across a remarkable campaign, and as a result Emma Hayes' side were pre-season favourites to retain their crown.
But Eidevall has taken the Gunners, who dominated women's football in the early 2000s, to the next level. Five wins out of five in the league has meant he has deservedly been crowned manager of the month for October and the work the former Rosengard boss has done with his players so far deserves huge credit.
Having scored 19 and conceded just two, (against champions Chelsea on the opening day), the Gunners have blown away their domestic rivals so far this term. The goals have come from a whole host of players, not just star striker Vivienne Miedema, who missed out on the Golden Boot by three goals to Sam Kerr last term and looks set to challenge the Chelsea forward again for that particular award.
Watching over…
@Eidevall 👀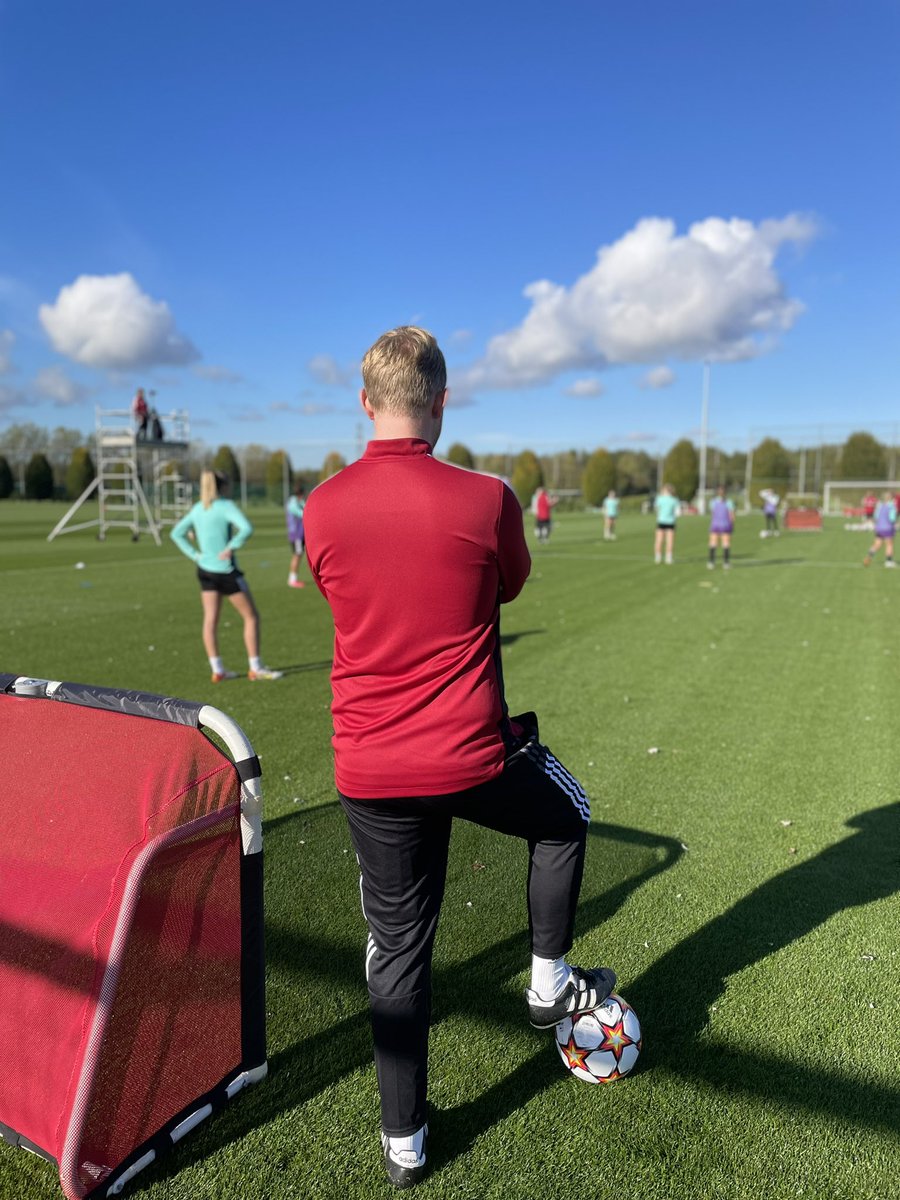 The Dutch forward has bagged four goals and two assists so far this term, but elsewhere more unexpected names have taken another step forward. In particular, Republic of Ireland captain Katie McCabe has improved on the good form she showed last year that saw her register a league high 11 assists and be named the supporters' player of the season.
From left-back, she has scored three and assisted three as Eidevall looks to get his full-backs forward so they can contribute in attacking areas. She has even drawn praise from Arsenal legend Ian Wright.
"Listen, Viv is like how [Denis] Bergkamp was. Everybody loves her because of how great she is," he responded on UMM when asked who his favourite player is.
"I have to say, at the moment, it is probably Katie McCabe. Left-back, man. She is one of those players, you don't get less than 8/10 from her. Gets on with her game. Flies into tackles, great footballer, great crosses. At the moment scoring great goals.
"I am loving Katie McCabe at the moment."
Her performances won her the WSL's goal of the month and player of the month awards for October and if these performances continue, there will be many more prizes to come.
October now belongs to Katie McCabe 😎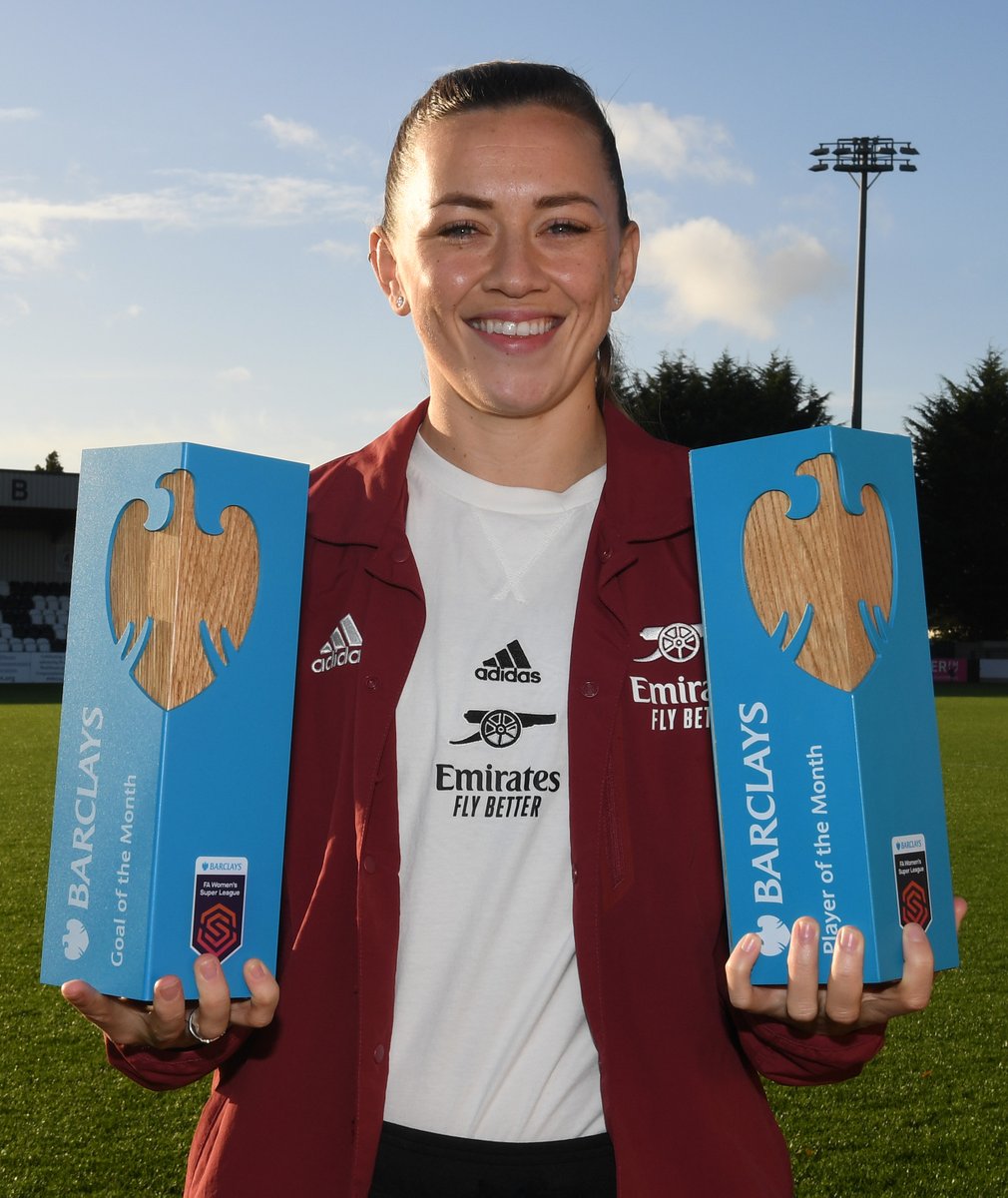 Kim Little is in cracking form in front of goal having hit four already while Beth Mead, having shone for England and become the first woman to score a hat-trick at Wembley in the last international break, is also contributing in attacking areas. With all of this free-flowing football and attacking talent, the rest of the side has gone somewhat under the radar but having kept four clean sheets on the spin, the likes of Leah Williamson deserve huge credit.
The way this side is playing at the moment, having secured their place in the FA Cup final last time out, it is difficult to see how they will be stopped. At this early stage it does seem like a two-horse race in the league, with Manchester City horribly out of form and Hayes' Chelsea having only lost to Arsenal this term.
In fact, only Chelsea can boast an 'unbeaten' season since the WSL was extended to 12 teams, but they only completed 15 matches before that particular campaign was cut short due to Covid-19, so they can't truly claim to be invincible.
This season Eidevall has transformed an Arsenal side that had talented individuals into a winning machine. This weekend's match against West Ham should see that run continue, before attention turns to the Champions League and then, a blockbuster North London derby. The way things are unfolding, come May, Arsenal another bunch of Invincibles to shout about.