Here are The Sportsman's top 10 trades and signings of the off-season to this point
08:35, 30 Apr 2022
It's the same every year. Almost as soon as the Vince Lombardi Trophy is awarded, attention turns to the trade market and free agency. Everyone's got an opinion on every available player but it's the 32 teams who have to be smart and make the right call.
So, of the business conducted so far, which deals stand out? Here are The Sportsman's top 10 trades and signings of the off-season to this point.
10. Matt Ryan, Quarterback (Atlanta Falcons to Indianapolis Colts)
This was exactly what Matt Ryan needed. Atlanta are a team in disarray, and Ryan should already have a Super Bowl ring to his name. Despite a host of setbacks and being sacked 40 times, Ryan still managed to throw for 3,968 yards and 20 touchdowns. The move to the Colts will give him an opportunity to get into the play-offs and potentially win the division. At 36, he's in his fine-wine years, but many feel he's got a lot left to give.
9. Chandler Jones, Outside Linebacker (Arizona Cardinals to Las Vegas Raiders)
The Chandler Jones era in AZ comes to an end. The former first-round pick who began his career on one side of the States looks to be ending it on the other. He's signed a 3-year, $52.5 million deal to join up with Derek Carr and co in Vegas in a move which demonstrates the Raiders' commitment to pushing for an improved finish. Jones brings a considerable amount of leadership and physical prowess with him from Arizona, having notched up 208 tackles, 52.5 sacks and 15 forced fumbles in his five-year spell there.
8. Bobby Wagner, Middle Linebacker (Seattle Seahawks to Los Angeles Rams)
Big Bobby Wagner was just as stunned as the rest of the league when it was announced that Seattle were releasing him. He wasn't down in the dumps for too long as he secured a move to the Super Bowl champions in a five-year $50 million deal. The eight-time Pro Bowler is coming off his most productive season as a Seahawk in which he recorded 170 tackles, including 78 solo tackles and one sack.
7. Tyreek Hill, Wide Receiver (Kansas City Chiefs to Miami Dolphins)
The Cheetah has left KC in a move which surprised many, with Hill wanting to secure a contract that would put him amongst the biggest earners in the league. The Dolphins saw their opportunity and pounced, making Hill the highest-paid receiver ever in the NFL with a whopping $120 million contract split over four years. Hill has proved his money's worth at the Chiefs, registering 111 receptions, 1,239 yards and nine touchdowns last season alone. Exciting times to be a Dolphin fan.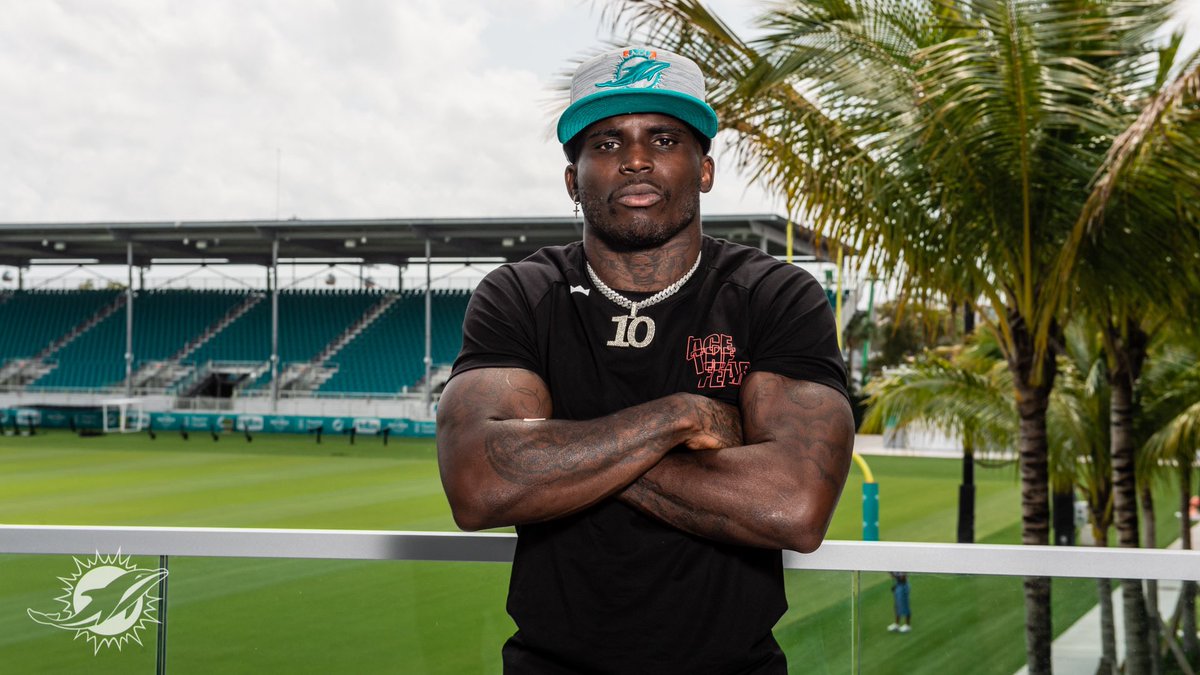 6. Von Miller, Outside Linebacker (Los Angeles Rams to Buffalo Bills)
After spending his entire career in Denver until last season when he joined the Rams, Miller now heads ton Buffalo. Easy to see why he's made the move though after the 33-year-old signed a six-year $120 million deal with $51 million guaranteed. The Bills were so unlucky to lose in the manner they did last season, and this signing could prove to be the difference-maker in their pursuit of a Super Bowl title. Miller will add a huge pass rushing threat to a team who recorded the second-lowest number of sacks in the league last year.
5. J.C. Jackson, Cornerback (New England Patriots to Los Angeles Chargers)
From an undrafted cornerback in 2018 to one of the most highly-rated corners in the league four years later, it's been some journey for the J.C. Jackson. After not signing a new deal with the Patriots he was able to switch the east coast for the west and could prove to be a great signing for a Chargers side who lost games by such small margins last season. His eight interceptions in 2021 and place among the top 10 cornerbacks in the NFL have coaxed the Chargers to reward him with a five-year, $82.5 million deal that will see him stay in LA for a bulk of his prime.
4. Khalil Mack, Outside Linebacker (Chicago Bears to Los Angeles Chargers)
One of the NFL's most prolific rushers, Khalil Mack terrifies every offensive lineman he comes up against. In 101 games, Mack has racked up 420 tackles, 68 sacks and 18 forced fumbles. Even when he missed a majority of last season, Mack posted silly numbers and it appears the Chargers are determined to bolster their defence having already signed J.C. Jackson to join the current crop of Derwin James, Joey Bosa and youngster Asante Samuel. The Chargers are out for blood this year.
⚡️KHALIL MACK IS
AN LA CHARGER⚡️
→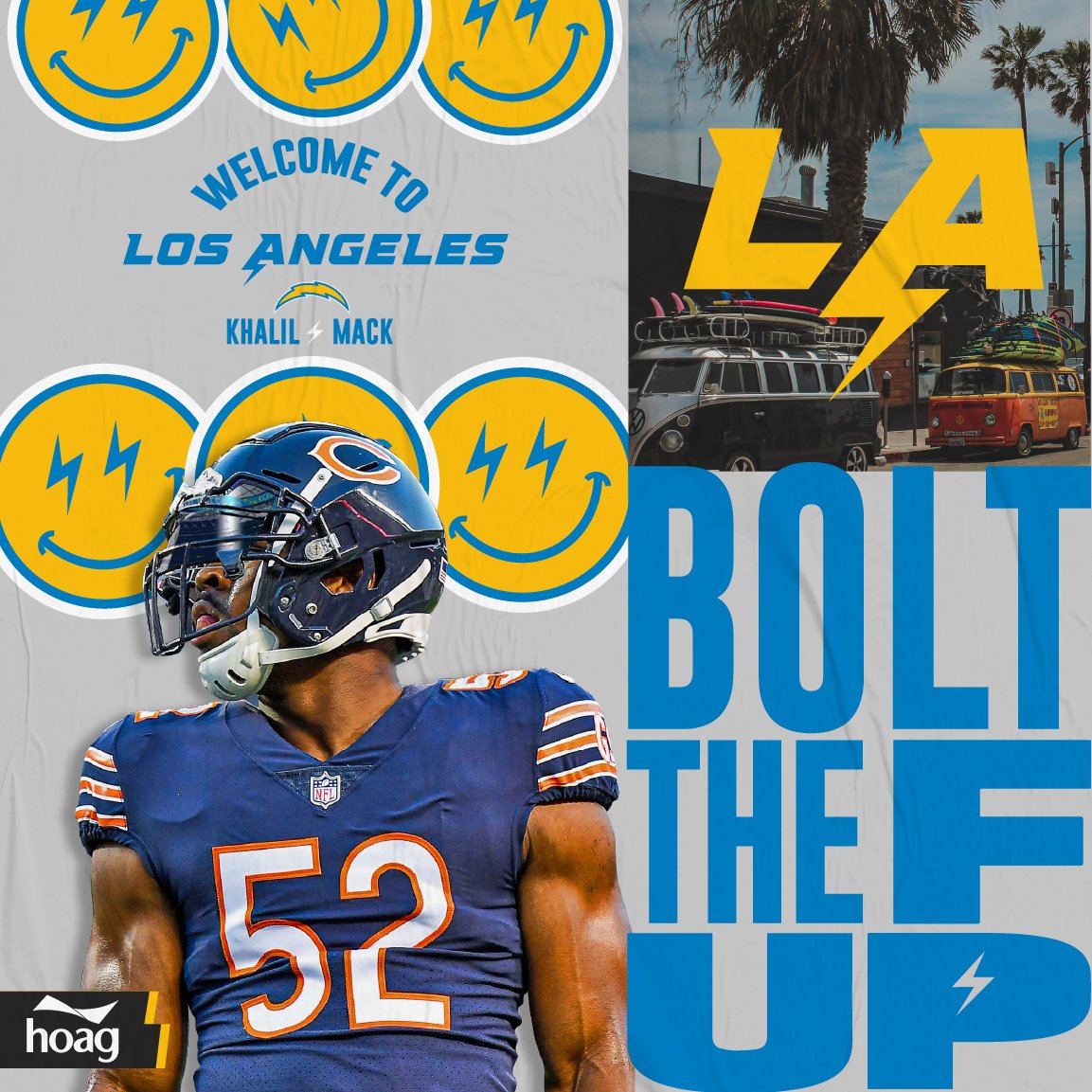 3. La'el Collins, Ted Karras and Alex Cappa, Offensive Linemen (Dallas Cowboys, New England Patriots and Tampa Bay Buccaneers to Cincinnati Bengals)
Yes, there are three people taking up one spot. Yes, it's cheating. But it was easier to cheat than to decide which of these players will be most influential next season. The Bengals made it to the Super Bowl with one of the worst offensive lines in the league. They may have had character and ridiculous determination but that will only get you so far for so long. Now, they have done what everyone knew they needed to do in signing players to protect Joe Burrow. Burrow was sacked 70 times last season, and Cincinnati have addressed the issue with some top-notch players who are immediate, ready-made upgrades to the offensive line. What a time to be a Bengal. The jungle will be a frightening place for many years to come.
2. Davante Adams, Wide Receiver (Green Bay Packers to Las Vegas Raiders)
Davante has called it a day in Green Bay to join the Raiders on a five-year, $142.5 million deal with $67 million guaranteed. Arguably the best receiver in the league, Adams' eight seasons with the Packers saw him record a first down on an astonishing 60% of his catches. Last season alone he registered 123 receptions, 11 touchdowns and 1,553 yards, and 68% of his catches resulted in a first down. The Raiders have secured the services of a top-three receiver in the league who is in his prime. Now blessed with an offence made up of Josh Jacobs, Darren Waller, Hunter Renfrow and Adams, the Raiders have become one of the most frightening teams in the AFC.
1. Russell Wilson, Quarterback (Seattle Seahawks to Denver Broncos)
Wow. Russell Wilson is a Bronco. This trade was massive and opinions were split over who won it, but one thing for sure is that the Broncos are now divisional contenders and a team to keep a close eye on. The difference one player can make is incredible. Wilson is a natural leader, a determined character and has been one of the best QBs in the NFL since he was drafted in 2012. He's a Super Bowl winner who boasts career stats of 37,059 yards, 292 touchdowns, 101.8 passer rating as well as 4,689 rushing yards. The long and short of it is that he is one of the best in the business, and the Denver Broncos should count their lucky stars that they've secured his services. Seattle begins a new era, and with a handful of draft picks acquired in the trade it'll be interesting to see how they go about replacing the irreplaceable.