The highly-touted midfielder is finally starting to hit his stride with Lille
12:00, 19 Dec 2019
There was a danger of hearing the name 'Renato Sanches' and thinking it was a by-word for the danger of premature hype, pushing a footballer front and centre before he is really truly proven and instigating a sparkling talent to burn then feebly fizzle.
Following a strong showing at Euro 2016, the competition in which he helped guide Portugal to their first championship title on the international stage and won the Young Player of the Tournament award, Sanches earned his move to Germany in a £27.5million (€35million) deal at the tender age of 18.
His meteoric rise saw Sanches moved from his hometown club Benfica in the Portuguese Primeira Liga as he was also named the first player from his nation to win the Golden Boy of European Football, something which was also recently received by compatriot João Félix who has similarly earned a big-money move away from Benfica.
He was even cited by Pep Guardiola as "one of the best young players in Europe." and links to behemoths across the continent - Manchester United, Paris Saint-Germain - were forthcoming.
That hype proved to be stifling
At the end of August 2019, Sanches was purchased by Ligue 1 outfit Lille on a five year deal from Bayern München that followed several relatively unsuccessful years in Bavaria unbefitting of the talent that blazed onto the scene in '16.
Sanches had managed over a half-century of appearances in two full seasons but didn't scrape over the 1000 minute mark in the Bundesliga. On just three occasions did he complete a full match and a debut season that promised so much yielding no goals, no assists set the tone for his time at Germany's most successful club.
Sanches then experienced a spell in the Premier League season in Swansea City's doomed campaign across 2017 and 2018, in which they were relegated after seven years in the English top tier.
Renato Sanches vs Montpellier
1 goal
31 passes
68% pass accuracy
5 shots
10 dribbles won
2 tackles won
1 interception
Getting stronger and stronger. 💪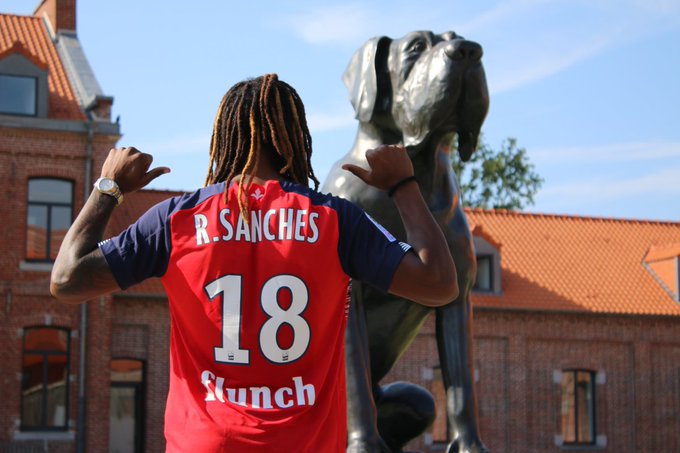 Sanches followed Paul Clement to South Wales, a manager whom he had worked with at Munchen as Clement worked as an assistant to Carlo Ancelotti.
His spell produced just one assist (against Reading in the EFL Cup), no goals tallied and warranted more time on the Swans bench - a hamstring injury in the new year capitulated his problems in finding form.
In February 2018 Clement produced a scathing review of Sanches' time in England
"Bayern really supported [the loan]. They thought he was going to a club who played football, and to a coach who would care and give him the attention he needs," Clement said.
"(Sanches) wasn't so keen initially. He thought he was going to go to Manchester United, Chelsea or Paris Saint-Germain. Bayern were saying, 'You're not going there, it would be the same situation, you're not going to play'.
"When he came, he was far more damaged than I thought. It was really sad. He was a boy who had almost got the weight of the world on his shoulders."
Clement asserted that Sanches was Swansea's best player in training but the pressure of being the teenage wunderkind was plainly visible on the pitch, with the player making poor choice after poor choice.
Sanches was eventually a sorry sight watching from the sidelines, a constant reminder of a failed talent, the Portuguese Julius Aghahowa. He left Wales under cover of darkness and his return to Bayern Munich was greeted with little fanfare.
Football is ultimately a strange and unpredictable beast, and it is now witnessing the Renato Renaissance. As of mid-December the midfielder has now made as many appearances for Lille as he did in his entirety at Swansea (15) and in Gameweek 18 he was imperative in Lille's 2-1 win over Montpellier, deservedly bagging the winner with just over five minutes left of the 90 for Christophe Galtier's side for collect all three points and claim their fourth league victory on the bounce.
Whisper it quietly, but Renato Sanches is shining again 🤩
Though a recurrence of his hamstring issues across October and November provided a minor setback to adjusting to life in La République, Sanches has proven to be one of the reasons Lille find themselves in such a lofty position, sitting just behind Olympique de Marseille and table-toppers Paris Saint-Germain in third.
Sanches is still only 22-year remains a hope for the future, not just for Portugal but cementing his status as one of the brightest talents on the continent.
The prestigious Champions League had also been back on the agenda, with Sanches featuring in all but one of Lille's group stage fixtures. It is the French league however that appears to be the reinvigoration that Renato has desperately needed and he has received the backing of figureheads at Lille.
"To improve, a player needs to respect three things that often move at different speeds: adaptation, maturity and opportunity," stated Lille Sporting Director Luis Campos to La Voix du Nord, "Renato received enormous support from everyone at this club. We repeated to him of the need to be patient because he has a 5-year contract with us.
"We need a high-performing Renato but on the condition that this lasts. He had a lot of stress and anxiety with this transfer and he has paid for that.
"Christophe (Galtier) has shown his skill in dealing with this situation and from the moment when the player is listening, it is easier. We are going to help him to adapt and to respect the three things I talked about. In my opinion, Renato is currently playing at 40% of his potential."
His balance and pace and technicality have come to the fore again and his first goal for Les Dogues is a just reward.
If this is Renato Sanches at 40% of his capacity, the remaining 60 looks set to be a treat.