Eduardo Camavinga has burst onto the scene, and doesn't look like he's going to leave it for a long time
08:55, 11 Mar 2020
The talent pool in France has always been impressive, but right now, it knows no bounds. Each of their great generations has inspired the next; Les Bleus lifted the European Championships in 1984, led by the 'magic square' of Alain Giresse, Luis Fernandez, Jean Tigana and, of course, Michel Platini.
Fourteen years later, they went one better, winning the World Cup with Zinedine Zidane guiding them forward alongside Patrick Vieira, Lillian Thuram and a young Thierry Henry. That team went onto dominate Europe again and reach another World Cup final in 2006.
After some tough years, and another final defeat at Euro 2016, Didier Deschamps, captain in 1998, guided them to World Cup glory again in Russia two years ago. This time, Kylian Mbappe, arguably their most talented youngster since Zidane, was the difference; his generation will be hoping to follow in their predecessor's footsteps when tournament football returns in the summer.
Mbappe is the posterboy of France now, similar to Zidane and Platini before him, but the rest of the national team is in good hands, too. In goal, Alban Lafont appears to be Hugo Lloris' heir apparent, while nobody looks likely to usurp Raphael Varane or Presnel Kimpembe in defence.
There is one youngster coming through the ranks in midfield who could prove to be among the elite of tomorrow; Rennes' teenage sensation Eduardo Camavinga has burst onto the scene, and doesn't look like he's going to leave it for a long time.
While Mbappe and the former Rennes academy graduate Ousmane Dembele, who has progressed quickly, joining Borussia Dortmund and Barcelona only to be cut down by injuries, both took their chances at an early age, Camavinga's career has something a little more special about it.
As attacking players, even when trying to make a first impression, there is very little to lose and everything to gain. The glory of a debut goal is there to be taken, but almost nothing is expected and consequences of 'failure' are often minimal.
Camavinga, though, plays at the base of midfield, usually as a single-pivot; he can be the sole protector of the defence. If he slips up or makes a mistake, it is unavoidable and potentially fatal. And yet, at just 17 years of age, he is thriving, rather than surviving.
A man of the match performance against PSG in a 2-1 win back in August made everyone sit up and take notice.
Eduardo Camavinga:
- modern-day defensive midfielder
- tactically intelligent & charismatic midfielder, gifted with great ball skills
- accurate & tenacious tackler
- great sense of positioning
- very good pace at all distances
- superb technique & ball control
Insane talent.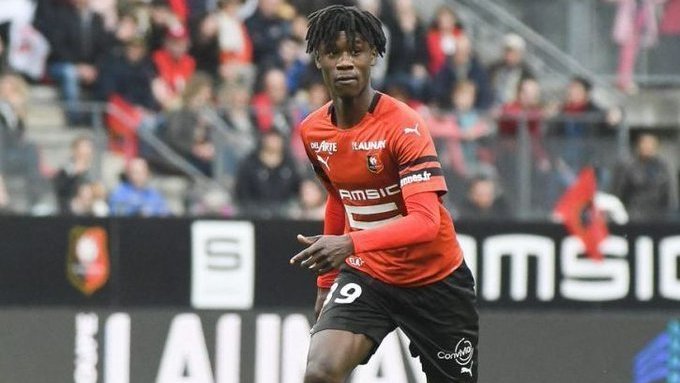 The confidence of this tall, but wiry midfielder is impressive; he has already made Ligue 1 his playground, wracking up 24 appearances since his debut in 2019, as Rennes' youngest ever player. The way he always looks forward and takes risks with passes or even dribbles, despite his deep position in the team and the fact he patrols the midfield alone, potentially leaving him and the team exposed, is a real mark of his talent.
His contract at Rennes runs until 2024, but the list of interested clubs is growing; Real Madrid have already been linked as they reportedly start to plan for life after the Brazilian Casemiro, while a host of Premier League clubs will also be following him closely. Manchester United, Tottenham and Arsenal have already been name-checked.
Interest, when a player makes such an impact, is always likely, but seldom helpful. Camavinga is officially still a child, the fact he seems so at home in an adult's professional environment changes nothing. He has so much growing, both physically and emotionally, to do before even contemplating life in England, Spain or even Paris.
Of all the admirers he has gained since breaking through, it is hard to envisage PSG not being prominent in the discussion over his next move, whenever that may be. Rennes will almost certainly be plotting the deal now and making sure they get the best one possible.
Camavinga is a really modern type player, but it is too soon to call him a reference to anything and he is still learning his trade. The most important thing for him is to be allowed to do that without pressure and comparison to others, yet he combines attributes of different types within his position.
He can create balance like a seasoned holding player, pick a pass like a deep-lying playmaker and break the lines like a box to box man. In years to come, his stature will grow physically and within footballing circles; he is destined for the top one day and could be another linchpin for France in years to come. Despite being born in Angola, he has already made his under-21 debut.
The future is bright for Eduardo Camavinga; but he, Rennes and all interested parties must all do their bit to ensure he reaches his immense potential.