The Sportsman runs through the QB standings after gameweek 10
13:00, 15 Nov 2022
A game of the year contender, a first trip to Germany and another win for the Chiefs. It was quite the weekend of NFL football for us to dissect.
BYE WEEK RULES - With some teams in a bye-week, the quarterbacks who don't play shall be frozen in place. That may work for their benefit and restrict others, but those displaced will just have to up their game.
READ MORE:
As always, we'll state the components that influence whether a player will rise or fall in the rankings. Influential factors accounted for are QB passer rating (QBPR), touchdowns (TD), interceptions (INT) and yardage (YD). The reputation anyone may hold is no longer important.
32. Davis Mills (Houston Texans) - NON-MOVER
31. PJ Walker (Carolina Panthers) - DOWN 1
30. Jacoby Brissett (Cleveland Browns) - UP 1
29. Russell Wilson (Denver Broncos) - DOWN 2
28. Marcus Mariota (Atlanta Falcons) - DOWN 8
27. Kenny Pickett (Pittsburgh Steelers) - UP 2
26. Jared Goff (Detroit Lions) - NON-MOVER
25. Mac Jones (New England Patriots) - BYE-WEEK
24. Andy Dalton (New Orleans Saints) - DOWN 7
23. Taylor Heinicke (Washington Commanders) - NON-MOVER
22. Derek Carr (Las Vegas Raiders) - UP 2
21. Matt Ryan (Indianapolis Colts) - RE-ENTRY
20. Justin Fields (Chicago Bears) - UP 2
Justin Fields ranks among all players since Week 8
Rank
Rush TD 4 t-1st
Rush Yards 385 2nd
Pass TD 7 2nd
Passer Rating 108.9 4th
Fields is a legit cheat code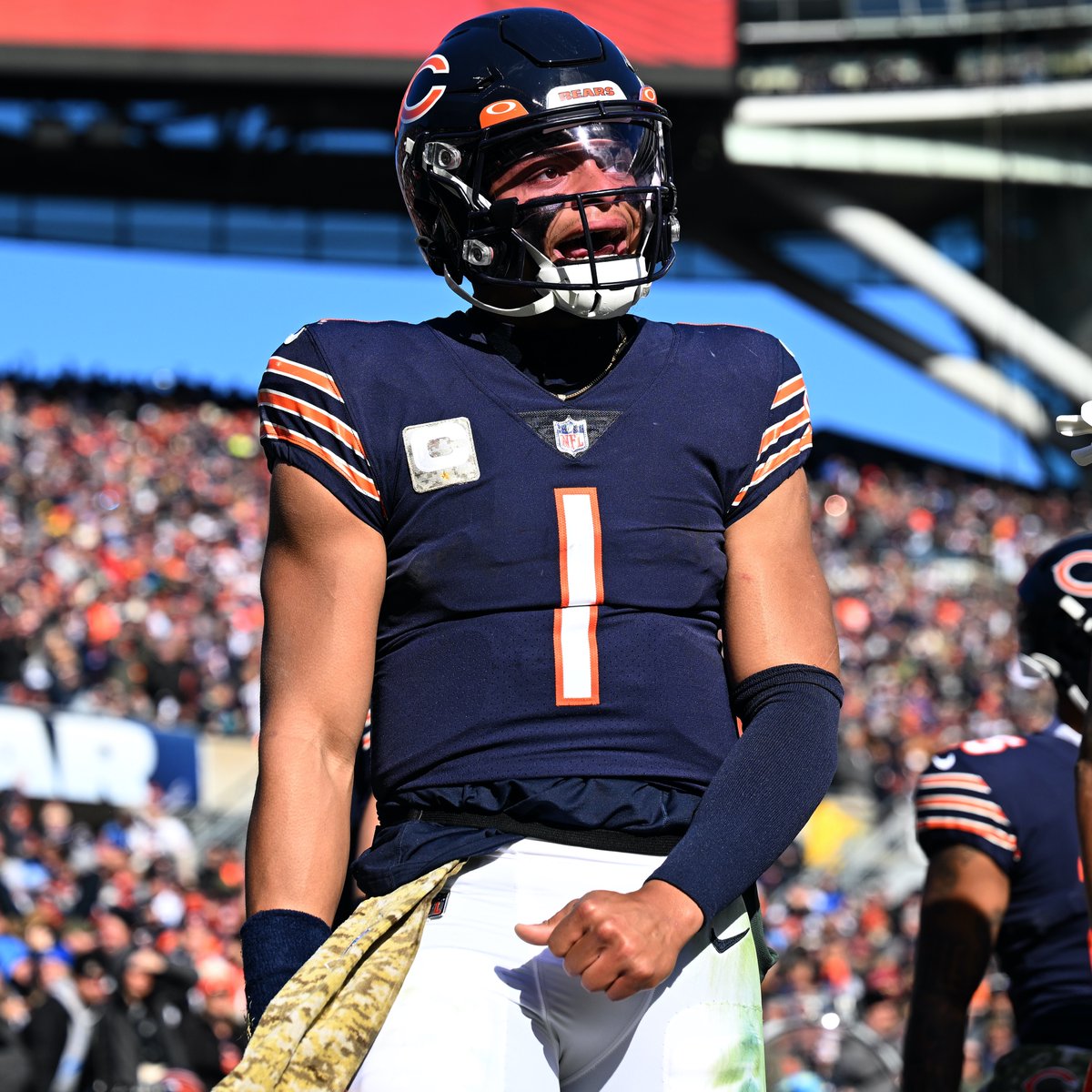 19. Trevor Lawrence (Jacksonville Jaguars) - UP 2
18. Zach Wilson (New York Jets) - BYE-WEEK
17. Dak Prescott (Dallas Cowboys) - DOWN 5
16. Matthew Stafford (Los Angeles Rams) - INJURED NON-MOVER
15. Aaron Rodgers (Green Bay Packers) - UP 4
14. Ryan Tannehill (Tennessee Titans) - RE-ENTRY
13. Kyler Murray (Arizona Cardinals) - INJURED NON-MOVER
12. Tom Brady (Tampa Bay Buccaneers) - UP 2
11. Justin Herbert (Los Angeles Chargers) - DOWN 1
10. Jimmy Garoppolo (San Francisco 49ers) - UP 1
Jimmy G has broken into the top 10. He swaps places with the QB he just defeated as he continues to navigate the NFC with the 49ers. Everyone expected him to be shown the door in the summer but he's stayed and now he looks settled once again. Having weapons like Christian McCaffery, Deebo Samuel and George Kittle is always a positive on offence but Garoppolo did have a good game on Sunday night versus the Chargers with 240 yards and 67% completion rate while rushing in for one touchdown.
9. Lamar Jackson (Baltimore Ravens) - BYE-WEEK
8. Daniel Jones (New York Giants) - DOWN 1
The first of three quarterbacks to drop down based on the places because of Tua Tagovailoa. It's no slight on Jones himself who was productive once again this weekend against the Texans, completing 13/17 throws, notching up 197 yards and scoring two touchdowns with no interceptions. Not a bad day in the office.
7. Geno Smith (Seattle Seahawks) - DOWN 1
Only the Kansas City Chiefs have scored more points than this Seattle offence. Geno Smith is at the forefront for a lot of the positive vibes around the Seahawks this season, with rumours of a contract extension awaiting him at the end of the season, it'll be interesting to see how the rest of the campaign goes. A tough loss day in Germany last weekend will put a slight damper on things but with a 70% completion rate, two touchdowns and 275 yards to his name, Smith can't be too upset with his personal performance.
6. Kirk Cousins (Minnesota Vikings) - DOWN 1
Kirk Cousins continues to impress week on week. He may have made some poor throws and was certainly helped out by Justin Jefferson on a few occasions but when you're throwing over 350 yards against the Bills, it's tough to knock the performance. With two interceptions, he was bailed out by his defence however he stood in the pocket and came up with some big throws when it mattered. Onto the next for the 8-1 Vikings.
5. Tua Tagovailoa (Miami Dolphins) - UP 1
Tua is loving life on the Dolphins offence and why wouldn't you when you've got such a high quality and highly functioning offence. With a passer rating of 135, three touchdowns and 285 yards, he rightfully climbs up to fifth in our rankings. Many had called for him to be higher, now you have your wish.
4. Joe Burrow (Cincinnati Bengals) - BYE-WEEK
3. Jalen Hurts (Philadelphia Eagles) - NON-MOVER
Jalen Hurts and the Philadelphia Eagles are now 8-1. Yes, 8-1. Somehow, someway the Eagles slumped to a shock 32-21 defeat against the Washington Commanders and, unlike most weekends, Jalen Hurts didn't put on a show. Hurts himself wasn't bad, recording 175 yards on 17 completions and two touchdowns, but his defence didn't show up and cost the Eagles their perfect record. Had things gone in his favour he'd have climbed into the no.2 spot given the poor showing from Josh Allen on Sunday. Oh well, there's always next week.
2. Josh Allen (Buffalo Bills) - NON-MOVER
Injured elbow or not, Josh Allen put on quite the show against Minnesota but unfortunately, mainly down to his own shortcomings, came up short. A killer INT in overtime gave the Vikings a deserved win and a fumbled snap inside his own endzone in the dying seconds of regulation proved ever so costly. And, for those reasons alone, he should've fallen out of the top two for the first time this year but his bacon was saved by an underwhelming Eagles performance. Time to step up, Josh.
1. Patrick Mahomes (Kansas City Chiefs) - NON-MOVER
Another week, another win. Patrick Mahomes' Chiefs are looking so comfortable. Despite losing Juju Smith-Schuster to a nasty looking concussion in the first half, the Chiefs' newest recruit Kadrius Toney stepped up as Mahomes threw for 331 yards, four touchdowns and finished with a QBPR of 129.5. There's simply no stopping him when he's in that sort of form.