The Sportsman runs through the QB standings after gameweek 15
11:00, 20 Dec 2022
This weekend we witnessed everything. Mac Jones and Matt Ryan flopped while Patrick Mahomes and Josh Allen shone. There were last second touchdowns, record-breaking comebacks and bizarre lateral passes that went straight to the opposition.
It really was one of the maddest weekend's we've had all season but here's how the quarterback power rankings look after the dust has settled.
BYE WEEK RULES - With some teams in a bye-week, the quarterbacks who don't play shall be frozen in place. That may work for their benefit and restrict others, but those displaced will just have to up their game.
READ MORE:
As always, we'll state the components that influence whether a player will rise or fall in the rankings. Influential factors accounted for are QB passer rating (QBPR), touchdowns (TD), interceptions (INT) and yardage (YD). The reputation anyone may hold is no longer important.
32. MULTIPLE QBs (Arizona Cardinals) - NEW ENTRY
31. Tyler Huntley (Baltimore Ravens) - NEW ENTRY
30. Desmond Ridder (Atlanta Falcons) - NEW ENTRY
29. Davis Mills (Houston Texans) - RE-ENTRY
28. Sam Darnold (Carolina Panthers) - DOWN 1
27. Zach Wilson (New York Jets) - RE-ENTRY
26. Mitch Trubisky (Pittsburgh Steelers) - RE-ENTRY
25. Matt Ryan (Indianapolis Colts) - DOWN 6
24. Mac Jones (New England Patriots) - DOWN 10
23. Deshaun Watson (Cleveland Browns) - UP 2
22. Brett Rypien (Denver Broncos) - NEW ENTRY
21. Derek Carr (Las Vegas Raiders) - UP 7
20. Baker Mayfield (Los Angeles Rams) - UP 2
19. Ryan Tannehill (Tennessee Titans) - DOWN 2
18. Taylor Heinicke (Washington Commanders) - DOWN 3
17. Justin Fields (Chicago Bears) - UP 4
Justin Fields with his weekly "holy cow" moment. Just absurd.

16. Daniel Jones (New York Giants) - NON-MOVER
15. Andy Dalton (New Orleans Saints) - UP 3
14. Brock Purdy (San Francisco 49ers) - UP 6
13. Justin Herbert (Los Angeles Chargers) - DOWN 6
12. Aaron Rodgers (Green Bay Packers) - NON-MOVER
11. Tom Brady (Tampa Bay Buccaneers) - NON-MOVER
10. Trevor Lawrence (Jacksonville Jaguars) - UP 3
This was some game for Trevor Lawrence who is really starting to look like the young stud of a quarterback that the Jacksonville Jaguars were getting when they drafted him no.1 in the 2021 NFL draft.
Keeping his side in the match and producing some throws of exceptional quality, Lawrence and the Jaguars were able to stun the Cowboys in a 40-34 win. Down 21-3 at one point in the game, Lawrence upped the ante, ending the game with 318 yards, four touchdowns and a QBPR of 109. It was a stellar showing from him and Jags fans will be hoping for more of the same next week.
9. Jared Goff (Detroit Lions) - NON-MOVER
Another win for the Detroit Lions but the Jets made them work hard for it. It wasn't an explosive game for Jared Goff but he guided his team to a win nonetheless. His 88.9 QBPR was his lowest for four weeks as he completed 60% of his throws for 252 yards and one touchdown. The most important thing is that they've got another win and their play-off hopes remain alive.
8. Geno Smith (Seattle Seahawks) - DOWN 3
Geno Smith needs some help from his defence… and his offence, for that matter. It's somewhat gone off the boil in Seattle as of late as the Seahawks fell to division rivals, San Francisco in a 21-13 defeat on Thursday night. Completing 31 of 44 passes for 238 yards and one touchdown is never going to set the world alight. Let's see how they fare against the Chiefs next weekend.
7. Dak Prescott (Dallas Cowboys) - DOWN 1
Dak Prescott drops to seventh. His performance against the Jaguars was solid but conceded a pass that was deflected into the hands of Rayshawn Jenkins, who took it 51 yards and sealed a stunning 40-34 win for the Jaguars.
Prescott ended the day with 76% pass completion, three touchdowns and 256 yards but that won't mean much as the play-off place confirmation waits another week.
6. Kirk Cousins (Minnesota Vikings) - UP 2
The Indianapolis Colts vs the Minnesota Vikings is the true definition of a game of two halves. Down 33-0 at HT, Cousins and the Vikings came out fired up for the second, scoring 14 points in the third quarter and then 22 in the fourth before sealing it with a field goal in overtime.
Cousins was woeful in the first half, registering just 43 passing yards and a pick six. However, he threw 417 in the second and stepped up massively for his team when they needed him the most. The comeback was the biggest in NFL history and saw Cousins walk off with 460 yards, four touchdowns, two interceptions (one of which wasn't entirely his fault), 99.3 QBPR. Well done to you, Kirk.
Kirk Cousins threw for 417 yards in the second half and overtime.
The most pass yards for any QB in the second half/OT since those stats were first tracked in 1991.
#Vikings
#Skol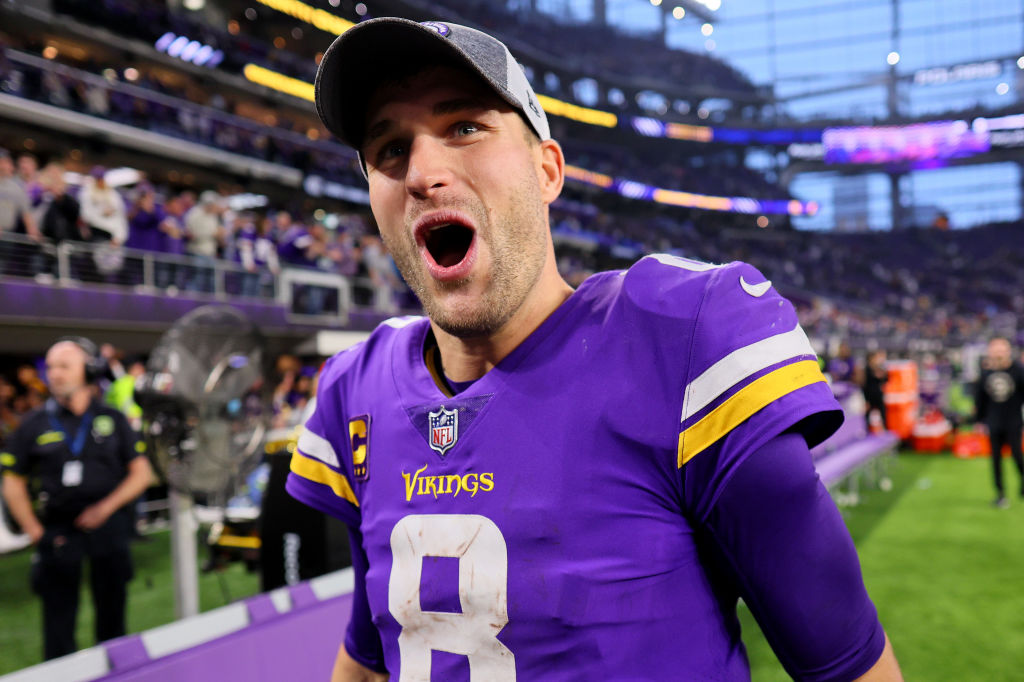 5. Tua Tagovailoa (Miami Dolphins) - UP 5
It's never easy going to Buffalo, even more so when it's snowing, especially when travelling from the far warmer climes of Florida.
Tua Tagovailoa did what he could but he was somewhat let down by his receivers, which contributed to his 55% completion rate. However, he did get two touchdowns and ended the day with a QBPR of 104. Dust yourself off and go again, Tua.
4. Jalen Hurts (Philadelphia Eagles) - DOWN 2
A tough one this week as you want your quarterback to be solid as a passer and if he can rush then that's a bonus. Hurts' QBPR of 64.6 is very, very poor and that combined with two interceptions is the reason he drops down to fourth.
That being said, he managed to gain 315 yards throwing as well as three rushing touchdowns, so it could be a little harsh but what's done is done.
3. Patrick Mahomes (Kansas City Chiefs) - NON-MOVER
The Chiefs made hard work of it against the Texans but ultimately emerged victorious, winning 30-24 in OT. Mahomes was in fine form as he threw for over 300 yards for the ninth time this season, registering an 87% completion rate, two passing touchdowns, one rushing touchdown and ended the day with 117.1 QBPR.
It was really tough to not move him up the charts but Josh Allen played a considerably better team hence why Mahomes has to settle for third once again.
2. Josh Allen (Buffalo Bills) - UP 2
The was (s)no(w) stopping Josh Allen this weekend as the Miami Dolphins left Buffalo with nothing more than dented pride and cold toes. In the 32-29 victory, Allen stepped up time and time again with strong runs, sensational throws and just making plays. Racking up a whopping 381 scrimmage yards, four touchdowns, a clutch 2-point conversion and a QBPR of 119.2, it was only right that Josh Allen climbed back into second.
1. Joe Burrow (Cincinnati Bengals) - NON-MOVER
Joe Burrow remains on top for the third week in a row after the Bengals held off against a stubborn Tampa Bay Buccaneers side to extend their win streak to six and tighten their grip on the AFC North. Throwing his second lowest total all season, Burrow totalled just 200 yards but recorded four touchdowns and a respectable QBPR of 104.6. Will he stay on top until the end of the season? Three more weeks to find out.
*18+ | BeGambleAware | Odds Subject To Change