The Sportsman runs through the QB standings after gameweek 8
17:00, 01 Nov 2022
With some teams in a bye-week, the quarterbacks who don't play shall be frozen in place. That may work for their benefit and restrict others, but those displaced will just have to up their game.
READ MORE:
As always, we'll state the components that influence whether a player will rise or fall in the rankings. Influential factors accounted for are QB passer rating (QBPR), touchdowns (TD), interceptions (INT) and yardage (yd). The reputation anyone may hold is no longer important.
32. Davis Mills (Houston Texans) - NON-MOVER
31. Jacoby Brissett (Cleveland Browns) - NON-MOVER
30. Kenny Pickett (Pittsburgh Steelers) - DOWN 5
29. PJ Walker (Carolina Panthers) - DOWN 4
28. Justin Fields (Chicago Bears) - NON-MOVER
67.6 yards in the air 😮
@pjwalker_5's Hail Mary to
@idjmoore
was the longest completion by air distance in the
@NextGenStats
era (since 2016).
27. Russell Wilson (Denver Broncos) - UP 3
26. Jared Goff (Detroit Lions) - UP 3
25. Mac Jones (New England Patriots) - Re-entry
24. Taylor Heinicke (Washington Commanders) - UP 3
23. Trevor Lawrence (Jacksonville Jaguars) - DOWN 3
22. Derek Carr (Las Vegas Raiders) - DOWN 5
21. Sam Ehlinger (Indianapolis Colts) - NEW ENTRY
20. Zach Wilson (New York Jets) - DOWN 6
19. Marcus Mariota (Atlanta Falcons) - UP 4
18. Tom Brady (Tampa Bay Buccaneers) - DOWN 2
17. Andy Dalton (New Orleans Saints) - UP 4
16. Matthew Stafford (Los Angeles Rams) - DOWN 8
15. Ryan Tannehill (Tennessee Titans) - UP 3
14. Aaron Rodgers (Green Bay Packers) - DOWN 2
13. Kyler Murray (Arizona Cardinals) - DOWN 1
12. Dak Prescott (Dallas Cowboys) - UP 3
11. Jimmy Garoppolo (San Francisco 49ers) - NON-MOVER
10. Justin Herbert (Los Angeles Chargers) - BYE-WEEK
9. Tua Tagovailoa (Miami Dolphins) - UP 10
Tua is back with a bang. After settling into the starting role last time out against the Steelers, Tua led his Dolphins to a closer-than-expected 31-27 win versus the Detroit Lions. His stats in this game however were sensational. He notched up 382 yards, three touchdowns all while maintaining 80.5% accuracy, making history in the process.
Tua Tagovailoa is the first QB in Dolphins history to have 350+ pass yds, 3+ pass TD, and 0 INT while completing at least 80% of his passes in a game.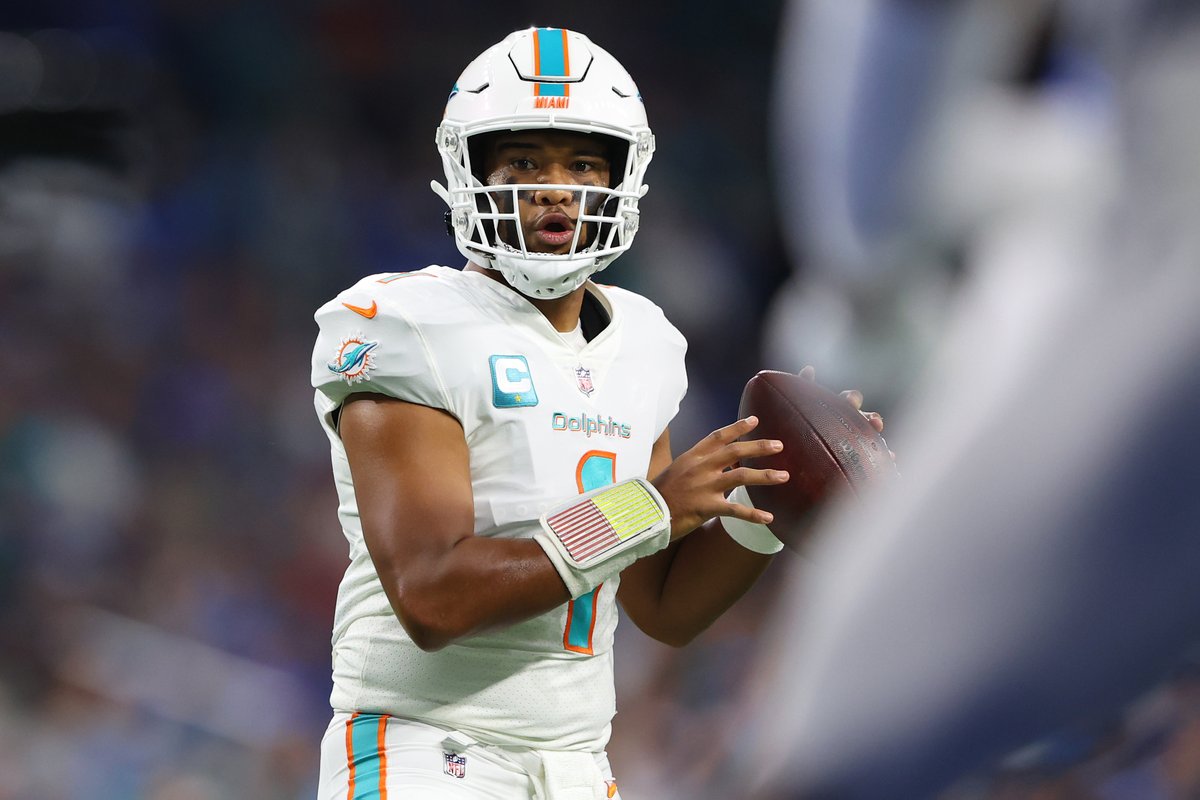 8. Geno Smith (Seattle Seahawks) - UP 1
"They wrote me off, I didn't write back though," were the words of Geno Smith after Seattle's week one victory over the Denver Broncos. We're eight weeks in and Geno still hasn't written back to his doubters. He added 212 yards and touchdowns to his season tally over the weekend as he guided the Seahawks to a 27-13 victory over the in-form New York Giants. Many thought Geno would struggle but he's proving he's more than capable week in, week out.
7. Daniel Jones (New York Giants) - DOWN 2
Not the best week for Daniel Jones as the Giants' four game win-streak came to a grinding halt against the Seahawks in Seattle. No touchdowns, ineffective on the ground and a measly 54% accuracy. Jones has some work to do to stay in the top ten. Maybe by next week he'll have some offensive weapons to work with though.
6. Kirk Cousins (Minnesota Vikings) - UP 1
Kirk Cousins rushed for a touchdown this weekend. Yes, you read that correctly. He did also throw two touchdowns as well as registering 232 yards in the air. The Vikings are quietly going about their business in the NFC North and currently sit at 6-1. Kirk isn't setting the league on fire with his numbers but he's guiding his team to victories and that's what counts.
5. Lamar Jackson (Baltimore Ravens) - UP 1
Lamar looks like he could be back on track after he helped the Ravens defeat Brady's Buccaneers 22-27 at the M&T Bank stadium on Thursday night. Having slipped in the rankings in recent weeks, Jackson wasted no time in addressing the slide, putting up a very respectable 281 scrimmage yards, two touchdowns and most importantly, no interceptions. The Ravens need him to be on top form as the season reaches crunch time so he'll be hoping this continues.
4. Joe Burrow (Cincinnati Bengals) - NON-MOVER
A tough start to the week for Joe Burrow as the Bengals slump to a 13-32 defeat against the Cleveland Browns. The stats aren't bad for Burrow but they certainly don't reflect the quality of player we know Joe can be and has shown in recent weeks. We'll mark it down as a blip.
3. Jalen Hurts (Philadelphia Eagles) - NON-MOVER
Boy, oh boy, Jalen Hurts is looking so comfortable this year. The Eagles look impressive and Hurts is demonstrating his abilities to be up there with the best in the league. Jalen picked apart the Steelers secondary, linking up with A.J Brown for 156 of his 285 passing yards and three of four touchdowns. Philly move to 7-0 and face the Texans on Thursday night.
2. Patrick Mahomes (Kansas City Chiefs) - BYE-WEEK
1. Josh Allen (Buffalo Bills) - NON-MOVER
Another week, another win. It's tough to say more about Josh Allen and we're only halfway through the season. Basically, he's really, really, really good and the Bills look capable of steam-rolling anyone in their path.
*18+ | BeGambleAware | Odds Subject To Change