More players than ever swapping England for Italy's top league
13:55, 21 Sep 2019
If fans of the Premier League fans are looking to fill the gap between the end of the 17:30 kick-off between Newcastle and Brighton and the start of Match of the Day, there is really no need to look any further than Saturday night's Milan Derby.
Italian sports newspaper La Gazzetta dello Sport expects Inter Milan boss Antonio Conte to start ex-Manchester United man Romelu Lukaku in the number nine role, while Alexis Sanchez should have some role to play in the huge clash at San Siro from his spot on the bench.
AC Milan have made a stuttering start to the campaign, losing to Udinese in the opening match, and labouring to 1-0 wins over Hellas Verona and Brescia. Meanwhile, Inter made it three wins from three with their victory last weekend, knocking Juventus off the top spot in the Italian top flight for the first time in 560 days.
Lukaku scored during each of his first two matches in the black and blue of Inter and Sanchez made a good first impression after coming on as a substitute last weekend with ten minutes remaining. Inter's new number seven registered one shot on target as well as making some useful passes inside the penalty area, undoubtedly giving Antonio Conte cause to consider awarding him more playing for the highly-anticipated derby.
Meanwhile, AS Roma will travel to Bologna this weekend, fresh from a sensational 4-2 victory with another former Manchester United player that made a big impression on his Serie A debut. Henrikh Mkhitaryan scored on his debut for the Giallorossi, his performance having contributed to his new side's four goals inside the opening half hour of action.
Another former
#MUFC
player had more cause to hit the headlines, as Henrikh Mkhitaryan scored on his debut for Roma and contributed to an excellent 4-2 win.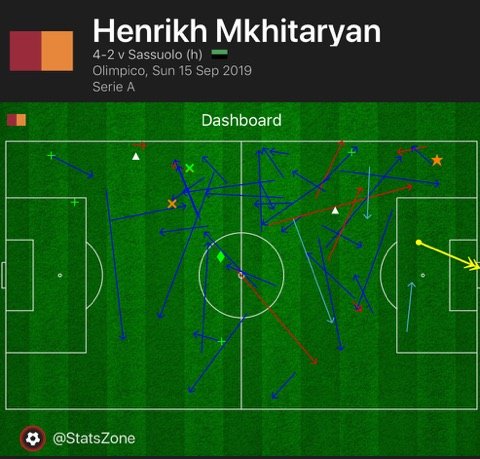 He linked up well with ex-Manchester City full-back Aleksandar Kolarov down the left-hand side of the pitch as Roma's attacking front three helped another former City man in Edin Dzeko put in a superb performance in the striker role.
Indeed, Serie A has seen an increase in former Premier League players make the move across to Italy this summer. Ahead of the current campaign, 16 players made the switch from England to the peninsula, a rise of six from the previous year. The aforementioned Lukaku, Sanchez and Mkhitaryan make up part of that list alongside Aaron Ramsey and Danilo who moved to Juventus, Chris Smalling who also joined Roma and Fernando Llorente who signed for Napoli after leaving Tottenham as a free agent.
Matteo Darmian moved back to his native Italy, joining Parma following a largely unsuccessful spell at United, while Fiorentina's new US-based owners snapped up Liverpool youngster Bobby Duncan and Rachid Ghezzal from Leicester.
Many might say that Serie A clubs are grateful to hoover up Premier League rejects, however, there are other reasons behind the increase in players who are swapping England for Italy. Times have been tough at Old Trafford, and a seeming lack of direction over transfer strategy has seen them need to move players on who have become surplus to requirements.
Duncan and his agent may have kicked up a stink about leaving Liverpool, but opportunities at Fiorentina will be much more readily available for him than trying to break into a front three that is supplied by Mohamed Salah, Roberto Firmino, Sadio Mane and Divock Origi.
If top Premier League clubs have overflowing academies, it only takes a look at Jadon Sancho to see that it makes sense to send these players abroad for playing time at the top level. Those looking for a fresh start, young players looking to break into the team and squad members who have fallen out of favour can all revitalise their careers in an exciting attacking league in a country that also provides a good standard of living.
Some will thrive, some will fail, but it will be interesting to see how the current cast of Premier League "rejects" get on this season in Serie A. Why not make a start by tuning into the brilliant spectacle that is the Derby della Madonnina on Saturday evening?