Real Madrid are the dominant force when it comes to success in the UEFA Champions League, with their 13 titles dwarfing the achievements of many other huge European clubs. They are set for another major landmark on the European stage when they take on Shakhtar Donetsk at Santiago Bernabéu tonight, as they could become the first side to 1000 goals in the European Cup.
It would be another brilliant excerpt of the remarkable history of Los Blancos, who currently sit on 999 goals in the competition. They have always been blessed with clinical goalscorers in Europe and they boast three players in the top five of the all-time scorers list.
But there's far more to marvel at than the feats of Cristiano Ronaldo, Raul and Karim Benzema. So here are a few things you should know about Real Madrid's 999 (and counting) European Cup goals.
TOP GOALSCORERS
1) Cristiano Ronaldo 105
2) Raul 66
3) Karim Benzema 62
4) Alfredo Di Stefano 49
5) Santillana 47
Ronaldo, whose Champions League scoring exploits continue apace at Manchester United, scored an incredible 105 goals in 101 across his nine seasons in the Spanish capital. While Raul is in second place and won three European Cups with the club, both Benzema and Ronaldo have four titles with Madrid including the three consecutive wins from 2016 to 2018. Alfredo Di Stefano, meanwhile, was the key cog in the Blancos team which won the first five European Cup competitions between 1956 and 1960.
BENZEMA IS CLOSING IN ON SECOND IN THE ALL-TIME LIST
CLUBS SCORED AGAINST
1) Bayern Munich 41
2) Ajax 27
2) Galatasaray 27
4) Juventus 26
5) Borussia Dortmund 24
5) AC Milan 24
5) Roma 24
Sure, they've hammered some minnows along the way, but their frequent clashes with the European elite have seen them bag a hatful against the biggest clubs in the game too. They have totalled 41 goals against Bayern Munich, with Ajax and Galatasaray both having to pick the ball out of the net 27 times. Juventus are next on 26, including five in the finals of 1998 and 2017, with three teams – Borussia Dortmund, AC Milan and Roma – tied for fifth.
Perhaps most interestingly of all, though, is that the only side ever to have faced Los Blancos in the competition and never conceded a goal to them is Arsenal. The Gunners' 1-0 aggregate victory in the round of 16 in 2005-06 is the two clubs' only ever contest to date.
GOALS BY STAGE
Group Stage (Early Knockouts) 726
Quarter-Final 141
Semi-Final 90
Final 42
Across their 52 campaigns in the elite European tournament, Madrid have scored 72.67% (726) of their goals in matches played before the quarter-final round, including group stage, preliminary rounds and the brief period during which two group stages were introduced. They have racked up 141 goals in quarter-finals, 90 in semi-finals and 42 in their 16 finals appearances. There are plenty of clubs who would pine for 42 European Cup goals in total!
Round of 16, here we come 🥳
♦️
#FCBSLB
5-2 ♦️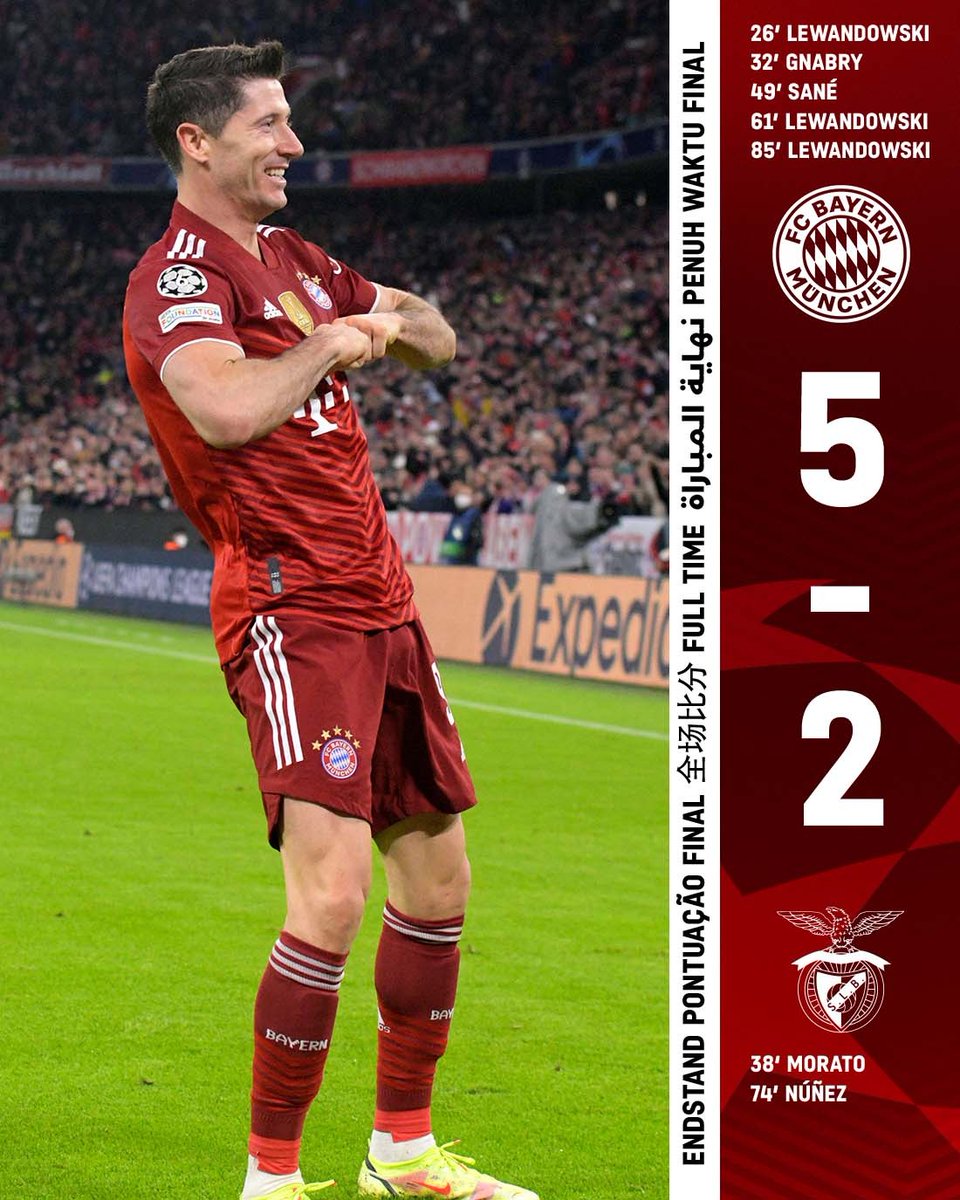 THE TOP FIVE CLUBS
1) Real Madrid 999
2) Bayern Munich 768
3) Barcelona 655
4) Manchester United 529
5) Juventus 468
Their closest rivals to the milestone are six-time champions Bayern Munich with 768. That means that even if Bayern repeated Tuesday night's 5-2 win over Benfica in every game they play in the Champions League for the foreseeable future, it would still take them until 2025 to match Madrid 999 goals.
Real Madrid are 22/1 to win the 2021/22 Champions League with Betfred