Despite having less points than last season, the Yorkshire outfit are in a much better position now
12:00, 26 Feb 2020
Leeds United fans must be experiencing a sense of déjà vu as they once again count down the games between now and the end of the season. Once again promotion is in their hands but the Elland Road faithful will be all too aware of the catastrophe that occurred in the final four games of last season.
So how is this Leeds' side getting on compared to that side who missed out in the play-offs ten months ago?
After 34 games played last term, they had accumulated 64 points after 34 games which actually put them two points better off at this stage last season than the current campaign. However, and perhaps crucially for those men in white, they were down in third place with that points total, two points behind eventual champions Norwich and level on points with the side in second Sheffield United.
The top of the Championship table was tighter at this point last season and despite currently sitting on 62 points, Leeds sit in second and can double their three point advantage over third-placed Nottingham Forest tonight by winning their game in hand at Middlesbrough. With West Brom looking likely to win the title, maintaining that cushion is all that matters for Leeds.
Things get better from a statistical point of view when you compare their results against the same opposition from this season to last. If you replace the three teams that were promoted to the Premier League with the three teams that were relegated and do the same for League One, Leeds are outperforming their results from last season.
2 goals down vs last season against Reading but 6pts again. Still 3 points better off by opponent with a better GD but now scored 2 fewer
#LUFC
(for those new to this, by opponent = lining up corresponding fixtures, not by game week/date, by that measure we're still chasing)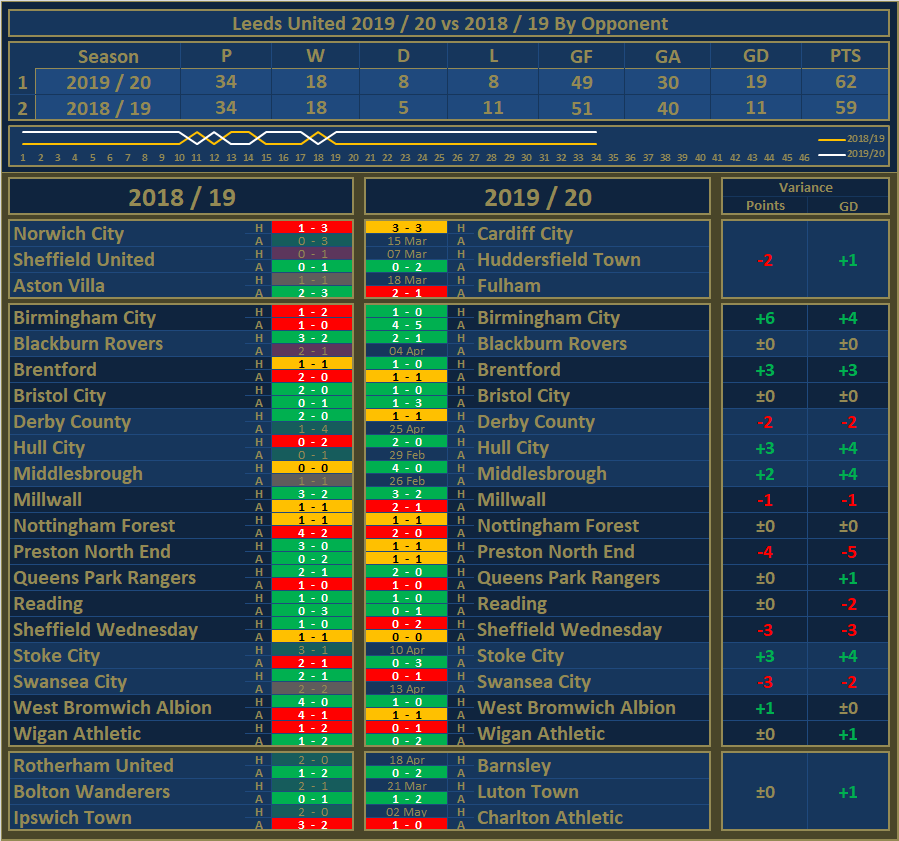 Using Birmingham City as an example, Leeds have gained more points in the corresponding fixtures this year compared to last. Against the Blues last term, they were defeated 1-0 at St Andrew's, before also being beaten 2-1 at Elland Road. This time around, they won 1-0 at home and scored a last-minute winner in the game of the season as they also took all three points from the Second City in a remarkable 5-4 win. Therefore, Leeds are six points better off against Birmingham than they were last season.
If you stretch this theory out across the entire division, Leeds are currently three points better off against the same teams than they were last season, with a +19 goal difference compared to +11. Having drawn both games against Middlesbrough last season and already beaten Boro 4-0 at Elland Road this term, they have already bettered last term's results heading into tonight's game. This fixture provides a perfect opportunity to not only assert themselves in second place but make sure they are ahead of where they were at this time last season.
With their kind fixture list and three of the promoted sides to face at Elland Road, the fans may not feel it, but things are actually looking good for Leeds.